Regardless of where you're from if you're a hardcore pizza fan, you've probably heard of Giordano's. This family pizza restaurant is a legend in Chicago. Giordano's is among the restaurants that started the deep-dish pizza trend. It was so good that the deep-dish pizza became a signature dish of the state. Now, it's high time that you try making a copycat deep-dish recipe.
Luckily, if you're craving for some deep dish pizza, you no longer have to travel to a nearby Giordano's. In this deep-dish recipe, we are going to guide you through the process of recreating this iconic dish at home. All you need to do is follow these simple steps and you're good to go.
Serve this for Sunday's lunch with friends and family and we guarantee that it is going to be a hit! For more Giordano's copycat recipe, you might want to try this deep-dish pizza crust recipe.
How To Make Giordano's Classic Chicago Style Deep Dish
Ingredients
4

cups

flour

2/3

cup

water

3/4

cup

vegetable oil

3

tsp.

yeast

2

tsp.

sugar

2

tsp.

salt

Mozzarella cheese

Classico brand tomatoes

crushed
Instructions
In a stand mixer, mix the flour, water, oil, yeast, sugar, and salt for one minute.

Let the mixture rise for about 6 hours, then punch the dough down, cover, and let sit for another 10 minutes.

Cut about 1/4 of the dough off and set aside.

Roll out the large piece of dough large enough to cover the bottom and sides of a deep dish pan.

Add the cheese and any other toppings, then roll out the small piece of dough thinly, then place over the cheese and toppings.

Pinch the crusts together as best as you can, then spread the tomatoes on top.

Bake for 30 minutes at 450 degrees
Nutrition Facts
Calories:
1012
kcal
|
Carbohydrates:
148
g
|
Protein:
21
g
|
Fat:
38
g
|
Saturated Fat:
29
g
|
Sodium:
773
mg
|
Potassium:
231
mg
|
Fiber:
6
g
|
Sugar:
2
g
|
Calcium:
31
mg
|
Iron:
9
mg
Commonly Asked Questions
How Can I Make My Deep-Dish Pizza Healthier?
Instead of the usual meats, use your vegetables as your stuffing for your deep-dish pizza. Mushrooms and herbs will make a whole lot of difference as well.
Is Deep-Dish Pizza Bad For My Health?
Like other foods that are rich in cholesterol, deep-dish pizza should be eaten in moderation. There is nothing wrong with enjoying it at least once a month.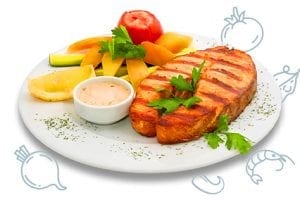 Conclusion
Deep-dish pizza may be a Chicago delicacy, but with this dish, you no longer have to travel. Enjoy this homemade Giordano's-inspired deep-dish pizza with your favorite beverage and we guarantee that will leave you full and satisfied.