If there's something the world of foodies can't live without, it's pizza. Anyone who enjoys food would never say no to a slice of delicious stuffed crust pepperoni. Pizza is the food for all ages, it's the food you can always share, the food that makes you crave for when you've seen it in movies. It is the comfort food you grew up with, the food you'd always look forward to no matter how many times you've already had it. One thing that makes a pizza taste so delish and separates a fantastic pizza from good pizzas is its crust.
Pizza Hut made its mark on our top pizzeria list by coming up with a genius idea of creating a stuffed crust alternative for their pizzas. The classic and unbeatable original stuffed crust Pizza Hut made has an airy and soft interior perfect for overloading cheese stuffings savory in taste, with a warm and golden brown exterior.
Make this stuffed crust in your own kitchen and serve them with Pizza Hut Chicken Alfredo Pesto for a meal like no other. 
Making Stuffed Crust Just Like Pizza Hut's
Pizza Hut's stuffed crust is so addictive they even made it a separate item for it to their menu. Yup, just the crust. Look for their Nothing But Stuffed Crust and experience the cheesy goodness of pizza dough made with mozzarella cheese. 
According to Pizza Hut, to achieve this stuffed crust, the frozen dough is thawed overnight and readied in the morning. It all starts with hand tossing, pulling the dough to the edges of the cooking pan, adding string cheese all around the edge of the pan, and then folding it back over. 
Our copycat Pizza Hut's pizza stuffed crust recipe tutorial will help you achieve that same warm, and firm exterior of the crust while remaining soft, cheesy, and fresh on the inside. 
Make this stuffed crust for a pizza such as the copycat version of Pizza Hut's pepperoni pizza. Satisfy meat cravings for delicious and crispy slices of pepperoni with this classic pizza, or make the sweet and juicy combination of ham, pineapple chunks, and cheese with this inspired version of Pizza Hut's Hawaiian pizza. 
Tips For Making Stuffed Crust's Pizza Dough From Scratch
Crust plays an important role in the overall cooking process of the pizza, and it all begins with the dough. Making dough may sound intimidating and hard for homemade cooking. But there are certain ways to actually achieve a great tasting crust easily. 
Choose a good quality yeast.

Yeast is the dough's foundation, and it's important to use a good quality one. Our favorite is the Red Star Platinum Superior Baking Yeast, an instant yeast mix that's egg-free and dairy-free, and helps to raise your dough quicker and manageably.

Use lukewarm water.

Add some warm water to cut down the dough's rising time. But if the water has a higher temperature than 130 degrees Fahrenheit, it would overpower the yeast. So make sure to use only lukewarm water.
Add a teaspoon of sugar or honey.

Sugar fastens the yeast's activity and softens the dough. 
Use bread flour instead.

To achieve the soft and chewy texture of the crust, we recommend using bread flour.

Use string cheese.

Line the edges of the dough with mozzarella string cheese. This is easier upon making the crust and it melts nicely during baking. In this way, you would be able to put an equal amount of cheese on the edges too. 

Make sure to coat the dough with some olive oil before baking.

This will add some color and flavor to the pizza. 

Release gas bubbles in dough

caused by yeast during rising. When your dough has risen, punch the dough to release the air. Simply make a fist with your hand, push it gently and firmly into the center of the puffy dough to deflate it. Doing so will make your crust dough soft and airy.

 
Don't worry, this easy pizza hut stuffed crust pizza recipe will guide you through the process of making the dough. Remember these tips and let's get started!
How To Make Copycat Pizza Hut's Pizza Stuffed Crust Recipe
Make your own Pizza Hut's famous stuffed crust at home. The firm and golden brown exterior will delight your sight while comforting your taste buds with its inner soft and cheesy goodness.
Advertisement
Continue Reading Below
Ingredients
1

cup

lukewarm water

¼

oz

active dry yeast,

(1 pkg)

1

tsp

sugar or honey

3

cups

flour

1

tsp

salt

1

tbsp

olive oil

4

oz

mozzarella string cheese

15

oz

tomato sauce,

(1 can)
Instructions
Stir the water, yeast, and sugar altogether, set aside for 5 minutes until foamy.

Add 2 ½ cups of the flour, salt, and oil, and stir until the dough comes together.

On a floured surface, knead the dough for about 8 minutes, until smooth and elastic.

Add more flour if the dough is sticky.

Place the dough in an oiled bowl and turn to coat all over.

Cover and set aside in a warm place until it doubles in size, approximately 30 minutes to 1 hour

Preheat oven to 450 degrees F.

Roll the dough out so it's about two inches larger than the pizza pan.

Line string cheese along the edge of the pan and spoon pizza sauce over cheese.

Fold over the edges to form a ring and press to seal.

Prepare the remainder of pizza as you like it.

Bake on a pizza stone or cookie sheet in the preheated oven for 15 to 20 minutes, until bubbly and golden.
Advertisement
Continue Reading Below
Advertisement
Continue Reading Below
Commonly Asked Questions
How to store homemade pizza dough?
If you're not going to use your prepared dough yet, roll them into a ball and coat the ball evenly with olive oil. Put the dough into a resealable plastic bag and tightly seal it letting no amount of air enter. You can freeze it up for up to 3 months.

How to warm up homemade pizza dough?
Simply bring your frozen dough to room temperature. If it was stored in a plastic wrap, remove it and transfer it to a bowl. Let it warm for 30 minutes.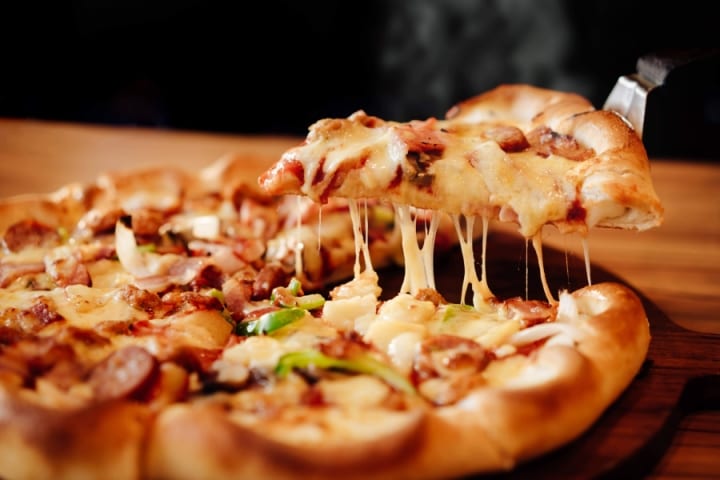 Conclusion
All pizzas are good. But to achieve a great tasting stuffed crust pizza just like Pizza Hut's, investing time and patience in the process of making it is key. This copycat recipe tutorial for recreating the popular pizzeria's stuffed crust is easy to follow and is highly accurate to the original recipe. The soft, airy, and savory crust will take your homemade pizza to a whole new level.
Advertisement
Continue Reading Below
Topics:
Advertisement
Continue Reading Below
Advertisement
Continue Reading Below