One thing that separates a fantastic pizza from good ones is its crust. Pizza Hut made its mark on our top pizzeria list by coming up with a genius idea of creating a stuffed crust pizza dough. The soft interior and golden-brown exterior is perfect for overloading cheese stuffings. Make this stuffed crust pizza recipe in your own kitchen and serve them with Pizza Hut Pasta Alfredo for a meal like no other. 
Tips For Making Stuffed Crust Pizza Dough
Crust plays an important role in the overall cooking process of the pizza, and it all begins with the dough. Here are some expert tips on how to make stuffed crust like Pizza Hut at home:
Use high protein bread flour

. Its high amount of gluten is key to achieve the crunchy on the outside and chewy on the inside

pizza stuffed crust

.

Don't stretch cold dough.

Gluten tightens up in cold conditions making the dough hard to stretch. Thaw it at room temperature for at least an hour so it becomes more manageable. The condition is also ideal for gluten and flavor development.

Use string cheese.

Line the edges of the dough with mozzarella string cheese. This is easier upon making the crust and it melts nicely during baking. In this way, you would be able to put an equal amount of cheese on the edges too.

Coat the dough with some olive oil before baking

. This will add some color and flavor to the pizza. 

For other delicious stuffing, try using pepper jack, sausage, cheddar as well as cream cheese and green chiles, or go on an adventure with blue cheese and honey.
Use this cheese stuffed crust pizza recipe to make your favorite savory Pizza Hut's pepperoni pizza. You can also make the sweet and juicy combination of ham, pineapple chunks, and cheese with this inspired version of Pizza Hut's Hawaiian pizza recipe.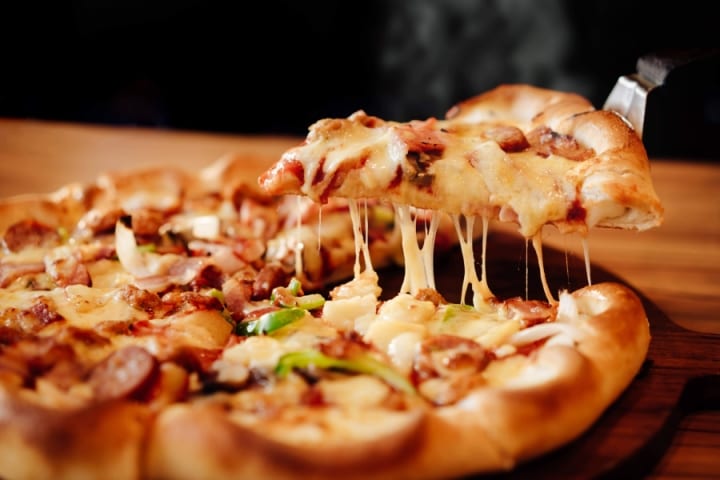 Copycat Pizza Hut's Pizza Stuffed Crust Pizza Dough Recipe
How To Make Copycat Pizza Hut's Stuffed Crust Pizza Dough
Make your own Pizza Hut's famous stuffed crust pizza dough at home. The firm and golden brown exterior will delight your sight and comfort your taste buds with its soft inner cheesy goodness.
Ingredients
1

cup

lukewarm water

¼

oz

active dry yeast,

(1 pkg)

1

tsp

sugar or honey

3

cups

flour

1

tsp

salt

1

tbsp

olive oil

4

oz

mozzarella string cheese

15

oz

tomato sauce,

(1 can)
Instructions
Stir the water, yeast, and sugar altogether, set aside for 5 minutes until foamy.

Add 2½ cups of the flour, salt, and oil, and stir until the dough comes together.

On a floured surface, knead the dough for about 8 minutes, until smooth and elastic.

Add more flour if the dough is sticky.

Place the dough in an oiled bowl and turn to coat all over.

Cover and set aside in a warm place until it doubles in size, approximately 30 minutes to 1 hour

Preheat oven to 450 degrees F.

Roll the dough out so it's about two inches larger than the pizza pan.

Line string cheese along the edge of the pan and spoon pizza sauce over cheese.

Fold over the edges to form a ring and press to seal.

Prepare the remainder of pizza as you like it.

Bake on a pizza stone or cookie sheet in the preheated oven for 15 to 20 minutes, until bubbly and golden.
Nutrition
Sugar:

3g

:

Calcium:

87mg

Calories:

246kcal

Carbohydrates:

40g

Cholesterol:

11mg

Fat:

6g

Fiber:

2g

Iron:

3mg

Potassium:

245mg

Protein:

9g

Saturated Fat:

2g

Sodium:

661mg

Vitamin A:

326IU

Vitamin C:

4mg
Nutrition Disclaimer
Commonly Asked Questions
How to store homemade pizza dough?
If you're not going to use your prepared dough yet, roll them into a ball and coat the ball evenly with olive oil. Put the dough into a resealable plastic bag and tightly seal it letting no amount of air enter. You can freeze it up for up to three months.

How to warm up homemade pizza dough?
Simply bring your frozen dough to room temperature. If it was stored in plastic wrap, remove it and transfer it to a bowl. Let it thaw for an hour.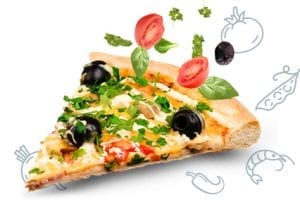 Conclusion
This copycat recipe tutorial for recreating Pizza Hut's stuffed crust pizza is easy to follow and is highly accurate to the original. The soft, airy, and savory crust will take your homemade pizza to a whole new level.