What makes Jet's Pizza different from other popular pizza restaurants in the U.S. is the shape of their signature food. Their square-shaped deep-dish pizza is iconic, famous for its thick, crispy crust, and addicting, savory flavors. Just reading about it makes one crave for a bite of their pizza now, right? Don't worry! With this recipe, we recreate Jet's Pizza's famous square pizza from scratch.
Before it became the franchise we know today, Jet's Pizza first opened in 1978 in Sterling Heights, Michigan. Now, they're most popular for their square deep-dish Detroit-style pizza. This pizza is an iconic local food in Michigan that's rectangular in shape and has a thick, crunchy crust. It's often referred to by local media as Sicilian pizza because of the latter's same shape. Although, the two don't share much of the same features other than their shape. Plus, some Sicilian pizza is also round. Sicilian pizza sauce is made from a mixture of olive oil, anchovies, tomatoes, and herbs. Meanwhile, Detroit-style pizza is usually topped with tomato sauce and mozzarella cheese.
Some have also called these dishes as pizza pies. This may be because of how deeper and thicker its crust is compared to the usual flat pizzas. Still, whether it's pizza pie or square pizza, we know how scrumptious and addicting Jet's pizza dishes can get. And thanks to this recipe, you'll be able to easily satisfy your cravings in no time! Couple this with our Green Bean and Spinach Salad and you're on your way to food heaven!

Tip:
Use different toppings for each square to enjoy several pizza flavors in one pie! This is especially enjoyable when you're entertaining guests who want different kinds of pizza toppings.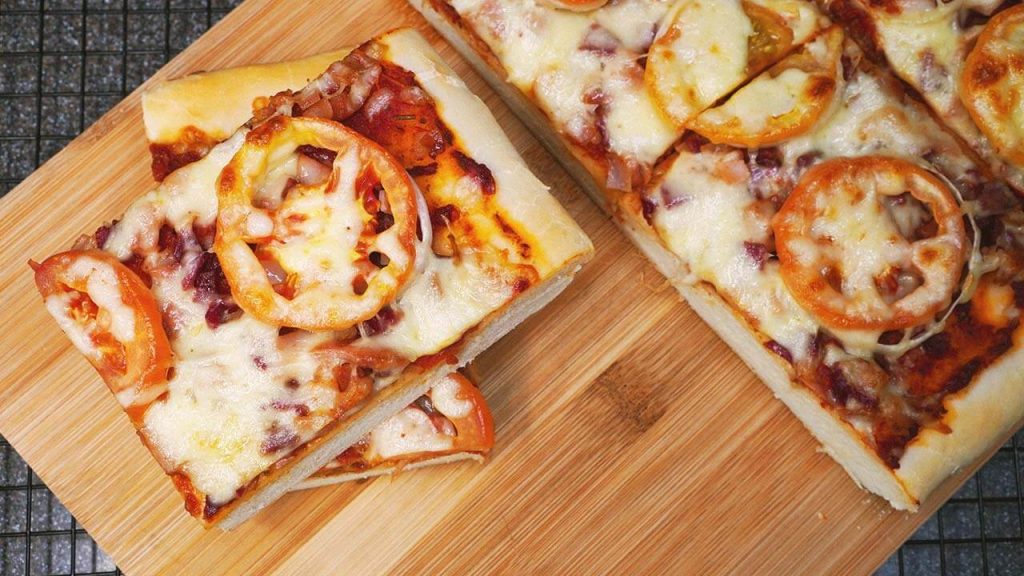 Jet's Detroit-Style Pizza Recipe
How To Make Jet's Detroit-Style Pizza
Bite into thick, chewy crust, delightful soft dough, tasty cheese and your favorite pizza toppings! Try something new with this Jet's square, deep-dish Detroit-style pizza pie. It's sure to satisfy any pizza cravings and leave your tummy full, too!
Ingredients
For Pizza Dough:
1½

cups

water

2

tsp

active yeast

3

tbsp

powdered milk,

regular full cream or full fat

4½

cups

all-purpose flour

1

tsp

salt

1

tbsp

white sugar

2

tbsp

vegetable oil
For Pizza Sauce:
1½

cups

marinara sauce

2½

oz

ham,

cooked and cubed

2½

oz

bacon,

cooked and cubed

2

oz

local tomatoes,

sliced

5

oz

yellow onion,

cut into rings

1

cup

Mozzarella cheese,

grated
Instructions
Preheat oven to 450 degrees F.

In a stand mixer's bowl, add water, yeast, and powdered milk. Mix the ingredients on low speed. Use a whisk to fully combine the ingredients.

Add in flour, salt, sugar, and vegetable oil. Mix until the dough begins to pull away from the sides of the bowl.

On a flat surface dusted with flour, knead dough until it's springy and soft.

Sprinkle more flour to keep the dough from sticking to the flat surface.

Press dough into a square baking pan. You can use a rolling pin to spread the dough, but you can also use your hands to evenly spread the dough.

Set aside in a warm place for 1 to 2 hours maximum.

After 1 hour, poke the dough randomly with a fork.

Bake at 450 degrees F for 5 minutes.

Spread marinara sauce evenly on the dough.

Top with ham, bacon, yellow onions, tomatoes, and mozzarella cheese.

Continue baking for another 8 to 10 minutes.

Let it cool, then slice into squares and serve!
Recipe Notes
The original Detroit-style pizzas are made with Wisconsin brick cheese. This cheese tastes mild, is semi-soft, and has a high-fat content. But like this recipe, Mozzarella can be a suitable substitute in terms of flavor and texture.
Nutrition
Sugar:

4g

:

Calcium:

79mg

Calories:

285kcal

Carbohydrates:

41g

Cholesterol:

17mg

Fat:

9g

Fiber:

2g

Iron:

3mg

Potassium:

247mg

Protein:

10g

Saturated Fat:

5g

Sodium:

532mg

Vitamin A:

253IU

Vitamin C:

4mg
Nutrition Disclaimer
Frequently Asked Questions
How many slices are in a Jet's Detroit-style pizza?
Jet's pizzas come in a number of slices depending on the size you order. For this recipe, however, you can slice the square pie up to 8 pieces (or more–if you like more bite-sized portions). You can even divide the pie into 6 pieces if you enjoy bigger slices.
Are all Jet's pizzas square?
Jet's is known for their Detroit-style square pizza pies, but they do offer classic round pizzas. This recipe follows the signature square deep-dish Detroit-style pizza that Jet's is famous for. So, we recommend sticking to the square shape if you really want to recreate that Jet's pizza experience!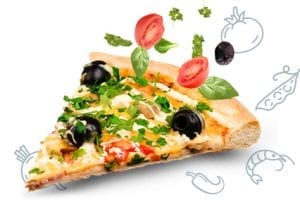 Conclusion
You can cancel that take-out pizza order. With our recipe, you'll be making Jet's-inspired square Detroit-style pizza pies from scratch, all at the comforts of your own kitchen. Making your own homemade pizza dish is easy, and the best part? You can change it to your heart's content! Now you'll be able to enjoy all your favorite pizza variations in one pizza pie thanks to our recipe.
Topics: