If you're looking for a must-try seafood snack or appetizer that you can easily make at home, our all-time favorite fried calamari inspired by an Olive Garden staple comes to mind. If you don't know what calamari is, it's a squid dish that's usually seasoned with herbs and spices then deep-fried.
And today, we're making savory fried calamari rings you'll surely enjoy. With its super crispy exterior yet tender flesh, you'll keep coming back for more! You can even top it off with a flavorful dip to have the best eating experience.
In this recipe, we're bringing you an addicting Olive Garden appetizer to satisfy your seafood cravings. So go ahead and prep your ingredients for this quick and easy recipe.
Making Fried Calamari Just Like Olive Garden's
Making a tasty fried snack out of calamari rings is actually very easy and simple to do. You just need to coat them with a not too salty yet not too bland deep fry batter before deep-frying them into really hot oil. It's one of the not-so-secret tips in making a sensational fried snack or appetizer, the Olive Garden way.

Tip: Make sure to thaw your frozen calamari before prepping to avoid giving them that rubbery and chewy texture after cooking.
First, we're marinating the squid in milk and sweet pineapple chunks to add a delicious and slightly sweet flavor to it. You can also use buttermilk for a different flavor as well. Then, we marinate and chill the squid in the fridge overnight to help them absorb more flavor and tenderize nicely. Besides adding flavor, marinating in milk and pineapple also doubles as a tenderizer. Another alternative is soaking the squid in lemon juice, just like in this calamari fritti recipe.
Once you're ready to deep-fry, remember to watch what you're cooking. We want to perfectly fry the calamari and get the right crunch and crispiness for the coating while keeping their meat tender.
Aside from deep fried calamari, we have other squid recipes you can choose from for your next dinner ideas. You can serve a fancy plate of Calamari With Vegetables for a healthy touch or try our Calamari Garlic Lemon Risotto for a hearty meal with zesty and cheesy flavors.
Fried Calamari Dipping Sauces You Can Try
We also have the perfect recipe suggestions for you when it comes to making fried calamari sauce. You can serve our Light Ranch Dip and Olive Garden Marinara Sauce on the side of your fried calamari. But if you want other dips to pair it with, you can check these recipes out:
Chipotle Sauce – Dip your crunchy calamari with a simple dressing with a spicy and smoky taste that works well with this appetizer.
Dill Pickle Tartar Sauce – This is a delicious creamy dip with a tangy kick from the refreshing flavor of fresh lemon juice.
Cranberry Orange Sauce –  Try this if you want a sweet dip infused with berry and fruity flavors.
All of these dipping sauces would taste amazing and would take this dish to a whole other level. With a well-seasoned batter, correct deep-frying method, and an amazing dipping sauce, you've got nothing else to worry about in this addicting appetizer. So, bring Olive Garden's Fried Calamari to your table and enjoy it with your family and friends!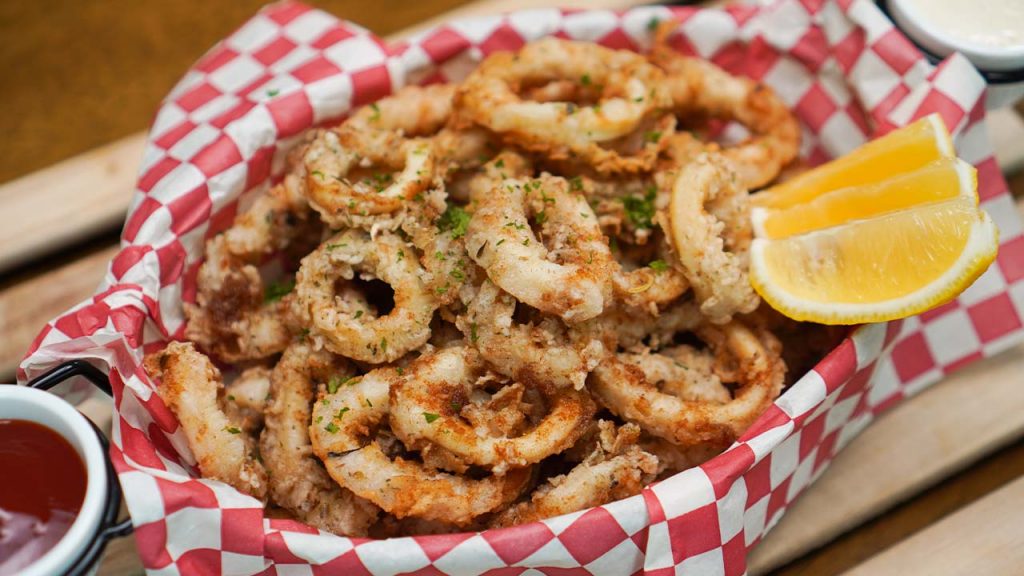 Copycat Olive Garden Fried Calamari Recipe
How To Make Copycat Olive Garden Fried Calamari
You'll go back for another bite of this easy Olive Garden-Inspired Fried Calamari Recipe! Enjoy its crunchy texture, tender flesh, and savory taste!
Ingredients
2

lb

frozen calamari rings,

thawed

4

cup

milk

1

cup

all-purpose flour

2

tbsp

Italian Seasoning

1

cup

pineapple chunks

salt and pepper,

to taste

vegetable oil ,

for frying
To Serve:
½

lemon,

cut into wedges

2

tbsp

marinara sauce

2

tbsp

ranch dressing

fresh parsley leaves,

chopped, for garnish
Instructions
Combine the milk, pineapple chunks, and thawed calamari rings in a bowl. This will prevent it from becoming tough and chewy.

Cover it with cling wrap, transfer to the fridge, and allow it to marinate overnight.

In a bowl, combine the flour, salt, pepper, and Italian Seasoning. Set aside.

Heat a deep pot filled with vegetable oil to 370 degrees F.

Take out the marinated calamari rings from the fridge. Drain and discard all except the calamari rings.

Gently roll a few pieces of calamari into the flour mixture and shake off the excess.

Deep fry the calamari until golden brown. Dry onto a bowl lined with paper towels.

Garnish with parsley and serve the calamari together with lemon wedges, marinara sauce, and ranch dressing. Enjoy!
Nutrition
Sugar:

44g

:

Calcium:

812mg

Calories:

1111kcal

Carbohydrates:

111g

Cholesterol:

1111mg

Fat:

31g

Fiber:

6g

Iron:

9mg

Potassium:

2123mg

Protein:

94g

Saturated Fat:

12g

Sodium:

656mg

Vitamin A:

1149IU

Vitamin C:

48mg
Nutrition Disclaimer
Frequently Asked Questions
How to clean squid?
To clean squid, first remove the squid's head from the body. It's up to you if you want to cook the tentacles, too. Look for the quill or the long plastic stick in the body, pull it until it's fully removed. Squeeze the body until all slimy sacs are removed. Cut it into rings before marinating.

How do I tenderize my calamari before frying?
To achieve that soft and tender texture, soak your calamari into lemon juice for more than 30 minutes. We also suggest marinating it in a milk-based marinade overnight like what we did in this recipe.

How do I cook air fryer calamari?
Thaw and marinate calamari just like what we did in this recipe. When your calamari rings are now coated and ready to fry,  place them in the air fryer and cook at 400 degrees F for 5 to 10 minutes or until golden brown.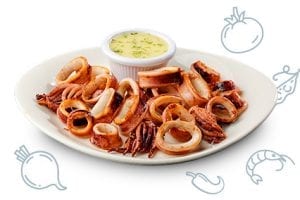 Conclusion
This Olive Garden's easy-to-make fried calamari recipe is perfect for your dinner cravings. Serve this with marinara sauce and a lemon wedge on the side, and trust us, you'll be making them in batches!