Let's get something out there: calamari is the best thing to happen to a restaurant's seafood menu. Crisp, spice-coated squid that is tender and made even better with lemon juice. More importantly, calamari is best eaten with pizza.
In this recipe, we'll show you how to create this fried calamari dish inspired by Olive Garden's fried calamari recipe. It's easy and absolutely simple, you can have it anytime, anywhere.
Serve with it pizza or have it plain, the fried calamari is definitely great for an afternoon snack or even late lunch. Experiment with your preferred condiment to achieve maximum flavor.
Copycat Olive Garden Fried Calamari Recipe
Ingredients
2

lbs.

cleaned calamari

1

cup

flour

1

tsp.

salt

1

tsp.

pepper

1

tsp.

olive oil

1

lemon

cut in wedges
Instructions
Cut a small slit at the end of each calamari.

Rinse, let the water through the body and then drain and dry.

Cut the bodies into 1/2-inch rings.

Cut the base of each group of tentacle in half if they are too big and pat dry.

Spread flour on a sheet of wax paper and season with salt and pepper.

Pour about 2 inches of oil into a deep saucepan and heat the oil to 370 degrees F. Gently roll a few pieces of calamari into the flour mixture and shake off the excess.

Put the calamari into the oil and cook until golden.

Dry with paper towels.
Commonly Asked Questions
How Do You Make The Squid Tender?
Making your calamari tender is quite easy and absolutely simple. All you have to do is soak the squid in lemon juice for an hour before frying. This will not only tenderize the meat but add flavor as well.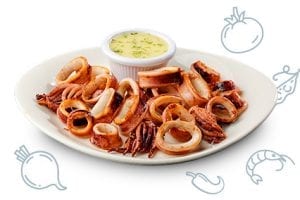 Conclusion
Fried calamari is great for an afternoon snack or as an appetizer for dinner. Serve it mayonnaise or any of your preferred condiment and we guarantee that it will be a memorable dish.