Deep-dish pizza hits two birds with one stone. First, it satisfies your taste buds with its extra burst of flavors. Second, it satisfies your tummy because it is undeniably filling. One of the restaurants that specializes in deep-dish pizza is Gino's East. And with this Gino's Chicago Deep Dish Pizza recipe, you can recreate it at home.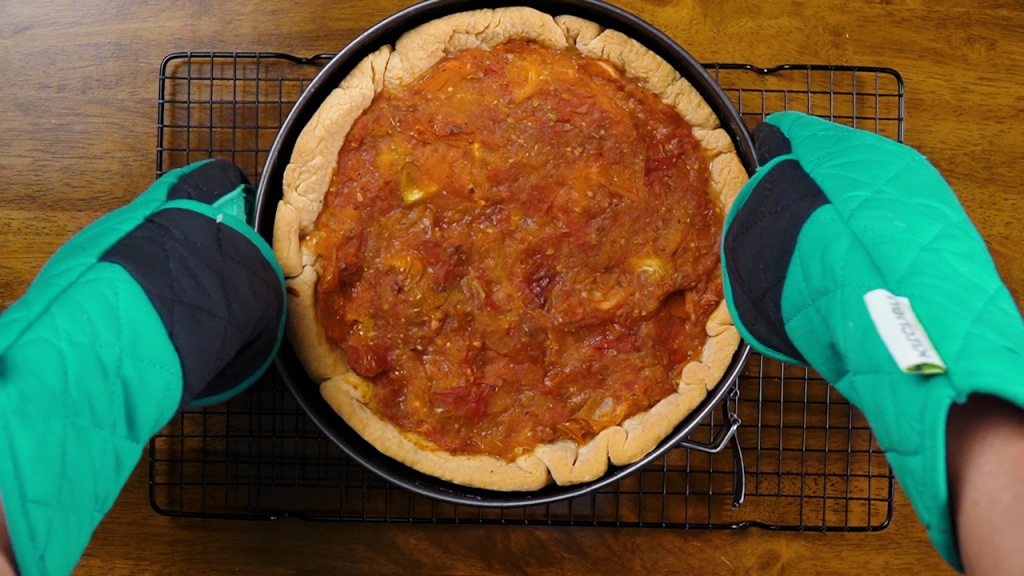 In this Gino's East Pizza copycat recipe, we're dividing the Chicago style pizza into three parts: the homemade pizza crust, the fresh tomato sauce, and the toppings. The crust is a yeast dough that you can make ahead of time, freeze, and thaw when ready to use. You can also use it for other pizza recipes. For the tomato sauce, we oven-roasted a bunch of fresh tomatoes with Italian herbs to really help bring out their natural sweet and bright flavor. You can certainly use your favorite jar of chunky marinara sauce, but this homemade one tastes way richer. Finally, for the toppings, we like our homemade deep dish pizza with lots of gooey mozzarella cheese, pepperoni, and Italian sausage.
Learn how to make a deep dish pizza like it came from a pizza house with this easy to follow Gino's Chicago Deep Dish Pizza recipe. Get your best quality deep dish pizza pan, gather the ingredients, and have fun making it for a scrumptious pizza Friday dinner.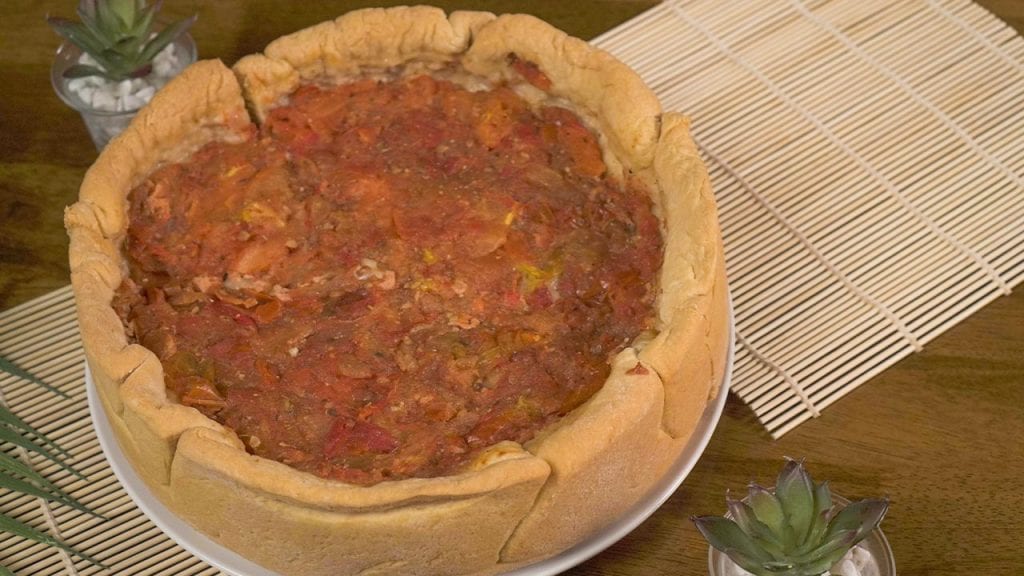 Copycat Gino's East Pizza Recipe
How To Make Copycat Gino's East Pizza
This Gino's Chicago Deep Dish Pizza recipe makes a crispy yet fluffy pizza crust filled with pepperoni, Italian sausage, mozzarella cheese, and topped with a rich chunky tomato sauce made using fresh tomatoes.
Ingredients
For Crust:
1

cup

lukewarm water

2

tbsp

active dry yeast

⅓

cup

olive oil,

plus extra for brushing

2

tbsp

honey

1

tsp

cream of tartar

1

lb

bread flour,

plus extra for dusting
For Pizza Sauce:
28

oz

tomatoes,

fresh and ripe, preferably San Marzano or roma

2

tsp

Italian seasoning

2

tsp

parmesan cheese,

grated or powdered

salt and ground black pepper,

to taste
For Toppings:
16

oz

mozzarella,

grated

1

cup

pepperoni slices

1

cup

Italian sausage,

casings removed, crumbled
Instructions
Crust:
In a bowl, combine the water, yeast, oil, cream of tartar, and honey.

Mix until the yeast dissolves.

Pour in the bread flour a little at a time, mixing until fully combined.

Knead it until it gets firm. Add more flour, if needed.

Continue kneading for about 10 minutes straight.

Roll it into a ball, and put it in a bowl. Brush the dough and all sides of the bowl with oil. Cover with plastic wrap.

Transfer to a dark warm area and let it rest overnight, unrefrigerated.
Pizza Sauce:
Preheat the oven to 400 degrees F.

Combine the tomatoes and Italian seasoning in a roasting tray.

Roast in the oven for 30 minutes.

Transfer the roasted tomatoes in a large bowl. Using a potato masher or fork, mash the tomatoes up so that there are no chunks bigger around than a quarter.

Add the salt, pepper, and parmesan cheese. Mix to combine.
To Assemble:
After the dough has risen, coat the inside of a 10-inch springform pan (can be a deep dish pizza pan or round cake pan with straight sides as well) with non-stick cooking spray, melted butter, or oil.

Dust the work surface. Roll the dough into about 3 inches larger than the bottom of the pan, then pinch the dough up along the sides of the pan.

Put the cheese right in the middle. Add the pepperoni and sausage pieces. Pour the pizza sauce on top, then spread evenly.

Bake in the oven for about 45 minutes at 350 degrees F until the crust is starting to look brown and cheese is starting to bubble up through the sauce. The little edges of the pepperoni should also be starting to crisp and the sausage should be cooked through.

Serve and enjoy!
Nutrition
Sugar:

8g

:

Calcium:

326mg

Calories:

667kcal

Carbohydrates:

52g

Cholesterol:

82mg

Fat:

38g

Fiber:

3g

Iron:

2mg

Monounsaturated Fat:

17g

Polyunsaturated Fat:

4g

Potassium:

530mg

Protein:

28g

Saturated Fat:

14g

Sodium:

833mg

Trans Fat:

1g

Vitamin A:

1221IU

Vitamin C:

14mg
Nutrition Disclaimer
Frequently Asked Questions
What makes Chicago deep-dish pizza different?
While a regular pizza has the edges rolled and is usually baked on a flat pizza pan, a deep dish pizza has the dough extended up to the sides of a deep pan like a pie. This turns into a crispy crust and creates more room for the filling. On another note, for regular pizzas, the pizza sauce is usually the first layer of topping. But for deep dish pizza, just like what we did for this Gino's Chicago Deep Dish Pizza recipe, the cheese goes first, then the meat. The pizza sauce goes on top.

Why is my deep dish pizza soggy?
If you made this Gino's Chicago Deep Dish Pizza recipe using a watery marinara sauce or tomato sauce, the excess moisture will make it soggy. If that's the case, then you can strain it first using two layers of cheesecloth to drain off excess liquid. Another reason is that the oven might not be preheated or the pizza might be baked at a low temperature. If the oven is not hot enough, the crust won't crisp up properly. Check and make sure that the oven temperature is accurate.

How do you keep deep dish pizza from sticking?
For this Gino's pizza recipe, greasing the deep dish pan with fat and dusting it with flour should be enough to prevent the dough from sticking at the bottom. If you find the need for an extra barrier between the pan and the dough, you can dust it as well with cornmeal or crushed corn flakes.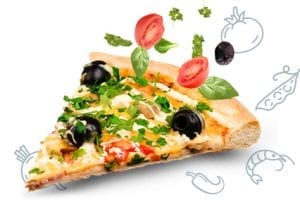 Conclusion
Bring home the famous pizza from Chicago with this easy Gino's Chicago Deep Dish Pizza recipe! Every part of it — the crispy crust, the rich pizza sauce, and the delicious fillings — will ultimately give triple the satisfaction for all the pizza lovers out there.