Looking for a delectable and healthy way to cook chicken? Why not braise it with some vegetables and create a delicious ragout? As a result, this dish ensures you moist chicken breasts. We're using the intense flavors of fennel with the sweetness of tomatoes with our chicken breast with fennel and tomatoes recipe. Certainly, it is one of our favorite things to serve with pasta as a good alternative to your basic bolognese. 
Fennel bulbs will give you a flavor most of you would recognise from licorice. While it's delicious, it is also beneficial to those who experience digestive problems such as intestinal gas, bloating, and heartburn. We're also adding a lot of flavors from the garlic, dill, and chili flakes. 
If you're tired of eating dry meals and wanted a stew for a change, why not try this chicken breast with fennel and tomatoes at home and see if they're a winner at the dinner table. If you'd like another dinner idea, check out our Linguini Aglio Olio recipe.
Chicken Breast with Fennel and Tomatoes Recipe Video
How to Make Chicken Breast with Fennel and Tomatoes
Juicy and a healthier way of cooking chicken breasts. Braised along side a rich and flavorful ragout that could make your mouth water.
Ingredients
3

tsp

olive oil

3

chicken breast halves

skinless

1 ½

cup

tomatoes

cores included and cut in ¾-inch pieces

2

pc

fennel bulbs

sliced ½ inch

½

cup

dry white wine

½ cup of chicken broth

2

tbsp

garlic

minced

¼

tsp

dill weed

finely chopped

1

tsp

chili flakes

2

tbsp

lemon juice

1

tbsp

parsley

minced

⅓

cup

olives

pitted

⅛

tsp

salt

⅛

tsp

pepper

⅓

cup

parmesan

garnish
Instructions
Prepare the ingredients by slicing the chicken breasts in fillet sizes and seasoning them with salt and pepper.

Cut tomatoes into wedges, leaving the core in.

To slice the fennel bulbs, remove the stalks and the fronds. Then slice the bulb into half. You also will want to cut out and discard the tough part of the bulb. Thinly slice these crosswise.

Heat olive oil in a large cast-iron skillet over medium-high heat. Take the seasoned chicken breast and sear in the pan for about 3-5 minutes or until both sides are only lightly brown. Do not overcook, remove and set aside.

Using the same pan, add chili flakes, garlic, and dill. Stir for about a minute.

Now add fennel bulbs, tomatoes, and lemon juice. Allow flavors to marry and juices from the tomatoes to sweat.

Return chicken to the pan. Continue cooking for 8 to 10 minutes.

Remove chicken pieces from the pan, so as to not overcook.

Add pitted olives and parsley to the pan. Stir and simmer for another 10 to 15 minutes.

Serve over a serving of your favorite pasta.
Recipe Notes
Nutritional information is for the chicken without the serving of pasta.
Nutrition Facts
Serving:
3
g
|
Calories:
147
kcal
|
Carbohydrates:
4
g
|
Protein:
15
g
|
Fat:
6
g
|
Saturated Fat:
2
g
|
Cholesterol:
40
mg
|
Sodium:
329
mg
|
Potassium:
329
mg
|
Fiber:
1
g
|
Sugar:
1
g
|
Vitamin A:
552
IU
|
Vitamin C:
9
mg
|
Calcium:
83
mg
|
Iron:
1
mg
Commonly Asked Questions
What part of fennel do you eat?
Almost all parts of the fennel vegetable are edible except the core and the tough parts. The crunchy fennel bulbs are usually added in soups and stews while the fronds can be added in salads. The fennel seeds can be ground and added in cooking giving it a mild anise flavor. Even some baked goods taste better with some crushed fennel seeds, too.
What is the best dry white wine for cooking?
The best dry white wine for cooking is one that has crisp to it. It should also be less sweet than most white wine and should have moderate alcohol content not going more than 13 percent. Some of such dry white wine examples are Pinot Gris, Pinot Grigio, Pinot Blanc, and Sauvignon Blanc. If you can't find any of these, some dry sparkling white wine can be used, too.
Can I create this dish without white wine?
If you're trying to create an alcohol-free dish but do not want to compromise on the flavors, you can substitute the white wine here with apple cider vinegar. However, use less than you would with white wine since the flavors from ACV can be quite strong.
What can I substitute for plum tomatoes?
Plum tomatoes are typically drier than regular tomatoes. Feel free to use the regular ones or whatever you have available. Add a couple of teaspoons of tomato paste to thicken the sauce and add more depth to the flavor.
Can I use other parts of the chicken instead of chicken breast?
Of course! Though we recommend chicken breast as it is the leanest part of the chicken, feel free to use any part. If you do, we recommend putting the chicken in the microwave first along with some flavors like coriander and lemon zest for 8 to 10 minutes. With the chicken getting a more roasted flavor takes the dish to a whole new level.
What can I serve with Chicken Breast with Fennel and Tomatoes?
Just like any ragout recipes, you can eat Chicken Breast with Fennel on its own, or with a fulfilling starch pair like couscous, quinoa, pasta, or rice.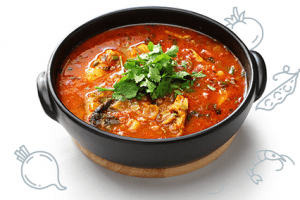 Conclusion
Chicken is one of the healthier meats out there. However, it can get boring eating the same meat every night. This recipe puts a fresh, new spin on a household favorite.
Try it and let us know what you think about it in the comments below. We'd love to hear from you!