Who can resist pasta with ham recipes? This creamy white pasta sauce recipe with ham would always make the cut in our favorite pasta dinner ideas. It's one the most delicious and looked-forward-to pasta recipes out there. We've incorporated some tricks in making it to be sure you'll make a pasta dish that you will enjoy! So, turn to this easy pasta recipe 'cause it will surely save your late-night dinner dilemma!
We could always make a good pasta dish, but whipping a great sauce makes all the difference! For this recipe, we're making an easy pasta sauce, which is also called bechamel sauce that's so smooth, thick, and creamy!
When we talk about white sauce pasta recipes, we have a list of delicious ones up our sleeve. We have other must-try white sauce recipes like Chicken and Mushrooms in White Wine Cream Sauce and White Wine and Garlic Fettuccine Alfredo Sauce recipes. But for now, let's talk about this creamy white sauce pasta for your next go-to recipe!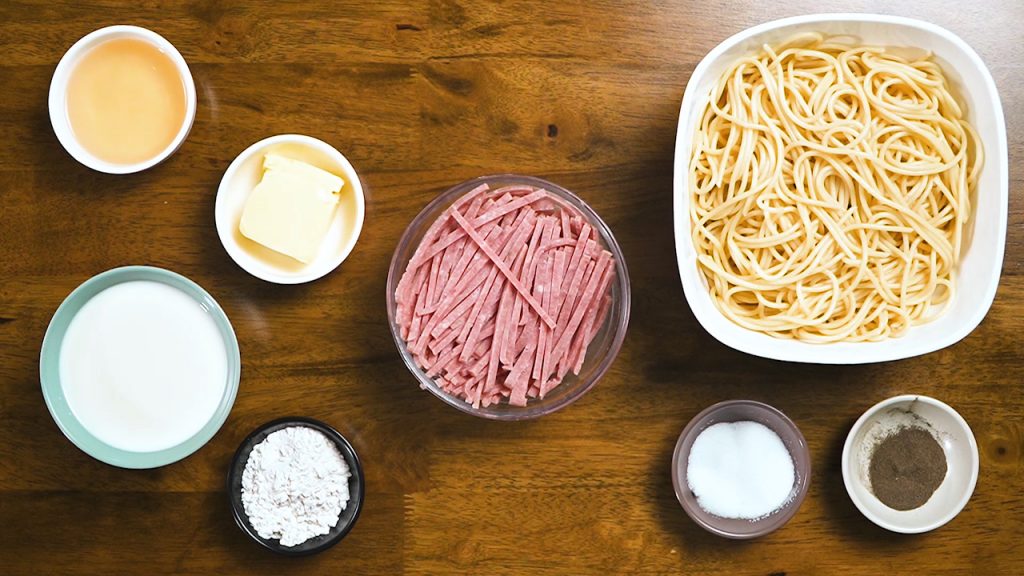 How To Make White Sauce Pasta
Béchamel is one of the easiest white sauces to do out there. This white sauce is simply made up of butter, flour, and milk, which you can also mix with a variety of ingredients. To make it into something more flavorful, you may add chopped veggies and grated cheese. You can also use bacon for toppings! But for this recipe, we used chicken bouillon and cooked ham.
If you want to make your dish fuller and healthier, try adding plenty of vegetables. You can also use lean proteins, such as chicken or fish. You can also try replacing your cheese with nutritional yeast. When it comes to the types of pasta, you can opt to use whole-grain, or lentil-based pasta instead of the classic spaghetti.
It's really important to start making homemade sauces instead of buying them at stores. Homemade sauces will make your dish even more delightful! Go ahead and experiment on your own! After all, the beauty of homemade cooking is you can tweak the ingredients and flavors of the dish to your liking. So go ahead and adjust the spiciness, flavors, and consistency of your sauce, and top it with some herbs, too!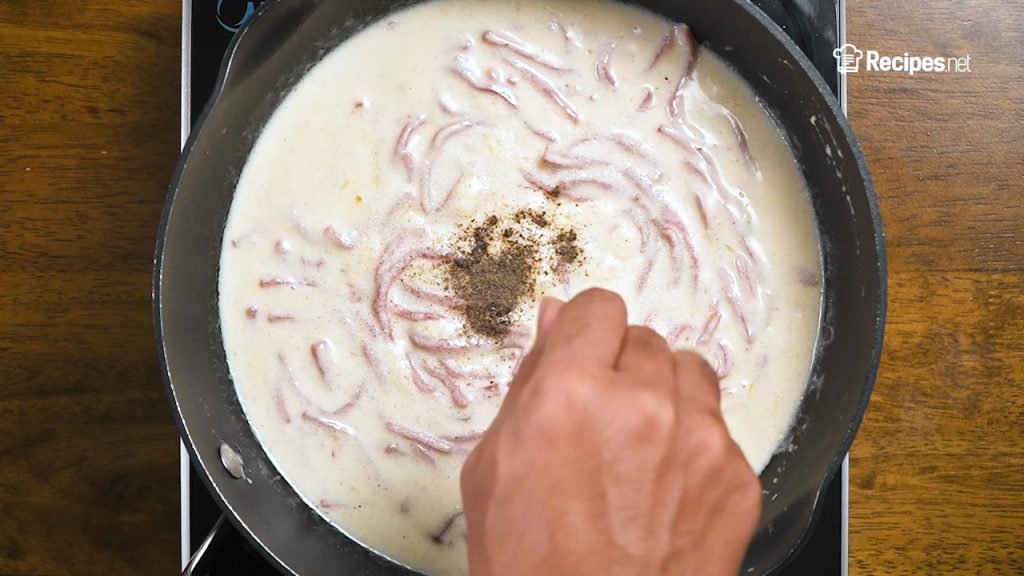 Creamy Pasta Recipes and More Pasta Ideas
A creamy white sauce pasta is surely a great comfort food. The great thing is, apart from this super quick and easy recipe, you can check out some other white sauce pasta dishes we have in line for you.
You can use your favorite veggies like spinach, tomatoes, and zucchini like what we did in our Creamy Pasta with Summer Vegetables Recipe. You can also quickly make a Mediterranean pasta salad with feta cheese, grape tomatoes, cucumber, olives, marinated artichoke hearts, and an aromatic zesty Greek dressing.
Use leaner meat to recreate our hearty and delicious chicken pasta recipes like Creamy Chicken Alfredo or our Creamy Chicken Carbonara, too! Aside from pasta, you could also enjoy white sauce for chicken in plain rice, potatoes, or any side you can think of!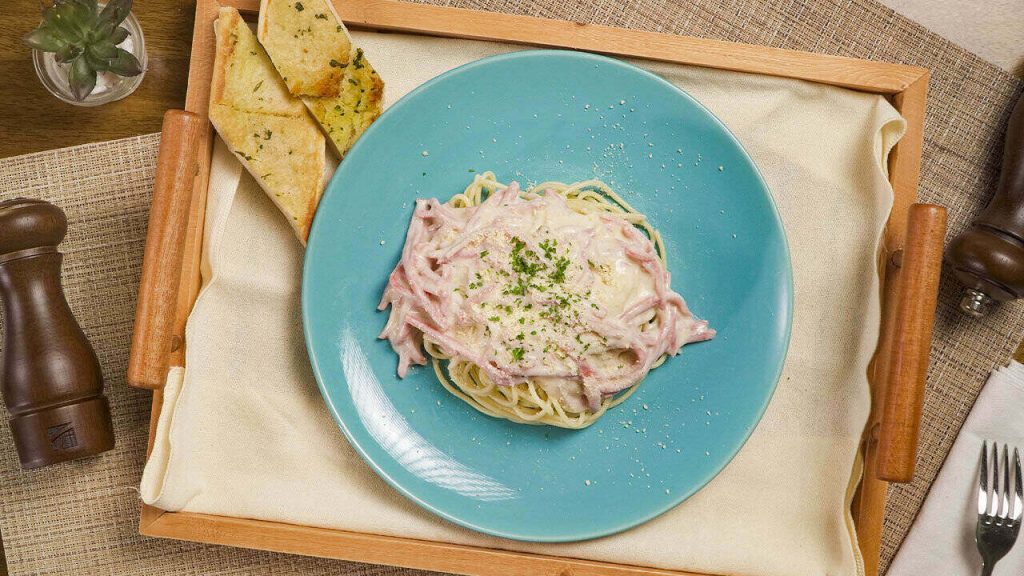 Pasta In Creamy White Sauce With Ham Recipe
How To Make Pasta In Creamy White Sauce With Ham
Bring a light and delicious comfort food to the dinner table with this quick-to-make pasta in creamy white sauce with ham! Enjoy the rich and buttery flavor of simply seasoned white sauce for your tender pasta.
Ingredients
1

lb

spaghetti pasta,

or pasta of choice. cooked and cooled

4

tbsp

unsalted butter

1

cup

ham,

cooked and thickly julienned

3

tbsp

all-purpose flour

¼

cup

white wine

1½

cup

water,

boiling

3

cup

milk

salt and ground black pepper,

to taste
To Serve:
garlic bread

parsley,

chopped

parmesan cheese,

grated or powdered
Instructions
Heat up a saute pan with butter until melted. Add the ham and saute briefly.

Pour in water into flour and mix until combined. Saute until the roux turns blonde.

Deglaze with white wine and reduce briefly.

Pour in the milk and bring the mixture to a simmer. Continue simmering for roughly 15 minutes until the flour taste disappears and the sauce thickens.

Season to taste with salt and pepper. Ladle on top of cooked pasta.

Garnish with chopped parsley and parmesan cheese. Serve with a side of garlic bread. Twirl on!
Recipe Notes
Make sure that the meat you're adding into your pasta is diced or cut well, and fully cooked to perfectly blend in the meaty taste into your dish.

We suggest topping your Creamy White Sauce With Ham with a tablespoon of parmesan cheese and 2 slices of garlic bread per serving.
Nutrition
Sugar:

12g

:

Calcium:

234mg

Calories:

752kcal

Carbohydrates:

98g

Cholesterol:

71mg

Fat:

25g

Fiber:

4g

Iron:

2mg

Potassium:

605mg

Protein:

29g

Saturated Fat:

13g

Sodium:

506mg

Vitamin A:

651IU
Nutrition Disclaimer
Commonly Asked Questions
What is the difference between carbonara and bechamel?

They may look the same but they are actually two different sauces. Carbonara is made of eggs, parmesan, bacon, and pepper, while bechamel is made with milk and cheese.
Can white sauce be made in advance?
Yes! When you're ready to use your white sauce, warm it gently over low heat and whisk until smooth. If the sauce is too thick, add warm milk or cream, 1 tablespoon at a time. 
How do I store and reheat my pasta with white sauce?

Your leftover pasta noodles and sauce must be stored separately. Put it in airtight containers in the fridge for 3 to 5 days. You can reheat it in the microwave on medium-high. You can also reheat it in a saucepan over medium heat.

Can I freeze my pasta?
Of course! To freeze cooked pasta, let it cool slightly, drizzle it with olive oil or cooking oil and toss gently so the noodles wouldn't stick together. Place it in airtight containers. To defrost your frozen pasta noodles, you can directly put them in boiling water or reheat them directly with your pasta sauce.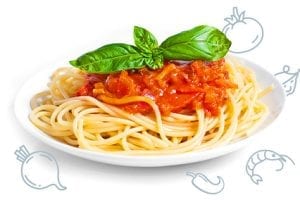 Conclusion
This Pasta in Creamy White Sauce with Ham is so creamy, delicious, and filling! You could never go wrong with easy pasta recipes like this one! Enjoy it warm and top it with your favorite cheese toppings!