Few recipes say "Christmas" quite like a good smoked ham. Liven up your presentation this year with a helping of hickory smoke flavor. This hickory smoked ham recipe is complete with the ham brine, smoked ham rub, and brown sugar glaze for that perfect sweet-savory balance. Plus, we have instructions on both smoking a precooked ham and uncooked ham. Serve it with steamed rice or hamburger buns with kale salad on the side.
Tips on Making Smoked Ham
What's great about making your own homemade ham is you get to control what's in it. Plus, the labor of love just makes it extra special. This recipe is here to guide you – from picking the right ham, to sugar-curing, to cooking smoked ham. Here are some valuable tips that we've gathered to start you off.
Pre-cooked or fresh ham?

The difference is the prep time. You can smoke pre-cooked ham directly because it has already been cured. On the other hand, fresh raw ham, also called

green ham

, needs to cure for about 1 day per pound, so go for it if you've got extra time.
Spiral-cut or whole ham?

Spiral sliced ham

has its advantage as it'll be easier to serve. However, we suggest going for whole ham because it is less prone to drying out. 
Pick bone-in ham.

It gives a meatier flavor.
Keep the ham at indirect heat.

The key is to cook it slowly so that it has enough time to be fully infused with the smoky flavor.
Save the juices that will collect in the aluminum pan.

Simmer it to reduce until it's thickened, and you'll have the tastiest drip sauce.
If you're planning to use a whole 15 to 20-pound ham, then just double the recipe, brine time, and smoking time.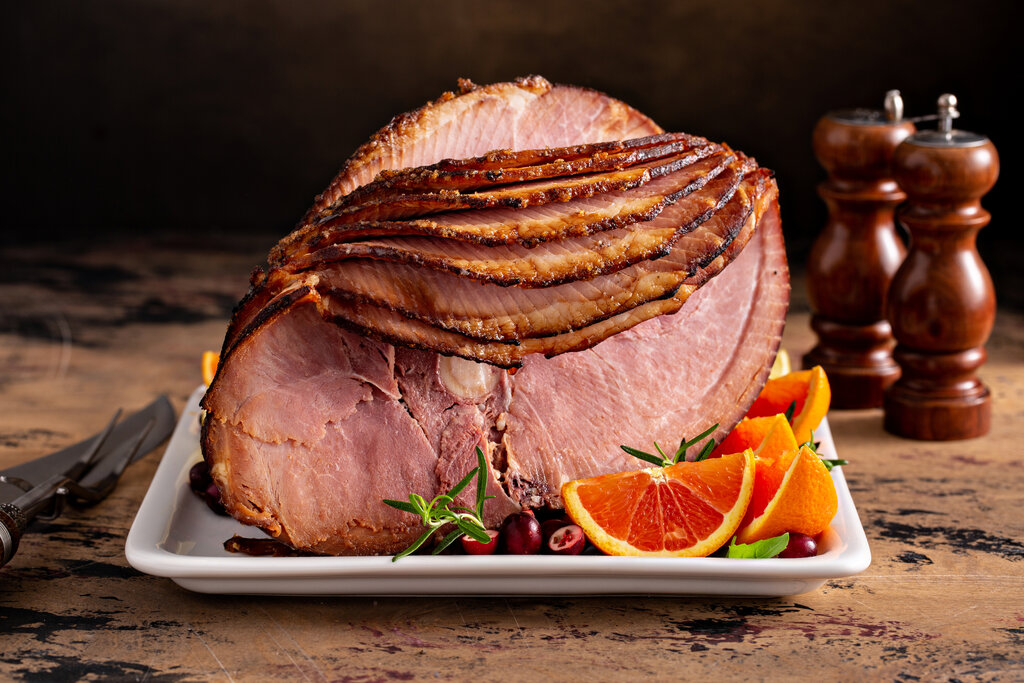 Heavenly Hickory Smoked Ham Recipe
How To Make Heavenly Hickory Smoked Ham
Have the most tender sweet-savory ham with a deep hickory smoke flavor with this smoked ham recipe. Make it using pre-cooked or fresh ham.
Ingredients
7

lb

whole bone-in ham,

see Recipe Notes

1½

cups

*brown sugar glaze,

see Recipe Notes for recipe

½

cup

*BBQ spice rub,

see Recipe Notes for recipe

2

lbs

Hickory wood chips

2

tbsp

oil
For Brine:
6

qt

water,

divided

1

cup

kosher salt

2

cups

brown sugar

2

tbsp

black peppercorns

1

tbsp

pink curing salt

6

garlic cloves

1

tsp

cloves

5

bay leaves

1

tbsp

paprika
Instructions
Heat up 2 quarts of the water in a large stock pot. Add the rest of the ingredients and cook, stirring constantly, until sugar and salt are dissolved.

Add the remaining water to cool it down.

Clean the ham by rinsing it with running water.

Trim off the skin. Then, score the ham by lightly running the knife diagonally in opposite directions.

Add the ham into the stock pot. If it is not fully submerged, weigh it down.

Cover it with the lid or plastic wrap and keep it in the fridge for 7 days (1 day per pound).

Take the ham out of the brine and pat it dry.

Allow it to dry in the fridge for 8 hours and up to 1 day.

Preheat one side of the smoker with half of the wood chips to 225 degrees F.

Place the ham flat side down on an aluminum pan. Then, place it on the cool side of the smoker.

Smoke it for 2 hours or until it reaches the internal temperature of 130 degrees F. Add more wood chips as needed.

Liberally brush the ham with the glaze. Sprinkle the rub around it as well.

Smoke the ham for an additional 2 to 3 hours or until tender and the internal temperature reaches 140 degrees F, basting with the glaze every hour.

Serve and enjoy your smoked ham!
Recipe Notes
If you're using precooked ham, then it doesn't need to be brined. Proceed to step number 8 and prepare only the first 5 ingredients.

*These

brown sugar glaze

and

BBQ rub

recipes are the best for this smoked ham. Make them a few days ahead or as you smoke the ham.
Nutrition
Sugar:

62g

:

Calcium:

281mg

Calories:

1308kcal

Carbohydrates:

75g

Cholesterol:

246mg

Fat:

71g

Fiber:

2g

Iron:

10mg

Monounsaturated Fat:

34g

Polyunsaturated Fat:

8g

Potassium:

1480mg

Protein:

91g

Saturated Fat:

25g

Sodium:

21856mg

Trans Fat:

1g

Vitamin A:

444IU

Vitamin C:

4mg
Nutrition Disclaimer
Frequently Asked Questions
Is smoked ham fully cooked?
Hams that are aged, cured, baked, or smoked, are all cooked. They are technically ready to eat, but you might prefer to reheat to improve the texture.

Is smoked ham really smoked?
Yes, but in different ways. Most authentic commercially produced smoked hams are cured in smokehouses using smoldering wood chips. Others obtain the smoke flavor from liquid smoke, a seasoning which essentially contains condensed smoke particles.

How do you smoke a ham without drying it out?
It is important to use a thermometer to monitor the internal temperature of the ham. We recommend keeping it below 155 degrees F just like what we did for this smoked ham recipe. The answer to how long to smoke a ham varies, but a good rule of thumb is to allow 35 minutes per pound of bone-in ham leg, and 25 minutes for boneless ham. In case it dries out, a quick fix is to smother it with your favorite ham glaze recipe.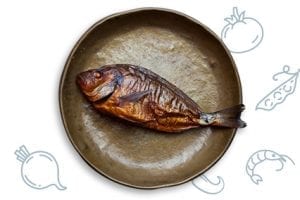 Conclusion
Just follow this smoked ham recipe and you'll realize that smoking a ham that's perfectly tender and tasty isn't difficult at all. We recommend making a couple extra for your guests who will surely ask for more!