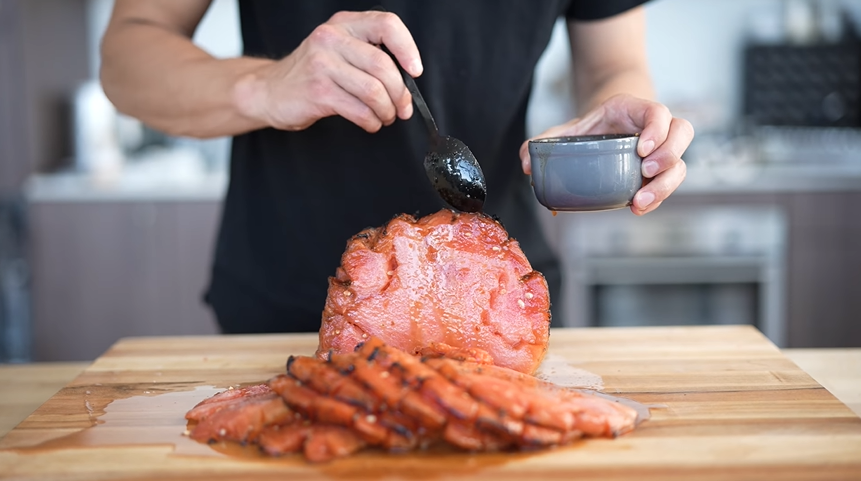 Smoked Watermelon Ham Recipe
There are LOTS of ways to enjoy watermelon. It's often a refreshing element in dessert recipes. But have you tried roasting it? A vegan alternative for smoked ham, smoked watermelon ham tastes SO sweet and smoky at the same time. Much like its meaty counterpart, smoked watermelon is perfectly seasoned with a blend of spices. At a glance, it's pretty hard to tell it apart from a real smoked ham.
Wanna know how to make smoked watermelon ham? It's easy to turn this summer fruit into a roasted dish, don't worry! Of course, you should start with a good, heavy watermelon. I sliced off the rinds and carved the fruit carefully to make it look like ham.
I formed a cross-hatch pattern on top, then brined the watermelon for at least 24 hours (you can brine it up to a couple of days). My brine mixture includes coconut sugar, salt, and seasonings such as garlic, onion, chili, paprika and cloves. But, by all means, use your preferred herbs and spices.
Bake the watermelon at 450 degrees Fahrenheit for 30 minutes. Then, turn the oven temp to 250 degrees Fahrenheit and roast the watermelon for 3 hours.
As a final touch, I adorned my smoked watermelon ham with a sweet-smoky chipotle and honey glaze. Then, I garnished it as I would a roast ham — with orange slices, fresh rosemary, and thyme sprigs. I must say, each bite of this cooked watermelon was totally explosive! Hot. Smoky. Refreshing. This BBQ watermelon is truly perfect for backyard summer parties! But feel free to serve these smoked watermelon slices as a dessert after dinner.
How To Make Smoked Watermelon Ham
This sweet-savory smoked watermelon ham may look a lot like its pork counterpart. But you can be assured this recipe is 100% meat-free.
Cooking:
6 hours 56 minutes
Total:
19 hours 26 minutes
Ingredients
For the Smoke Watermelon:
1 large watermelon, seedless

½ cup kosher salt

3 tbsp coconut sugar

1 tbsp chili powder

1 tbsp smoked paprika

1½ tsp freshly ground black pepper

2 tsp garlic powder

2 tsp onion powder

½ tsp ground cloves

3 cups hickory chips, soaked in cold water for 1 hour
For the Chipotle And Honey Glaze:
2 tsp canola oil

½ cup coconut sugar

2 tsp garlic, minced

½ cup raw agave

2 tsp fresh ginger, peeled, minced

½ cup fresh orange juice

2 tsp dijon mustard

1 tbsp pureed chipotle in adobo

1 tsp kosher salt

½ tsp worcestershire sauce
For Garnish:
orange, or fresh rosemary or thyme sprigs
Instructions
Smoked Watermelon:
Carefully cut the ends off of the watermelon. Turn the watermelon onto a flat side, then cut off the rind, working carefully to cut off as little flesh as possible. Discard the rind.

Lay the watermelon on the cutting board lengthwise. Find the side of the watermelon with the largest surface area and set that face-up.

On the top of the watermelon, cut 1-inch deep diagonal slits in opposite directions to form a cross-hatch pattern.

In a medium bowl, whisk together the salt, coconut sugar, chili powder, paprika, pepper, garlic powder, onion powder, and cloves.

Rub the spice mixture all over the watermelon. Make sure to get some between the cross-hatch cuts, but be careful not to tear the watermelon.

Set a wire rack inside a rimmed baking sheet. Place the watermelon on the rack, cross-hatch side up. Then, refrigerate it, uncovered, for at least 12 hours.

Preheat the oven to 450 degrees F.

Drain all but 2 tablespoons of the hickory chip soaking liquid, then spread the chips and reserved liquid in an even layer over the bottom of a roasting pan. Set a roasting rack on top.

Place the watermelon, cross-hatch side up, on the roasting rack. Cover the pan tightly with heavy-duty foil.

Bake the watermelon for 30 minutes.

Reduce the oven temperature to 250 degrees F.

Continue baking the watermelon for 3 hours, then remove the foil and roast for another 3 hours.
Chipotle and Honey Glaze:
Heat the canola oil in a large skillet over medium-high heat.

Once the oil is shimmering, add garlic and ginger. Stirring frequently, cook for 1 to 2 minutes or until the vegetables are light golden brown and fragrant.

Add the coconut sugar, honey, orange juice, mustard, chipotle, salt, and Worcestershire sauce. Cook until the mixture is evenly combined. Stir constantly.

Bring to a simmer, and then reduce the heat to medium. Cook for 10 to 12 minutes more, or until the mixture is reduced by half.

After 6 hours, remove the watermelon from the oven and turn the broiler on high.

Carefully remove the rack from the roasting pan and place it on a baking sheet. Discard the excess liquid and hickory chips from the pan. Return the rack with the watermelon to the roasting pan.

Brush ¼ cup of the glaze over the top of the watermelon.

Broil for 10 to 12 minutes, rotating the pan as needed, until the glaze has evenly caramelized.

Using long metal spatulas to support the watermelon, transfer it to a large serving platter with sliced oranges, fresh rosemary, or thyme sprigs.

Glaze the warm watermelon with another ¼ cup of the glaze. Slice the watermelon and serve with the remaining glaze alongside. Enjoy!
Nutrition
Calories: 

291.22kcal

Fat: 

2.05g

Saturated Fat: 

0.21g

Trans Fat: 

0.00g

Monounsaturated Fat: 

0.85g

Polyunsaturated Fat: 

0.68g

Carbohydrates: 

72.07g

Fiber: 

3.95g

Sugar: 

61.33g

Protein: 

4.02g

Sodium: 

1427.88mg

Calcium: 

52.54mg

Potassium: 

887.39mg

Iron: 

1.82mg

Vitamin A: 

193.21µg

Vitamin C: 

56.85mg