Rather than frying, roasting, or grilling, it's time to get out of your comfort zone and give your slow cooker a try. If your New Year's resolution is to live a healthier lifestyle, check out this Slow Cooker Chicken Breast recipe. It's definitely a healthy and delicious way to end the day.
A mix of subtle herbal and earthy taste from spices such as sage and rosemary will be used in the marinade. Add these flavors to the rich and creamy sauce made with leek, shallots, chicken stock, and heavy cream where the chicken breasts will be cooked in and you will have a dish bursting with flavor. It complements very well with the egg noodles that have a slight savory taste.
Want to make egg noodles from scratch? Follow this Easy Egg Noodles Recipe for a fresh batch of homemade noodles.
What's In Our Slow Cooker Chicken Breast With Mustard-Leek Sauce?
This recipe is a combination of chicken, egg noodles, and creamy white sauce. It will be a sure hit to both children and adults for its delicious taste. It is a combination of rich, creamy, earthy, and tangy flavors mixed in harmony and all wrapped in one flavorful dish. So if you're wondering what goes in this dish, we'll give its essential ingredients a run down.
Marinated Chicken Breasts

-We're marinating chicken breasts in a concoction made with sage and rosemary for an earthy flavor, mayonnaise to make it juicer and flavorful and cider vinegar to make it more tender. It is important to marinate them for a long period of time or if possible overnight. This is to ensure that the meat absorbs the flavors and are made tender. 

Mustard- Leek Sauce

– Whole grain mustard adds a sour flavor to our sauce without being too strong or overwhelming. On the other hand, leek adds a taste of onion but is more delicate in flavor. It is also sweeter and has more nutrients than the regular onion. On the other hand, white wine contributes a mild fruity flavor and acidity that complements well with the thick heavy cream. 

Egg Noodles

–

Chicken and noodles

is always a great combo so, in this recipe, we will be using egg noodles tossed in butter. It is just like plain noodles with a hint of savory flavor due to the addition of eggs and butter.
All of these elements work well together giving you the right amount of flavor and textures that are truly appetizing.
After making this slow cooker chicken breast recipe, make sure to try out other chicken recipes here in our 10 Mouth Watering Chicken Salad Recipes. If you want to try another chicken recipe that includes egg noodles, try this Slow Cooker Chicken Cacciatore recipe for an Italian taste.
Tips In Making Chicken And Noodles With Creamy Leek Sauce
We love using the slow cooker since it is a healthier approach to cooking. It does not require large amounts of oil and sometimes it does not even need oil. The natural fat from the meat is already enough to cook the food. Just follow the recipe and slow cooker instructions and you'll be fine. With this cooking equipment, you can make the most out of your meat. The meat extracts a meaty flavor better when it is slow-cooked.
The chicken breast won't be fried and absorb more oil. It will remain nutritious and a healthy part to eat. Slow-cooking it will make it a more flavorful dish as the flavors from the sauce will seep through better.
If you're not into egg noodles, go for fettuccine, tagliatelle, or linguine.
Substitute egg noodles with potatoes or rice

if you're not in the mood to eat pasta.

Add green beans for more texture and color in your dish. 
Add cheese to your sauce.

Simply throw in some cheddar and parmesan cheese for a creamy and cheesy sauce.

Garnish it with bacon bits for extra crunch and added flavor.

White sauce and bacon is a classic combo for that milky and salty taste.
Thought you can only prepare savory dishes with your slow cooker? Make our three-ingredient Slow Cooker Dulce de Leche Rice Krispie Bars that you and your kids will enjoy for snack time or dessert.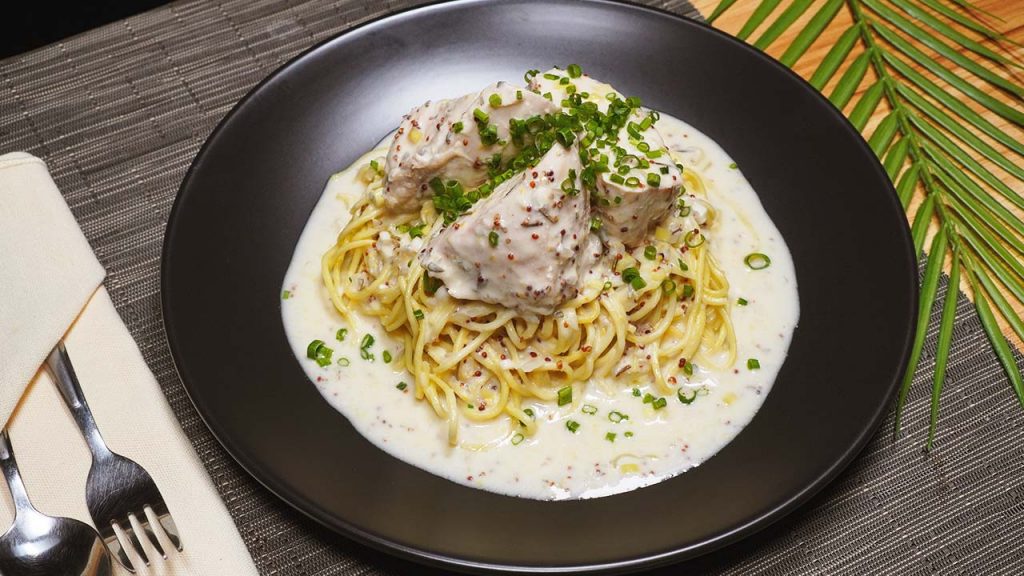 Slow Cooker Chicken Breast With Creamy Mustard Leek Sauce Recipe
How To Make Slow Cooker Chicken Breast With Creamy Mustard Leek Sauce
This recipe makes use of chicken breast that's been marinated and slow cooked for a tender and flavorful meat. Top it under egg noodles and pour in creamy white sauce and it makes a delightful main dish.
Ingredients
For Chicken Marinade:
2

chicken breasts,

boneless and skinless

⅓

cup

mayonnaise

½

tsp

salt,

add more for the slow cooker

1

tbsp

sage,

fresh, finely minced

2

tbsp

cider vinegar

1

tbsp

rosemary,

fresh, finely minced
For Chicken and Mustard Leek Sauce:
1

shallot,

finely minced

1

leek,

trimmed, cut, and sliced into half moons

¾

cup

chicken Stock

1

tbsp

corn starch

1

tbsp

whole-grain mustard

2

tbsp

dry white wine

⅓

cup

heavy cream

12

oz

egg noodles

3

tbsp

butter

pinch

salt

1

handful

chives,

finely chopped
Instructions
Chicken Marinade:
Add all the marinade ingredients except the chicken to a mixing bowl. Stir to combine.

Nestle the chicken in the marinade and cover and store in the refrigerator overnight.
Chicken and Mustard Leek Sauce:
In a slow-cooker, add in your shallots, and leek along with a pinch of salt. Add the chicken stock and cornstarch to the slow cooker and stir to combine. Make sure the cornstarch is dissolved in the chicken stock with no lumps.

Add the mustard, white wine, and heavy cream, stirring once more to combine everything.

Add the marinated chicken to the slow cooker, discarding any excess marinade. If some marinade and herbs are clinging to the chicken when you add it to the slow cooker, that's fine. 1:06 Set the cooker to low and cook for 2½ hours.

Boil water in a large pot and cook the egg noodles according to the directions on the package.

Toss the cooked egg noodles with butter then set aside. After 2½ hours, check to see if the chicken is fully cooked. If it is less than 165 degrees F, at its thickest point, continue cooking. Check the chicken every 15 minutes until it's fully cooked. Also taste the sauce if it needed more salt.

Once done, transfer it to a cutting board and slice it into medallions.

Portion your egg noodles and arrange the chicken atop. Pour over some sauce and garnish with chives before serving!
Nutrition
Sugar:

5g

:

Calcium:

91mg

Calories:

750kcal

Carbohydrates:

70g

Cholesterol:

139mg

Fat:

39g

Fiber:

4g

Iron:

3mg

Monounsaturated Fat:

13g

Polyunsaturated Fat:

13g

Potassium:

498mg

Protein:

27g

Saturated Fat:

11g

Sodium:

679mg

Trans Fat:

1g

Vitamin A:

1213IU

Vitamin C:

4mg
Nutrition Disclaimer
Commonly Asked Questions
Can I leave my slow cooker on while I'm out?
Of course. Slow cookers are made to be working for long hours to really give your dish more flavor. Most slow cookers turn off by themselves just don't forget to read the manual of your equipment for better knowledge on how to use it.
What else can I do with chicken breast?
You can try alcohol infused ones with this Mojito-Marinated Chicken Breast Recipe or enjoy wrapped and stuffed chicken breasts with our Prosciutto-Wrapped Cherry-Stuffed Chicken Breasts Recipe.
What can be an alternative to whole grain mustard?
If you don't have whole grain mustard, you can either use yellow mustard or Dijon mustard.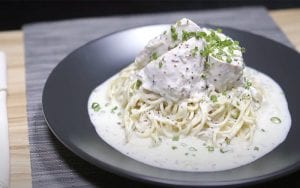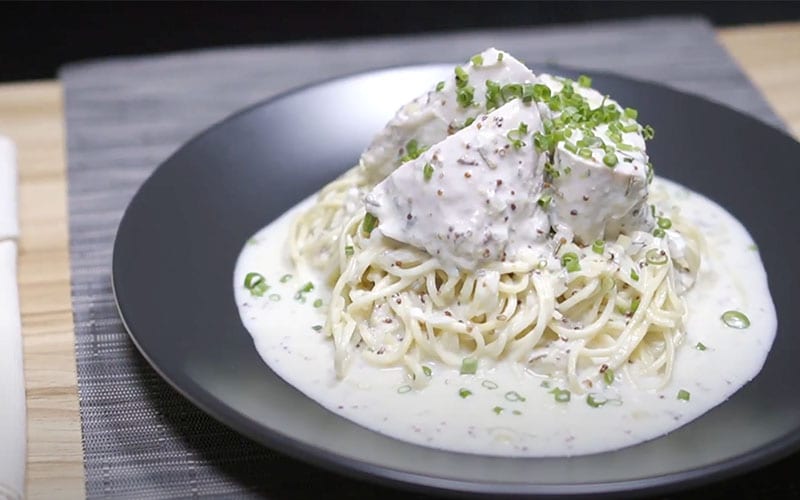 Conclusion
This savory dish is perfect if you're having a home-cooked meal for a dinner date or if you're having a couple of friends come over. It's easy to follow and tastes delicious. Make it when you have time to spare and serve a dish that tastes like it was made from a 5-star restaurant.