Have you ever wondered how Subway makes its bread fluffy and delicious? Well, we've cracked the secret to that with our Subway bread recipe! You're going to love how it tastes just like the beloved bread that Subway uses for their sandwiches. It's light, soft, and you can make it in the comfort of your home.
We're sure you have your favorite sandwiches on the Subway menu. But a Subway creation would not be the same without the proper Subway bread. In today's recipe, we're going to show you how to make homemade Subway bread for your subs cravings!
Where to Use Our Subway Bread Recipe
Our Subway bread recipe is so versatile, that you can use it on other subs of your making! But we're not just going to leave you hanging there. Because we've got a ton of Subway-like recipes that you can try out using our homemade Subway bread. Some of our readers' favorites are the BLT, Philly Cheesesteak, and Meatball subs. But you can access the rest of our Subway favorites and make them any time you like!
You might be wondering, "What kind of bread does Subway have that has us baking it?" Well, there are many subway bread options to choose from. But the beauty of the varying subway bread types is that they're incredibly flavor-neutral. It also has a flaky outside and a soft texture on the inside. This particular texture profile adds on to any of the delicious toppings and fillings you wish to go with it. Lastly, they smell like freshly-baked bread, especially when toasted. Those alone are reason enough for us to give you the best subway bread recipe.
Making the Best Subway Bread
The Subway bread is more special than any other sub shops out there. Many will say it's because they give you the option to toast or heat your bread. But really, it's the different types of bread that they use in making their sandwiches that make a difference. Subway serves their sandwiches using wheat bread, Italian bread, and flatbread. They also have gluten free bread that is equally great in flavor and texture. All those are perfectly baked, packed, and used for your Subway delights. For this recipe, we'll be making Subway's Italian bread. Our homemade Subway bread is simple and replicates the flavor and texture you'd get from the original.
But what makes our Subway bread recipe so different? While others take their sweet time recreating this, ours are made in under 2 hours. That is the right amount of time for waiting on those deliciously fluffy loaves of bread. And the secret to that is allowing the dough to rise twice. This ensures a fluffy interior that'll help you enjoy your subway sandwich.
Our Subway bread ingredients are also fresh, especially the yeast, which will help yield the best kind of bread. They're very simple ingredients too, which you might already have at home. With that in mind, you can try making these in batches so you can store them for whenever your Subway cravings are calling you.
You never have to wonder how they make their bread so good with this Subway bread recipe. Pile on your favorite fixings and toppings on these perfectly baked pieces of bread. Share a sub with a friend or family member, and enjoy!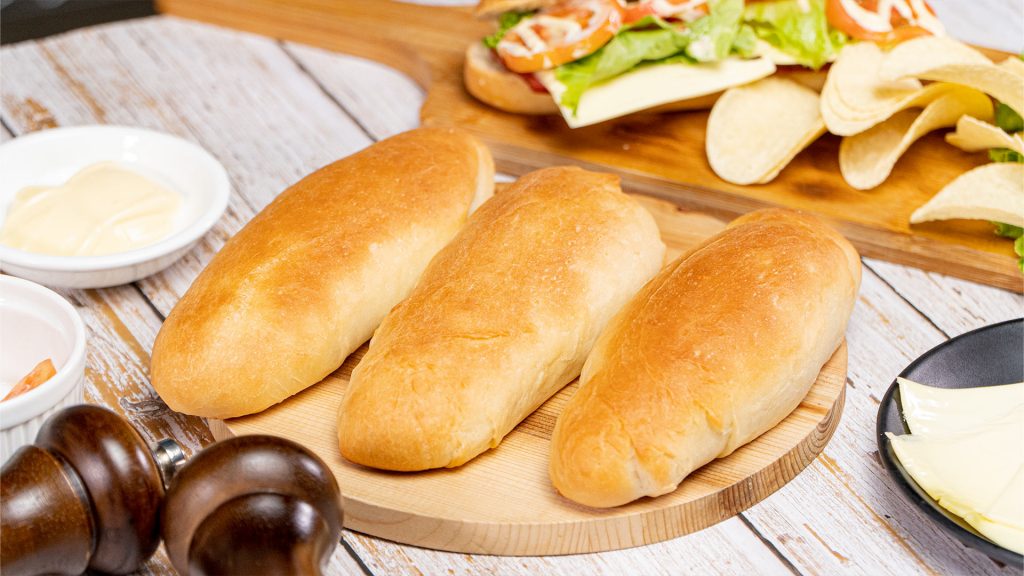 Homemade Subway Bread Recipe
How To Make Homemade Subway Bread
A fluffy and delightful Subway bread recipe that you can easily replicate at home. It comes with a few simple ingredients, and are perfectly made and baked in under three hours!
Ingredients
1

cup

water,

warm (110 degrees F)

1½

tbsp

yeast

1

tbsp

granulated sugar

1½

tsp

salt

4

tbsp

olive oil

3½

cups

all-purpose flour,

sifted
Instructions
In the bowl of your stand mixer, add the water, yeast, sugar, salt, and olive oil. Combine the mixture for 5 minutes.

Add 1 cup of flour, then mix with the dough using the hook attachment for 3 to 5 minutes. Add an additional cup of flour and mix until well combined.

Continue adding the flour, ¼ cup at a time until a soft dough is formed. The dough should still stick to the bottom of the bowl but pull away from the sides.

Let the dough mix for around 8 minutes.

When the dough has come together but is still sticking a bit to the bottom of the bowl, turn it out onto a lightly floured surface. Then, knead with your hands until smooth. The dough should be very soft.

Shape the dough into a ball and return it to the bowl.

Cover the bowl with plastic wrap and allow the dough to rise for 30 minutes in a warm area.

After the dough has risen, turn it out onto a clean surface and divide it into four.

Roll each piece of dough into long, skinny loaves that are about 9 to 10 inches long.

Place the rolled loaves onto a baking sheet lined with parchment or a baking mat. Repeat with the rest of the dough. Allow at least 2 inches in between each loaf on the pan.

Cover the loaves with a damp cloth and allow the loaves to rise for about an hour until doubled.

Towards the end of the rising time, preheat the oven to 350 degrees F.

When the loaves are ready, bake them in the preheated oven for 25 minutes.

Take the loaves out of the oven, then brush the top with melted butter.

Cover them with a dish towel to cool for at least 30 minutes.

Cut down the middle, and start adding in your subway toppings and fixings. Enjoy!
Recipe Notes
For a more filling subway sandwich, you can also mix in some whole wheat flour. To do this, use a ratio of half all-purpose flour and half whole wheat flour for your flour in this bread recipe.
Nutrition
Sugar:

3g

:

Calcium:

19mg

Calories:

538kcal

Carbohydrates:

87g

Fat:

15g

Fiber:

3g

Iron:

5mg

Monounsaturated Fat:

10g

Polyunsaturated Fat:

2g

Potassium:

132mg

Protein:

12g

Saturated Fat:

2g

Sodium:

878mg

Vitamin C:

1mg
Nutrition Disclaimer
Commonly Asked Questions
How long will my homemade Subway bread keep?
Our homemade Subway bread will last for 3 to 5 days. Make sure to store your Subway bread in a bread box or air-tight container at room temperature. If you wish to place them in the fridge, they should last for 5 to 8 days. Either methods will ensure that your bread does not grow molds and can still be consumed the provided days.

How many pieces of bread does this Subway bread recipe yield?
With the current recipes and quantities, these should make you 6 pieces of Subway bread. But if you're serving a bigger crowd, these can easily be adjusted in our recipe portion and can reach up to 20 pieces.

How do I avoid my Subway bread from becoming dense?
The common case of dense bread is usually that the bread was under-kneaded, you used old or expired yeast, or you did not allow the dough to rise enough. Make sure to knead your dough enough to the point that the texture is soft and elastic. Always check your yeast labels for expiration dates. And finally, give your dough enough time to rise. For our Subway bread recipe, allowing the dough to rise for 30 minutes for the first rise and an hour for the second rise should do the trick.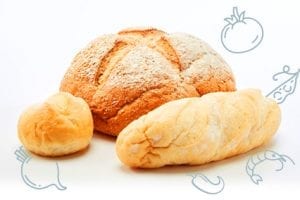 Conclusion
Enjoy your favorite Subway sandwich with the right bread using our Subway bread recipe. It's easy, contains only six ingredients, and it's perfectly scrumptious! You can't even tell the difference once you take a bite of it. Try our homemade Subway bread with your favorite fixings and toppings for a filling meal!