Apricot is one of the most versatile fruits which can be eaten fresh, baked, dried, or preserved. In this recipe, we're making savory apricot preserves from fresh apricots. It has sweet and tart chunky apricot pieces and is made spicy with jalapeno peppers. It's specially made for roast pork and lamb, but you can also use them as a topping for baked brie, a dip for saltine crackers, or a spicy addition to your charcuterie board. 
Tips on Making Jalapeno Apricot Preserves
Since fresh apricots ripen quite fast, drying and cooking them into apricot jams, jellies, and preserves are a great way to extend their shelf life. Preserving apricots is not complicated at all, even for beginners. Here are some helpful tips to ensure that you will always make them perfectly every time:
The easiest way on how to peel apricots

is to slice an "x" at the bottom of each fruit and blanch them in simmering water for 30 seconds. Then, you need to quickly submerge in icy water so that they can be easy to handle. The skin should slide right off when peeled starting from the "x" mark.
Use good quality food gloves when handling the jalapenos.

This is to prevent the burning sensation caused by the strong juice and oil from the jalapeno peppers. Alternatively, you can use a food processor to chop them.
Make sugar-free apricot preserves

by substituting stevia, agave, or maple syrup. You can also use honey but it won't work if you plan to can it. However, should you choose to use no sweetener at all, the preserves will be tarter than they should be. You can serve it with honey on the side to drizzle.
For a nutty flavor, you can add the almond-like apricot kernels

that you'll find when you crack the pits open. They are packed with protein and fiber, so that's added nutrients for your preserves. You can also add almonds, pistachios, and pecans.
How To Make Jalapeno Apricot Preserves
Make apricot preserves with a spicy kick from jalapenos for the perfect sauce or side for roast meat. You can easily whip up this recipe in just 30 minutes.
Ingredients
½

cup

jalapeno peppers,

seeded and finely minced

3

lb

fresh apricots,

peeled and pitted, sliced or diced

2

cups

apple cider vinegar

1

large

sweet red pepper,

seeded and finely minced

2

tbsp

lemon juice

2

cups

granulated sugar

3

tbsp

liquid pectin,

or 6 tsp dry

4

drops

red food coloring
Instructions
In a large saucepan, combine all the ingredients except pectin and bring to a boil.

Bring the heat to low and simmer until reduced to three-quarters, about 20 minutes. Skim any foam that forms on top.

Mix in liquid pectin and boil for 1 minute.

Ladle into jars and let cool before refrigerating. Enjoy!
Nutrition
Sugar:

27g

:

Calcium:

12mg

Calories:

119kcal

Carbohydrates:

29g

Fat:

1g

Fiber:

2g

Iron:

1mg

Monounsaturated Fat:

1g

Polyunsaturated Fat:

1g

Potassium:

218mg

Protein:

1g

Saturated Fat:

1g

Sodium:

2mg

Vitamin A:

1592IU

Vitamin C:

21mg
Nutrition Disclaimer
Commonly Asked Questions
Is apricot preserve the same as apricot jam?
Both forms of preserved apricots are cooked in sugar. Apricot jam is usually made with pureed apricots, while apricot preserves are chunkier with bigger fruit pieces included. Two other similar forms are apricot jelly and marmalade. Apricot jelly comes from fruit juice hence it is the clearest and smoothest form. An apricot marmalade, on the other hand, is puree cooked with more water. Its consistency is in between, more stable than jelly but looser than jam.

What do you eat apricot preserves with?
This savory apricot jalapeno sauce goes best with smokey food such as barbecue ribs and grilled salmon. Try drizzling it on top of this pizza bianca and it'll be more delicious than it already is!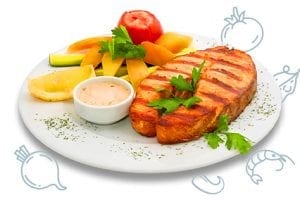 Conclusion
This jalapeno apricot preserves recipe is a must-try. Enjoy the warmth of this summer fruit preserves in the winter. Level up your roasted meat dishes with our savory preserves ready in just 30 minutes.
Topics: