Vegans don't need to say goodbye to the irresistible taste of bacon forever, not with our Vegan Bacon Recipe! In this recipe, we make a vegan-friendly version of the popular breakfast food, bacon! Our fake-on bacon is so similar to real bacon that you won't even notice the difference. With our amazing recipe, your vegan-friendly version will have the same crispy texture and salty taste that bacon is known for.
Many people often confuse veganism with vegetarianism, although the two are very different practices. While both vegetarians and vegans eat plant-based food, vegans have a stricter diet. What sets the two apart is that vegans don't eat anything that could have come from a living animal. So, vegetarians can eat eggs and butter while vegans can't. While people have various reasons for going vegan, many eventually miss the taste of irresistible meat dishes, like steak and bacon. Thankfully, veganism is becoming popular with foodies! At present, many restaurants and home cooks have tried their hand at vegan cuisine. And an example is this exact recipe.
Usually, the trouble with vegan recipes is that they don't successfully recreate the taste or texture of food that vegans miss eating. But with our fake-on bacon, you won't be having the same problem! Our recipe uses daikon radishes to make delicious, crispy vegan-friendly bacon. And of course, all the other ingredients used in this recipe are vegan-friendly. If you liked this recipe, try our other vegan dishes, like our Fool-proof No Egg, No Oil Chocolate Cake or Linguini Aglio Olio.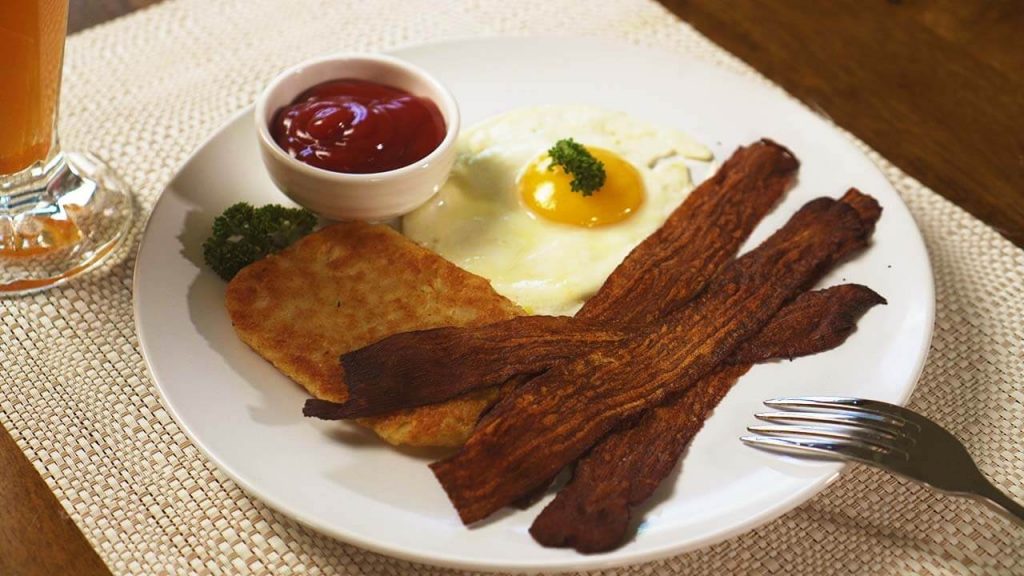 Vegan Bacon Recipe
Cook thin slices of smoky, crispy, and salty bacon the vegan way, using Daikon radish. You won't notice the difference between real and vegan with our Vegan Bacon Recipe!
Ingredients
For Vegan Bacon:
10

oz

fresh radish,

preferably Daikon

salt,

to taste

cooking spray
For Marinade:
2

tsp

smoked paprika

1

tsp

soy sauce

2

tbsp

coconut oil

½

tsp

salt

2

tsp

garlic powder

1

tbsp

maple syrup
Instructions
Vegan Bacon:
Preheat the oven to 325 degrees F.

Make long, thin strips out of radish by peeling thinly using a peeler.

Layer the radish strips on a baking tray lined with paper towels. Sprinkle the radish strips with salt, then cover with another paper towel.

Set aside for about 15 minutes.
Marinade:
In a bowl, combine the paprika, soy sauce, coconut oil, salt, garlic powder, and maple syrup, and whisk until evenly incorporated.

Remove the paper towel on top of the radish and wipe off any excess salt and moisture.

Transfer the peeled radish into the marinade and mix until well coated.

Marinate for at least 15 minutes.

After marinating, drain radish slightly.

Spritz cooking spray on a baking tray to prevent the radish from sticking.

Neatly arrange the radish strips onto the greased baking tray.

Roast them in the oven for about 25 minutes, or until golden brown.

Serve along with vegan eggs, hash brown, and your preferred ketchup or dressing. Enjoy!
Nutrition
Sugar:

3g

:

Calcium:

4mg

Calories:

65kcal

Carbohydrates:

4g

Fat:

6g

Fiber:

1g

Iron:

1mg

Potassium:

42mg

Protein:

1g

Saturated Fat:

5g

Sodium:

301mg

Vitamin A:

394IU
Nutrition Disclaimer
Commonly Asked Questions
What other ingredients can I use to make bacon that's safe for vegans?
While our recipe uses daikon radishes, you can use other ingredients as a substitute. Other vegetarian and vegan-friendly options include eggplant, firm tofu, rice paper, shiitake mushrooms, seitan, coconut, and tempeh. You can give them flavor by using the same marinade in this recipe. However, take note that each ingredient has its own recommended cooking time.
Is vegan bacon healthier than regular bacon?
While bacon is a good source of omega-3 fatty acids, it also has high amounts of saturated fat. Too much saturated fat results in high cholesterol, which is bad for your heart. However, store-bought plant-based bacons may not exactly be healthier either. Like regular bacon, they're also processed, so it's better to eat in moderation. Good thing our homemade recipe uses daikon radish. This plant is high in vitamin C, phosphorus, and potassium. Daikon Bacon is certainly one of the best plant-based bacons out there! They come close to the taste and look of regular bacon.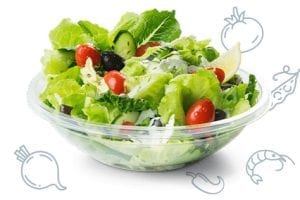 Conclusion
The search for the best-tasting vegan bacon is over. With our recipe, you can make fake-on bacon using vegan-friendly ingredients like daikon radish that's marinated and roasted to perfection. Pair your fake-on bacon with vegan eggs and hashbrowns and you'll be more than ready to face the day ahead!