Empanada is such an iconic dish for countries that were influenced by Spain. For those who are not familiar, the empanada is similar to a turnover and filled with meat or vegetables. When the Mexican immigration began to settle its roots in the United States, the empanada became popular in the country.
Fastfood chains like Taco Bell began including the empanada in their menu — and eventually added their twist. For this recipe, we'll show you how you can turn the empanada into a sweet dessert. This is inspired by Taco Bell's caramel apple empanada. It's easy and will definitely satisfy your sweet tooth.
Serve this after lunch and dinner and we guarantee that this is the perfect ending to any meal. Taco Bell' caramel apple empanada is perfect for any occasion. Serve it with milk and coffee and you're good to go.
Copycat Taco Bell's Caramel Apple Empanada Recipe
Ingredients
1/4

cup

granulated sugar

1

tsp.

ground cinnamon

1

tbsp.

all-purpose flour

4

cups

peeled & sliced Granny Smith and Macintosh apples

1/4

cup

water

1/4

cup

caramel sauce

2

tbsp.

unsalted butter

2

rolled pie crusts

1/4

cup

egg whites

1/4

cup

cinnamon sugar

for sprinkling
Instructions
Preheat oven to 400°F.

Mix sugar cinnamon and flour together and set aside.

In a saucepan bring apples and water to a boil, cover, reduce heat to low, and let cook for 10 minutes or until apples are tender.

Remove from heat and fold in sugar flour mixture, caramel topping and butter.

Stir well until mixed completely.

Unroll the pie crusts and thin out dough with rolling pin slightly.

Use a cereal bowl or medium size ring mold to trace and cut out the shape in the dough.

You should be able to get 2 circles out of each pie crust.

Spoon 1/4 of the apple compote on each of the circles, leaving about 1/2 inch of the edges uncovered.

Wet the edges of the pie crusts with a little water, and fold over the circle in half.

Use a fork to press and seal the edges.

Brush the egg whites over the top of each hand pie.

Sprinkle with cinnamon sugar.

Line a baking sheet with parchment paper and carefully place each.

Bake for 15-20 minutes until golden brown.

Serve warm.
Commonly Asked Questions
Where Did Empanada Originate?
Empanadas are originally a Spanish dish which was then brought to Southeast Asia and Latin America during the colonization period. As immigration happens, the empanada was then brought to the United States.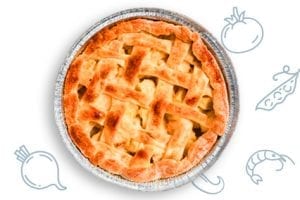 Conclusion
This easy-to-make caramel apple empanada dessert inspired by Taco Bell will surely satisfy your sweet tooth. The crunchy pastry and the sweet baked apple, topped with caramel sauce will surely be a hit at parties.