Don't you just miss Olive Garden's Cannelloni Al Forno? Well now, you can recreate that hearty pasta dish with our own cannelloni recipe! It's akin to that tasteful meal, making it the perfect plate to serve your family for dinner. This makes a serving of eight, so there is plenty to go around for anyone looking for seconds!
The Olive Garden is well-known for serving up some of the best Italian dishes. They never fail to impress with serving family-friendly meals on all occasions. Their cannelloni pasta is one of those unique dishes customers are always asking for. Most of their pasta dishes come in spaghetti, ziti, or lasagna form. But this take on a stuffed pasta bursting with meat and sauces is an exciting take on the usual. Everyone loved how different it was. Though they no longer sell the Cannelloni Al Forno, we're here to show you how to make them at home!
What is Cannelloni?
Cannelloni is a stuffed pasta dish using cylindrical cannelloni shells. They are then filled to the brim with meat and sauces. Its formal term is Cannelloni Al Forno, al forno in Italian meaning "baked". Which makes sense, as these pasta shells are baked with their filling to enhance the dish's flavor. The pasta is then topped with the remaining cream and marinara sauce made for added richness. This is certainly the kind of meal that you would want to share with your family!
Cannelloni, however, is not to be mistaken with Manicotti.
Cannelloni vs. Manicotti
There are common misconceptions about these two kinds of pasta. Cannelloni is smoother in appearance, like that of a tube. They're also generally thinner, giving them the perfect bite once cooked. Manicotti, on the other hand, has ridged lines on the outer layer. This usually helps sauces to cling onto the pasta compared to cannelloni. But regardless of what you're using, they both still work for your stuffed pasta cravings. The Olive Garden has also served Manicotti before. Though discontinued, they were also one of the pasta favorites next to the baked cannelloni.
Making Olive Garden Cannelloni Al Forno
Now that you know the basics of what this beautiful Italian pasta is, let us show off our recipe. Our baked cannelloni comes with a trio mixture of beef, pork, and chicken. They're deglazed in a sprightly red wine for added umami. But to balance out those strong flavors, we've cooked up a light and savory cream sauce. The meat and parsley cream sauce are then stuffed into the cannelloni pasta and plated on top of some marinara. And don't just throw those remaining sauces away, because we're topping it off on the dish to make it extra rich. The dish is then baked for a few minutes to liven up the flavors before they're topped with parsley and served.
It may look like a lot for just a single meal. The stuffing alone is made with meticulous effort. But we can assure you the end result will be positively worth it! After all, you can hardly say no to a pasta dish this spectacular. That sounds like a plate worth serving, doesn't it? Serve it with our Garlic, Cheese, and Tomato Bread Bites recipe for a fuller meal. Enjoy this baked cannelloni with your family or serve it at your next dinner party. Top it off with your favorite garnishes, and enjoy!
How To Make Copycat Olive Garden Cannelloni
A delicious take on the Olive Garden's cannelloni al forno. This stuffed pasta is filled to the brim with seasoned meat and a creamy sauce. They're baked to perfection and served as a great dish for either lunch or dinner.
Ingredients
10

oz

box cannelloni pasta,

cooked and cooled

2

egg yolks

24

oz

jar marinara sauce
For Meat Mixture:
1

cup

red onion,

chopped finely

½

cup

celery,

chopped finely

⅓

cup

carrot,

finely chopped

2

tbsp

olive oil

2

garlic cloves,

minced

½

lb

ground beef

½

lb

ground pork

½

lb

ground chicken

½

cup

red wine

¼

cup

beef broth

2

tsp

Italian seasoning

1

bay leaf

salt and ground black pepper,

to taste
For Parsley Cream Sauce:
2

tbsp

unsalted butter

2

tbsp

all-purpose flour

1

cup

milk

¾

cup

parmesan cheese,

grated or powdered, divided

1½

tbsp

parsley,

finely chopped
To serve:
Instructions
Meat Mixture:
Heat olive oil in a deep skillet over medium-high heat.

Saute onion, celery, and carrot until soft and translucent.

Toss in your garlic and let cook for 30 seconds to 1 minute or until fragrant.

Add the beef, pork, and chicken to the pan. Stir well and break up any large chunks of meat. Continue sauteing until the meat is browned.

Deglaze with red wine and reduce for about 1 minute before adding in your beef broth, Italian seasoning, and bay leaf.

Let the mixture come to a boil before covering with a lid and reducing the heat to let it simmer.

Cook for an additional 15 minutes before uncovering and discarding the bay leaf.

Season to taste with salt and ground pepper. Adjust accordingly and set aside to cool.
Parsley Cream Sauce:
Melt 2 tablespoons of butter in a small saucepan over medium heat.

Whisk in your flour for 2 minutes before adding the milk.

Let simmer for about 5 minutes or until thickened before adding your parsley and a ½ cup of parmesan cheese.
Assembling Your Cannelloni:
Transfer your meat mixture into a large mixing bowl. Then add egg yolks to the meat mixture.

Stir well to combine and then add in the cream sauce.

Take your cooked cannelloni noodles and spoon about ¼ cup of the beef and cream mixture down the center of the tube. Set aside.

Pour about ¼ inch of marinara sauce into the bottom of your preferred baking dish.

Lay in a single layer of the stuffed cannelloni at the bottom of your dish.

Repeat with the remaining marinara sauce and stuffed cannelloni, stacking the noodles as needed.

Sprinkle the top with the remaining Parmesan cheese.

Pour any remaining beef and cheese mixture on top followed by the excess marinara sauce.

Set in the oven to bake at 400 degrees F for about 10 minutes before removing from the oven and setting into the broiler for two more minutes.

Remove once the top is golden brown. Let cool for a few minutes then serve warm. Garnish some parsley on top and enjoy!
Nutrition
Calcium:

193mg

Calories:

424kcal

Carbohydrates:

22g

Cholesterol:

131mg

Fat:

26g

Fiber:

3g

Iron:

3mg

Potassium:

744mg

Protein:

24g

Saturated Fat:

10g

Sodium:

703mg

Sugar:

7g

Vitamin A:

1672IU

Vitamin C:

10mg
Nutrition Disclaimer
Commonly Asked Questions
How do I place my meat and cream mixture into the cannelloni pasta?
Using a large spoon or even a fourth of a cup should help! But if you have a piping bag with a round tip, you can use that too. A piping bag will most certainly save you a lot of time. If you don't have a piping bag, try using a resealable plastic sandwich bag or a Ziploc. Just spoon your mixture into the bag, cut ½ inch at one of the tips, then pipe it into the cannelloni shells.

How do I reheat my baked cannelloni?
Reheating them takes less than 30 minutes. Go and preheat your oven to 400 degrees F. Your pasta should be placed on a baking dish. Place it in the oven and let it cook for 15 to 20 minutes covered with foil. Your pasta should be properly reheated, ready for you to devour again!

How long can I keep the cannelloni pasta in the fridge?
This cannelloni dish should last for up to three days in your fridge. Make sure to seal them in an air-tight container to retain as much freshness as possible.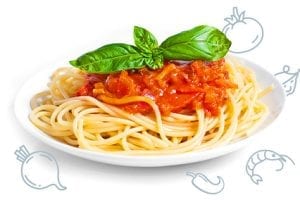 Conclusion
Nothing says a good Italian meal like a baked cannelloni recipe just like the Olive Garden's! Customize the fillings to your liking and make them your own. Serve this indulgent dish to your friends and family over dinner tonight!
Topics: