Papa John's is one of the leading pizza chains across the globe. But what if we tell you that you can have the Papa John's experience without having to go out of the house and wait in line? 
In today's recipe, we'll show you how you can recreate the iconic pizza dish from Papa John's. It's easy and simple, you can eventually add your own flavor to it. Now, you'll never have to spend some cash on delivery. 
Serve this on parties and get-togethers or simply when you have a weekend movie marathon. We guarantee that it tastes just like the original!
How To Make Copycat Papa Johns Pizza
Ingredients
2

tsp

yeast

1

cup

warm water

1

tsp

salt

2

tbsp

olive oil

1

tsp

sugar

3

packs

unbleached all-purpose flour

add more as needed

1/8

tsp

oregano

1/8

tsp

basil

1/8

sprig

thyme

1/4

tsp

lemon juice

1

pack

tomato sauce

1

piece

Italian sausage

1/2

cup

shredded parmesan cheese

1/2

cup

shredded 3-cheese blend

consists of fontina, asiago, and provolone

1/2

cup

chopped bacon

pepperoni slices

1

dash

garlic powder
Instructions
Pizza Crust
In a bowl, add the warm water and yeast.

Stir and let the mixture sit until the yeast turns foamy and dissolves.

Add in the flour, olive oil, salt and sugar.

Mix all four ingredients together by hand or with a mixer at low speed until the dough begins to form.

Once the dough is smooth and well combined, knead it by hand for about 10 minutes.

Add more flour if needed.

Once the dough becomes elastic and bouncy, roundly shape it and put in back in the bowl.

Drizzle some olive oil over the dough, cover it, and allow it to rise for one hour.

After an hour, the dough will appear to have expanded in size. Poke the middle to release the extra air.

Preheat the oven to 400 degrees Fahrenheit.

Take a pizza pan, grease it, and drizzle it with some flour to prevent the dough from sticking.

Spread the dough on the pan evenly to form a thin crust.
Topping
Cook the bacon over medium heat. Once cooked, transfer the bacon on a paper towel to absorb the excess oil.

While the bacon is cooking, empty the tomato sauce into a bowl and mix in the basil, oregano, thyme, and lemon juice.

Afterward, evenly spread the tomato sauce on the pizza dough, leaving a 1-inch border all around the dough.

Sprinkle the parmesan cheese and 3-cheese blend generously all over the tomato sauce.

Once you're done with the previous step, toss in a few pepperoni slices and add the Italian sausage. Afterward, sprinkle the cooked bacon over the dough.

Place the pan with the dough in the oven and let it bake for about 10-15 minutes. When the crust appears golden brown and the cheese fully melted, remove and drizzle the garlic powder on the dough as desired.

Cool the crusts for one minute. Once they're cool enough, cut them evenly and serve.
Nutrition Facts
Calories:
791
kcal
|
Carbohydrates:
18
g
|
Protein:
28
g
|
Fat:
70
g
|
Saturated Fat:
18
g
|
Cholesterol:
93
mg
|
Sodium:
3245
mg
|
Potassium:
513
mg
|
Fiber:
6
g
|
Sugar:
4
g
|
Vitamin C:
2
mg
|
Calcium:
20
mg
|
Iron:
2
mg
Commonly Asked Questions
Are There Any Health Benefits From Pizza?
Yes! You'll be surprised at how much nutrients you can get by eating pizza in moderation. For instance, a single slice can give you calcium, protein, anti-oxidants, and Vitamin A.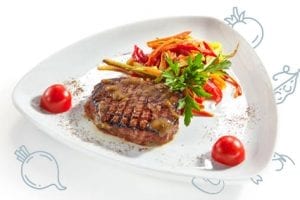 Conclusion
Pizza is an age-old dish from Italy that made its way to the United States through immigration. Each state has a variety of Italian dishes and enjoyed by many. Now, you no longer have to go out for a slice. Make this pizza in your kitchen and enjoy it.