There's nothing more delicious than waking up with a healthy mango lassi smoothie every morning. Besides the usual healthy smoothies loaded with berries, like our Banana Berry Smoothie and Triple Berry Smoothie, we have a unique suggestion for your next go-to cooler.
This mango smoothie will surely give you an energy boost that will keep you going throughout your day! Cut off those powdered juice and store-bought juice boxes with tons of added sugar, and gather the healthiest fruits you can find in your fridge! In this quick and easy recipe, we'll teach you how to make a mango smoothie with a twist. Try this fruity combination of kiwi berries and mango in a lassi drink and sip for yourself!
Do-It-Yourself Healthy Smoothies
You don't need to go to Starbucks just to get your Kiwi Starfruit Refresher drink, save yourself some time. Go for this mango smoothie recipe instead! If you're curious about how to make smoothies, we've got you covered.
As you know, smoothies are popular these days, so popular that blender recipes and bags of frozen fruit became must-haves. This is all part of the popular smoothie diet. As we all know, drinking healthy smoothies is one of the most effective ways to lose weight in a very nutritious way.
There are many smoothie recipes out there. But in this recipe, we're gonna help you sort out what could be the most deliciously refreshing drink that is also healthy and could definitely fit into your diet.
What we love even more about homemade smoothies is that they are easily customizable! You can mix and match healthy fruits, veggies, nuts, and seeds to make a delicious smoothie. You can even add your favorite spices into it to boot!
The great thing is there are amazing choices, like frozen fruit combinations with no added sugar or sweetened juice. You may also put some milk, or honey, and top it with some chia seeds. Add your favorite ingredients in your blender, add some ice, and blend away for a delicious cold drink!
Benefits of Drinking Fruit Smoothies
Aside from the fact that smoothies are so easy to make, they're actually really good for the body. First, it has a good amount of fiber which keeps your digestive system clean and healthy.
Secondly, since smoothies are fulfilling enough just like a complete meal, it curbs your craving promoting a healthy way to lose weight. Thanks to the fruits and vegetables you add to them, it gives you enough energy throughout the day.
Third, it boosts your immune system. The fresh fruits and greens that you add into your smoothies are rich in vitamins and antioxidants which support your body's immune system, keeping you active, energized, and healthy!
What Goes In Our Refreshing Mango Smoothie?
Lassi is one of the most popular traditional drinks in India. It is a blend of yogurt, water, spices, and sometimes fruit. It's up to you if you want a sour lassi, or sweet lassi, great thing is, it's so easy to experiment on this drink! There are so many fruit flavors that work with mangoes, and many of these recommendations are refreshingly good.
For starters, you can add a cup of frozen fruits of your choice. You can pick strawberries, blueberries, bananas, pineapple, cherries, and peaches. It will all taste great on your mango smoothie! Feel free to add some leafy veggies, too! You can include spinach, kale, or celery. Add some chia seeds, nuts, and almond milk to make your vegan smoothie even more delightful.
If you want to thicken the consistency of your delicious smoothie without using frozen fruits, you can add some quinoa or oatmeal instead. It's both rich in fiber and protein, too! Aside from these recipes, you might also want to try our Kiwi Banana Smoothie and Strawberry Kiwi Smoothie quenching your thirst the healthy way possible! You'll love these kiwi recipes, so convenient and so refreshing!
If you're after a sweet and healthy mango smoothie recipe, you'd love our Mango Lassi, Mango Green Tea Smoothie, Mango Apricot Smoothie, and Strawberry Mango Smoothie recipes. You might as well add these mango smoothie ingredients to your next grocery shopping!
If you're looking for a vegan mix, you can try our Non-Dairy Strawberry Smoothie, which includes soy, oats, and almond, which you can also use milk of your choice.
Smoothies are not only customizable, delicious, and easy-to-make, it's also a healthy and refreshing drink that you can enjoy to cool down on a hot sunny day. There's no reason for you not to try these healthy smoothie recipes!
How To Make Kiwi Mango Lassi Smoothie
This Kiwi Mango Lassi is going to be your new favorite quencher! The dewy mixture of kiwi and mango brings you a refreshingly sweet hydration!
Ingredients
1

kiwi fruit,

peeled and cut into chunks

1

tsp

flax seeds,

ground

⅓

cup

mango,

cut into chunks

⅓

cup

mango nectar ,

or juice syrup from canned mangoes

⅓

cup

plain yogurt,

full fat

5

small ice cubes

mint sprig,

for garnishing (optional)
Instructions
Pulse the kiwi, mango, mango nectar, yogurt, and flax seeds into a blender until they are well mixed.

Add in the ice cubes and continue to pulse until all ice are crushed adequately.

Pour the mixture into glasses and, if desired, garnish them with a mint sprig.

Serve cold and enjoy your fruit smoothie!
Nutrition
Calcium:

72mg

Calories:

99kcal

Carbohydrates:

19g

Cholesterol:

5mg

Fat:

2g

Fiber:

2g

Iron:

1mg

Potassium:

251mg

Protein:

2g

Saturated Fat:

1g

Sodium:

25mg

Sugar:

15g

Vitamin A:

667IU

Vitamin C:

59mg
Nutrition Disclaimer
Commonly Asked Questions
How do I cut and peel kiwis?
Slice both ends of the kiwi using a knife. Using a vegetable peeler, peel the sides of the kiwi downwards to remove the skin. If you want to use a spoon, gently slide it inside the skin of the fruit. Scoop the kiwi around and take the skin away.

How do I sweeten a smoothie?
If you don't want to add some unnecessary amount of sugar, you can definitely opt for a drizzle of honey, maple syrup, nut butter, vanilla, almond drop, or Stevia to sweeten your smoothie. Remember to add them in small amounts and adjust them to your preferred taste. You can also add in some dates, grapes, nectarine, strawberries, pears, and other fresh fruits that can give your smoothie your desired sweetness and flavor.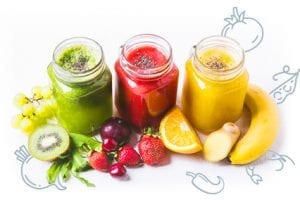 Conclusion
Not only is this Kiwi Mango Lassi Smoothie delicious and refreshing, it also has so many health benefits! You can even mix in your choice of fruits and leafy greens in your healthy smoothie to make it tastier! Serve it cold and top it with your favorite nuts, seeds and spices. Delish!