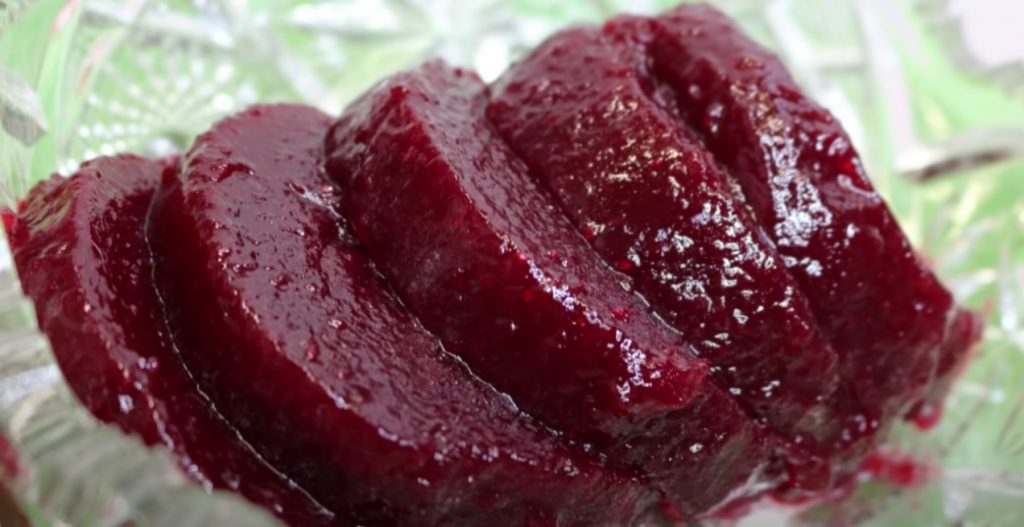 Jellied Cranberry Sauce Recipe
How To Make Jellied Cranberry Sauce
Take holiday dishes to a new level in this jellied cranberry sauce recipe that's made using 4 ingredients for a jiggly treat.
Additional:
12

hrs
30

mins
Ingredients
12

oz

cranberries,

(4 bags) thawed if frozen

3

cups

sugar

3⅓

cups

cold water

2

tbsp

unflavored gelatin,

(from 3¼ oz envelopes)
Instructions
Bring cranberries, sugar, and 3 cups of water to a boil in a 4 to a 5-quart heavy saucepan, stirring until sugar is dissolved.

Then reduce heat and simmer, partially covered, stirring occasionally, for 10 to 15 minutes until all berries have burst.

Pour into a large fine-mesh sieve set over a 2-quart glass measure or a bowl and let stand for about 30 minutes until all juices have drained through.

If necessary, press on solids until there is enough juice to measure 3 cups, then discard solids.

Stir together gelatin and remaining water and let stand for 1 minute to soften. Bring 1 cup drained cranberry liquid to a simmer in a small saucepan, then add gelatin mixture and stir until just dissolved.

Add gelatin mixture to remaining cranberry liquid and stir well. Pour cranberry sauce into the lightly oiled mold and chill, covered with plastic wrap, for at least 12 hours until firmly set.

To unmold, run tip of a thin knife between edge of mold and cranberry sauce. Tilt mold sideways and tap side of mold against a work surface, turning it, to evenly break seal and loosen cranberry sauce.

Keeping mold tilted, invert a plate over mold, then invert cranberry sauce onto plate.

Serve and enjoy.