Fizzy desserts are the best in the summer. This tasty soda jelly is a perfect go-to dessert if you only have a couple of minutes to prepare on a hot summer day or if you're throwing a party. However, most think that preparing a dessert would be tiring but it doesn't need to be. Certainly this is simple and fuss-free, just the way we like it!
Most certainly, kids and adults alike will find these jello desserts perfect to satisfy their sweet tooth. Moreover, feel free to use cola, root beer, or any other flavored drink or juice. But Seltzer water can also be substituted together with a fruit juice if you're staying away from sugary sodas. On the other hand, throw in some vodka for boozy vodka jello shots for the adults who'd want to relax a little.
If you find yourself craving for a sweet snack, but you wouldn't want something too sweet, this would be the perfect recipe for you. You can lessen your sugar intake by using carbonated water, for instance. So, if you loved this and would like another rich drink for the relaxing weekend drink, try our Cookies and Cream Milkshake recipe.
Yummy 2-Ingredient Soda Jelly Recipe Video
How to Make Yummy 2-Ingredient Soda Jelly
Kids and adults alike will love this simple soda jelly to satisfy their sweet tooth! Keep them chilled for a refreshing dessert on a hot summer day.
Ingredients
1

cup

agar-agar

12

oz

soda

Whipped cream

for topping

Coffee granules

for garnish
Instructions
Combine soda and agar-agar powder in a heavy saucepot. Stir constantly and make sure that no lumps are forming. Bring to boil for one minute until all the powder has dissolved.

Leave to cool slightly before transferring into glasses. Leave to set at room temperature.

Top it off with a dollop of whipped cream and sprinkle on coffee granules as garnish.
Recipe Notes
You can use cola, root beer, or any other flavored drink or juice. Seltzer water mixed with fruit juice can be a healthy substitute if you're staying away from sugary sodas.
Alternatively, spike it with some vodka or your favorite alcohol for boozy jello shots.
To speed up the jelly setting process, place it in the refrigerator for a few minutes before serving.
Nutrition Facts
Calories:
171
kcal
|
Carbohydrates:
45
g
|
Protein:
3
g
|
Fat:
1
g
|
Saturated Fat:
1
g
|
Sodium:
93
mg
|
Potassium:
630
mg
|
Fiber:
4
g
|
Sugar:
2
g
|
Calcium:
359
mg
|
Iron:
12
mg
Commonly Asked Questions
Can I use flavored agar-agar in this recipe?
Of course! This recipe uses plain agar-agar powder but go ahead and use your favorite flavor in the mix. Just make sure to use a more neutral-flavored soda so the flavors don't clash.
What can I add to the jelly?
You can add just about anything to this recipe. From fruits to candy, the choices are almost endless. Simply pop them in before the jelly solution is still in liquid form.
What are some good flavor combinations?
This question depends heavily on what your personal preferences are. However, we think lemonade or fizzy lemon-flavored soda like Sprite or 7-up go very well with sweeter fruits like blueberries or raspberries. The sweetness of the berries goes very well with the brightness of the lemo. Alternatively, if you don't want to add fruit at all, the same sodas go great with lime-flavored jello.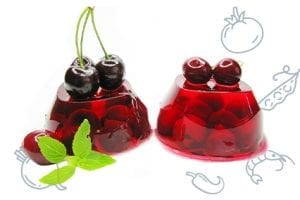 Conclusion
This soda jelly is super easy to make with only two basic ingredients. You can freely change up the ingredients to make it suit your tastes better. Go ahead and make this soda jelly on your own and share your creations with us!