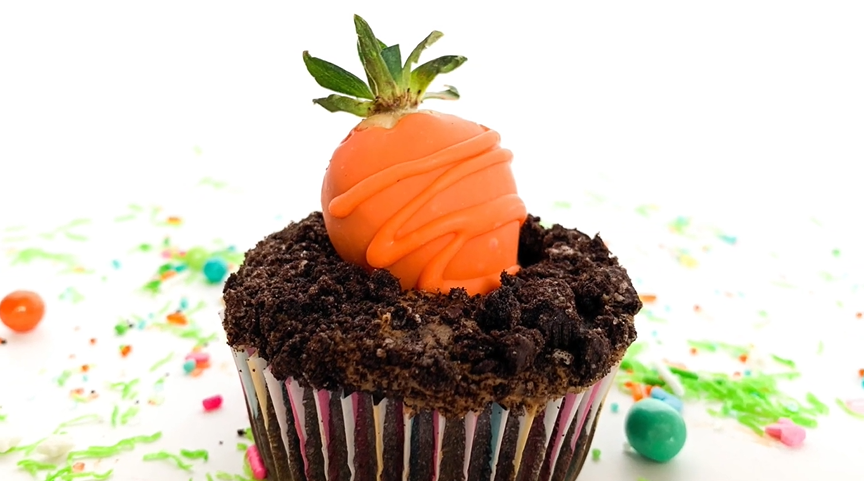 Garden Patch Carrot Cupcakes Recipe
How To Make Garden Patch Carrot Cupcakes
A delightful carrot cupcakes recipe that's made to look like a caricature of carrots planted in a garden! A fun and tasty cupcake perfect for spring!
Ingredients
1

box

lemon cake mix

prepared according to directions

red food coloring

1

box

chocolate cake mix

prepared according to directions

1

box

chocolate graham crackers

crushed finely or 1 chocolate graham cracker pie crust, crumbled

1

container

hot fudge sauce

or similar thick chocolate ganache or sauce

1

bunch

parsley

curly leafed
Instructions
Mix the prepared lemon cake batter and the red food coloring until you get a nice bright orange color. Pour the batter into muffin tins that have been well greased or lined with paper wrappers. Bake as directed on the box, let cool.

When the lemon cupcakes are cooled, slice each one into 4 even pieces from top to bottom. Then, laying each slice flat, cut 2 small ½-inch thick triangles from each one. Make sure the triangles have a flat bottom so that they'll be able to stand upright.

Make several more triangles than you think you'll need for the Carrot Garden Cupcakes, just in case something happens to 1 or 2.

When you've cut your triangles, place them on a plate so that they aren't touching and place them in the freezer until you're ready to use them. Place them inside a freezer bag if it's going to be longer than 3 hours. If you are ready to cook immediately, leaving them in the freezer just while you prepare the chocolate cake batter is also fine. The idea is to get them cold and firm so they don't overcook and crumble when the chocolate batter is poured over and baking around them.

Prepare the chocolate cake batter according to package directions.

Line your muffin tins with paper liners. Paper liners are highly recommended for this dessert, since they'll ensure that the muffins come out of the pan perfectly.

Place one frozen orange cake triangle in the center of each muffin wrapper in your pan so that it stands upright, top corner pointing upwards. Carefully spoon the chocolate cake batter around and then over the triangle, filling the wrapper just until the tip of the triangle is covered, which should be a little under ¾ full.

Bake according to package directions. Test for doneness by poking with a knife just off the center, to make sure you don't test in the already-baked triangle.

When they are done, remove them from the pan and let them cool completely.

When you are ready to decorate and the cupcakes have cooled, remove them from their wrappers. On the bottom, you should see a little orange line, marking where your 'carrot' triangle is.

Line your cupcakes up on a large plate, bottoms up. Give them a few inches in between to allow for easy handling. This should not be the platter you'll be serving them on, since it'll get quite messy with chocolate sauce in the next step.

If you are using very thick hot fudge sauce, heat it up for a few seconds so that it's a pourable (but not thin) texture.

Spoon or drizzle about 2 tablespoons of chocolate sauce over each of your cupcakes.

Place your chocolate graham cracker crumbs in a plastic storage bag or medium dish. Take each cupcake and roll it in the crumbs, creating what looks like a big mound of dirt. Place each one on a large serving platter, bottom upwards. When all cupcakes have been rolled, scatter more chocolate cookie crumbs around the base of your 'dirt mounds' to create a garden bed.

Right before you are ready to serve, place a stem of parsley in the middle of each cupcake, about where you remember the orange triangle's line being. As the parsley gets warm it'll become droopy, so keep it in the fridge until ready to use.
Nutrition
Calories: 

254.58kcal

Fat: 

7.28g

Saturated Fat: 

1.67g

Trans Fat: 

0.01g

Monounsaturated Fat: 

2.69g

Polyunsaturated Fat: 

2.36g

Carbohydrates: 

45.74g

Fiber: 

1.58g

Sugar: 

17.54g

Protein: 

3.44g

Cholesterol: 

0.14mg

Sodium: 

333.16mg

Calcium: 

58.69mg

Potassium: 

169.13mg

Iron: 

2.15mg

Vitamin A: 

10.89µg

Vitamin C: 

3.35mg