Tired of the usual classic hash browns for breakfast? Make it special by following this diner-style Corned Beef Hash Recipe! This old-time favorite is perfect for when you find yourself with some extra corned beef brisket after St. Patrick's Day. Or simply when plain hash browns and corned beef just isn't cutting it at the family table. And of course, if you just absolutely love corned beef hash browns, that's reason enough.
If you think you have to go to a fancy diner to enjoy a good meal, then you're wrong! The dish is so simple that even beginner cooks can make them. And it only takes under an hour to make it! Apart from the fact that you can easily find brisket cuts in the supermarket, the rest of the ingredients are probably already in your fridge. We've made this recipe simple and easy to follow, so there are no excuses!
Whether you're using ready-to-cook corned beef, or cured your own brisket for this dish, rinse it several times. Since you cure briskets with salt to make corned beef, they are salty when cooked. Rinse them 4 to 5 times to make sure that you won't end up with a too-salty dish. You also want to cook it under low heat for a couple of hours so you get tender slices of meat rather than tough ones.

Tip: Remember to wash the brisket 4 to 5 times before cooking to remove excess salt from curing the meat.
How To Make Diner-Style Corned Beef Hash
No need to go to fancy restaurants to have your favorite corned beef hash. Here is a recipe to make it at home!
Ingredients
2

medium potatoes

unpeeled and washed

2

tbsp

oil

4

eggs

1

lb

corned beef brisket

1

Spanish onion

diced

¾

cup

green bell pepper

chopped

salt

to taste

ground black pepper

to taste
Instructions
Cook corned beef as desired and cool after cooking. If you are using pre-cooked corned beef, just dice.

Boil potatoes for 45 minutes with salt. Set aside to cool.

Dice corned beef, onion, and potatoes and place them into separate bowls.

In a large ovenproof skillet over medium heat, pour 3 tablespoons of oil.

Saute onions. Then add bell pepper and potatoes and season with salt. After the vegetables have softened and potatoes are browned, stir in diced corned beef.

Make 4 holes in the skillet for the eggs. Cover the skillet and cook undisturbed for about 5 minutes, until brown and crisp on the bottom.

Season with ground black pepper and serve.
Recipe Notes
If you prefer bell peppers to be cooked, add them before putting the skillet in the oven, rather than adding them later. You can also use parsley instead.
For the potatoes, you want to boil it long enough that you can easily stick a fork in it. If not, you will have undercooked hash browns for breakfast.
Nutrition Facts
Calories:
448
kcal
|
Carbohydrates:
23
g
|
Protein:
25
g
|
Fat:
28
g
|
Saturated Fat:
7
g
|
Cholesterol:
225
mg
|
Sodium:
1451
mg
|
Potassium:
935
mg
|
Fiber:
3
g
|
Sugar:
3
g
|
Vitamin A:
341
IU
|
Vitamin C:
76
mg
|
Calcium:
54
mg
|
Iron:
4
mg
Commonly Asked Questions
How long can I keep corned beef hash in the fridge?
Corned beef hash is a great make-ahead meal and you can put them in the fridge for up to 3 to 4 days. For it to last longer and to avoid food poisoning, make sure to portion-size them in Ziploc bags or airtight containers, then place in the freezer. Once you are ready to consume, reheat the meal with a spray of oil so it doesn't stick in the pan. Cook until the ingredients are warmed through.

How can I make corned beef hash without sticking?
If you regularly make corned beef dishes and always end up with a burnt recipe, you're probably not using enough oil. Especially for recipes that easily stick in the pan, you will need some lubrication on the bottom of the pan. You can use either oil or butter to lubricate the pan. Additionally, you want to heat up the pan first before putting the oil, and wait for it to be really hot before adding the corned beef. You want the oil to sizzle the moment the meat reaches the pan.

How do you know when corned beef hash is done?
For recipes that often require separate cooking for each of the ingredients, it does seem like a common problem to be unable to tell if you've cooked the food thoroughly. Let's use briskets as an example, since this is the cut that is typically used in corned beef. Tough cuts of meat needs longer time to cook. And you can't tell whether it is done, since the pink color is natural in briskets. The only way to tell is when the brisket is no longer tough and it can easily be pulled apart. The same goes for the potatoes which is cooked through if you can easily poke it with a fork or skewer.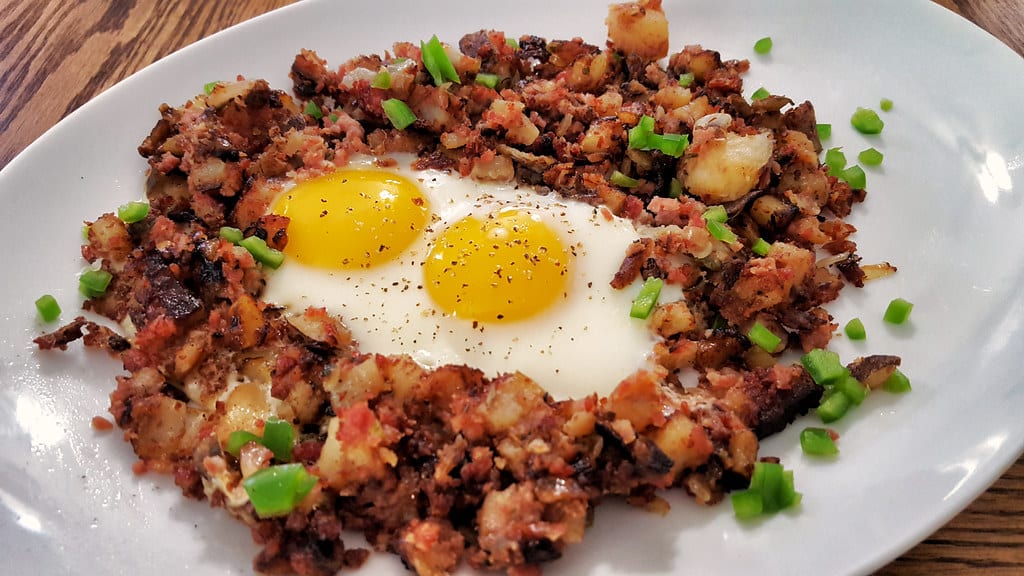 Conclusion
Make your mornings more bearable with a nutritious plate! Time to sink your teeth into one of the most delicious breakfast meals ever! This Diner-Style Corned Beef Hash Recipe can be served with a soup or rice and can be eaten any time of the day.