If you like a filling breakfast but don't want the usual bread, why not try scones? This British classic scones recipe is light but absolutely filling. It's great for a well-rounded breakfast.
In this recipe, we'll guide you through the process of creating a basic British scone from scratch. We guarantee that this is going to be easy and hassle-free. Just follow these simple steps and you're good to go. It's up to you if you want it plain or add some jam in it. We recommend using fruit jams because the sweetness will complement the scones. You can also use clotted cream to add a rich creamy taste to scones.
Serve this with tea, coffee, or milk to your friends and family, and we are sure that they're going to love it as well. Save this scones recipe for future use. You'll never know when you're going to need it next!
And once you've mastered the basics and want to level up from plain scones, you can try making some cherry orange scones too!
Basic British Scones Recipe
Ingredients
3

cups

all-purpose flour

½

cup

white sugar

3

tsp

baking powder

½

tsp

salt

¼

cup

unsalted butter

1

egg

beaten

1

cup

milk

2

tbsp

heavy cream
Instructions
Preheat the oven to 400 degrees F and line a large baking sheet with parchment paper

In a bowl, mix the dry ingredients. Add the softened butter and rub with your fingers until the mixture resembles fine crumbs.

Stir in the egg and milk into the mixture and whisk until a moist, sticky dough forms.

Turn the dough out onto a clean countertop and form it into a ball.

Press the dough to flatten it until it is a 2-inch thick circle. Use a butter knife to cut the circle into 8 pieces.

Place the 8 pieces scones on the baking sheet and brush the tops with 2 tablespoons of heavy cream.

Bake for about 15 minutes, until the tops are a golden brown.

Allow to cool slightly and serve.
Commonly Asked Questions
What do I serve these scones with?
We have mentioned that you can use different fruit jams when serving scones. Scones are paired perfectly with clotted cream and jam. We love having these with fresh clotted cream and raspberry jam. However, you can also opt to serve them with Greek yogurt as a healthier option.
How to properly store scones?
Similar to biscuits and muffins, scones should be stored in an airtight container and placed inside the refrigerator. This way, the shelf life of the scone can be extended to at least 5 days. Refrigerating scones is very important especially if it has cream cheese or jam.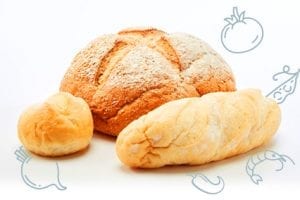 Conclusion
Scones and tea make for a delightful high-tea or brunch option. Make a batch and serve them next to an array of jams and some clotted cream, we're sure your guests will leave impressed.