Firstly, this Saturday Night Pizza Crisps recipe is a perfect alternative to the usual deep-fried potato chips that we love to snack on! For instance, all you need to do is grate the cheese, form it into circular shapes, add your favorite toppings and bake. Furthermore, you'll know when you've achieved perfection once you see the Parmesan crisps turn into an appetizing, golden brown color.
Now, cooking with Parmesan brings out the briny tang of the cheese, without adding any additional salt. Well there's no surprise there, since Parmesan is naturally a very salty cheese to begin with. On the other hand, mozzarella cheese is a softer and more moist cheese than the Parmesan, so it melts and bakes a little different too. In any case, the two very different cheeses combine to create a textural cheese crisps which won't be too crispy or chewy.
Overall, you want to keep the piles of cheese fairly small, and don't layer them too thick. Moreover, you want the cheese to spread into a very thin layer as it bakes in the oven, which will make it crispy. Hence, make sure to leave enough space between the piles for them to spread, otherwise you'll end up with a sheet of cheese! It's still perfectly edible, but individual chips are better for most parts. Pair this dish with our Marinara Sauce Recipe for a fun snack guests are sure to love!

Tip: If you have any spare pizza crisps, place them in the refrigerator in an airtight container. This will take down the crunch factor of the pizza crisps. However, you can always crisp them up in the oven again.
How To Make Saturday Night Pizza Crisps
No-crust pepperoni pizza crisps, with only 4 ingredients!
Ingredients
¾

cup

low moisture mozzarella

½

cup

mini pepperoni

½

teaspoon

italian seasoning

1

cup

parmesan cheese

shredded
Instructions
To make this recipe at home, begin by preheating your oven to 375°F. Line a baking sheet with parchment paper.

Pile mounds of shredded parmesan cheese on the baking sheet. These will act as the base of your 'pizza'.

Repeat this process by combining the low moisture mozzarella cheese atop the parmesan cheese.

Using a spoon, flatten out the mounds of cheese. Pat down into small disc-like shapes. You don't have to be perfect with the proportions but the mozzarella to parmesan ratio should be around 3 to 1.

Next, top with mini pepperonis and sprinkle with italian seasoning. You can always customize your pizza with any number of ingredients. Try adding chilli flakes for an extra bite!

Bake in the oven for 12 minutes or until crispy and golden brown.

Let the crisps sit for a few minutes to cool and harden up.

Remove and serve the pizza crisps with marinara dipping sauce. Sprinkle with chopped parsley and enjoy.
Recipe Notes
Top your no-crust pizzas with whatever you're craving. Caramelized onions, olives and dried oregano would be a wonderful combination!
Nutrition Facts
Calories:
116
kcal
|
Carbohydrates:
1
g
|
Protein:
9
g
|
Fat:
8
g
|
Saturated Fat:
4
g
|
Cholesterol:
22
mg
|
Sodium:
394
mg
|
Potassium:
41
mg
|
Fiber:
1
g
|
Sugar:
1
g
|
Vitamin A:
162
IU
|
Calcium:
229
mg
|
Iron:
1
mg
Commonly Asked Questions
If not for pepperoni, what can I use instead?
You can switch up pepperoni with another protein, for example you can always use ground beef or chicken strips. However, remember to cook your meat-based proteins before using them as toppings.
What do I do if the cheese crisps come out chewy?
If your baked Parmesan cheese crisps turn out chewy instead of crispy, it's most likely because too much Parmesan was added to the baking sheet and they are too thick to crisp up correctly.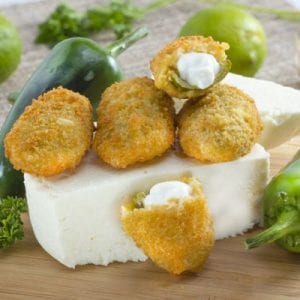 Conclusion
When choosing the right topping go ahead and customize them to suit everyone's palette. Rotisserie chicken from your neighborhood supermarket? Or leftover turkey slices.
Maximize your veggie intake by adding some low-carb vegetables like mushrooms, bell pepper, pineapples, olives or eggplant. Satiate your cravings today with this low-carb, no-crust pepperoni pizza crisps!