Make your Saturday nights extra fun with a tasty little snack. Enter our crispy pizza chips recipe! The so-called "pizza dough" is made out of a thin layer of parmesan cheese. It's topped with stretchy mozzarella, pepperoni, and seasoning. These pizza crisps are cooked to golden brown perfection for a crispy snack. They hold their shape (and your toppings) really well.
Whoever invented these must be a genius because we can't get enough of these chips! Compared to a classic pizza, they definitely only take a short while to make. They are crunchy, light, and definitely something you'll be snacking on more than once. You can make these snacks in batches to serve or even make it with your friends on a Saturday night.
The salty parmesan is your base layer, followed by mozzarella, pepperoni, and finally, Italian seasoning. But don't let that stop you from letting your imagination run wild. You can customize these bite-sized snacks to your liking. Top them with some Italian sausages, bell peppers, olives – the works! It's a blank canvas that you can paint your favorite toppings on to your heart's desire.
To get that rich, tomato taste on your pizza crisps, try out our Copycat Pizza Hut Marinara Sauce recipe. Use this sauce as a dip to really get that pizza-esque flavor. Pair your crisps and even bake them in the same oven with our Easy Bake Chicken Wings. This pizza chips recipe will change the game of your Saturday nights. Try them out this weekend with your friends!

Tip: Note that while you can store your spare pizza chips in the refrigerator, their crunch factor will be affected. However, you can always revive the crispiness by reheating them in the oven.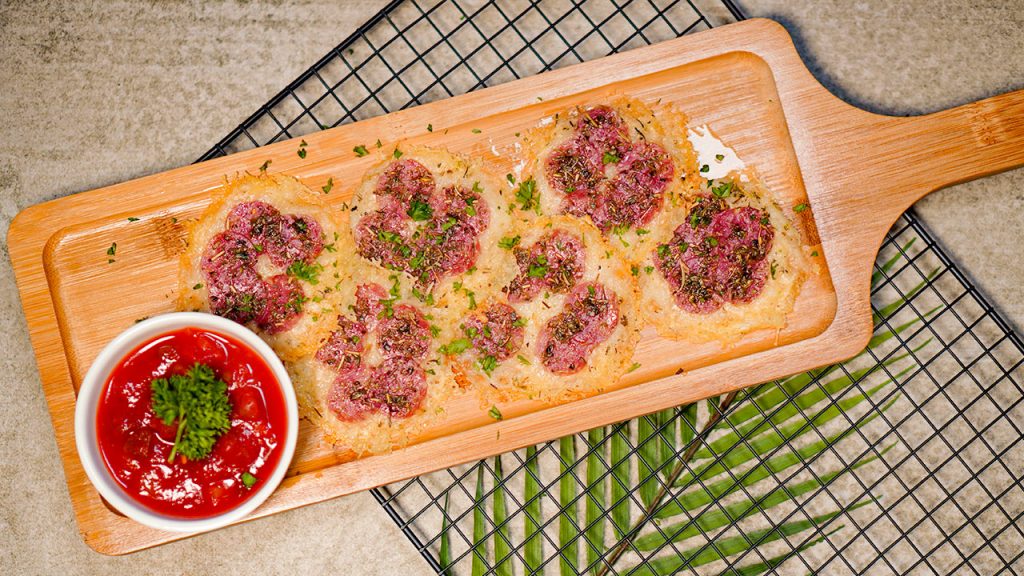 Saturday Night Pizza Chips Recipe
How To Make Saturday Night Pizza Chips
A 4-ingredient chips recipe that is guaranteed to make Saturday nights better! It comes with a base layer of parmesan cheese, then topped with mozzarella, pepperoni, and seasoning. Snack on them like little chips for your next night in with friends.
Ingredients
1

cup

parmesan cheese,

shredded

¾

cup

mozzarella,

low-moisture

½

cup

mini pepperoni

½

tsp

Italian seasoning
To serve:
marinara sauce,

warm, for dipping

parsley
Instructions
Preheat oven to 375 degrees F and line two large baking sheets with parchment paper.

Spoon about a tablespoon of parmesan into the baking sheet and form them into a small mound.

Top with about half tablespoon mozzarella then carefully pat down the cheeses to flatten.

Place a few pepperoni slices on top and sprinkle with Italian seasoning.

Bake for about 12 minutes until crispy and golden. Let cool slightly before transferring to the serving dish.

Serve at room temperature with a marinara sauce for dipping and garnish with parsley.
Recipe Notes
Top this chips recipe with whatever you're craving. Adding in caramelized onions, small black olives, and bell pepper would taste perfect with the pepperoni.
Add a bit of heat with your Italian seasoning by sprinkling some chili pepper flakes on top!
Nutrition
Sugar:

1g

:

Calcium:

305mg

Calories:

155kcal

Carbohydrates:

1g

Cholesterol:

29mg

Fat:

11g

Fiber:

1g

Iron:

1mg

Potassium:

55mg

Protein:

12g

Saturated Fat:

6g

Sodium:

525mg

Vitamin A:

216IU
Nutrition Disclaimer
Frequently Asked Questions
What can I use to replace pepperoni?
You can switch up pepperoni with any other protein. Some recommendations would be to use ground beef or bite-sized chicken strips. Remember to cook any meat alternatives before topping as they won't cook properly when topped raw. For vegan options, try replacing the pepperoni with some tempeh or tofu crumbles. They will yield that same "meat-like" flavor and still taste scrumptious!
Can I use a different kind of cheese for the base layer?
While our pizza chips recipe comes perfect with that deliciously salty parmesan cheese, you can definitely change it up a bit. Try using shredded Mexican cheese and gouda to retain that same toothsome flavor!
Are these pizza chips keto-friendly?
They sure are! This recipe is low in carbohydrates thanks to the replacement of usual pizza dough with cheese. The added bit of protein from the pepperoni also helps in this case. It's a light snack that comes with so much flavor. You never have to feel guilty about snacking on these!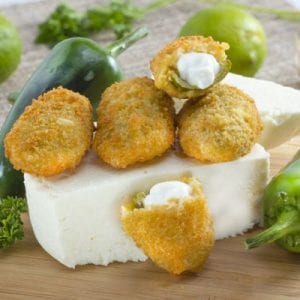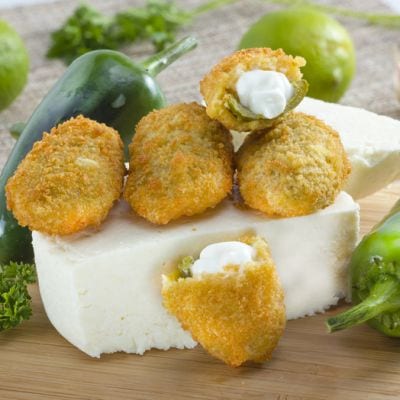 Conclusion
Satisfy your pizza cravings today with our tasty pizza chips recipe! It's made easy with four ingredients and can be whipped up in no time. Enjoy our original recipe as it is or top them with your favorite pizza toppings. We're not stopping you from making this dish your very own. Serve it on a Saturday night in with friends, dip them in marinara, and enjoy!