The dinner table is about to get interesting with our delicious Calamari With Vegetables Recipe! There are many ways to cook squid, but in this recipe we show you a healthy way to mix seafood with vegetables. This exquisite main dish is fit for royalty! It's perfect for special occasions with friends and family. And although most aren't familiar with cooking this tentacled creature, in this recipe we'll show you just how easy it is to prepare savory and healthy calamari with vegetables.
The term calamari can mean many different things. While it's true that it's the Italian word for squid, it also used to refer to squid dishes in general. For most, it just means fried squid. They're coated in flour and fried in ring-like shapes. In the culinary world, they also use the same word to refer to Mediterranean-style fried squid. But if we're being specific, calamari and squid are two different species of sea creatures. You can tell them apart by the fins that form an arrow shape at the end of their head or hood. Squids' fins are only found a short distance on the sides of their body. Calamari, on the other hand, have fins that run along the full length of their body.
Another difference between squid and calamari is their meat. For latter's meat is softer and more tender. However, you can also get the same effect with squid meat by marinating or through slow cooking. In this recipe, we use squid since it's more affordable. That way, you can enjoy a fancy dinner at home because this dish will surely end up tasting like it was served at a 5-star restaurant! And if you liked this recipe, then give our Copycat Olive Garden Fried Calamari a try!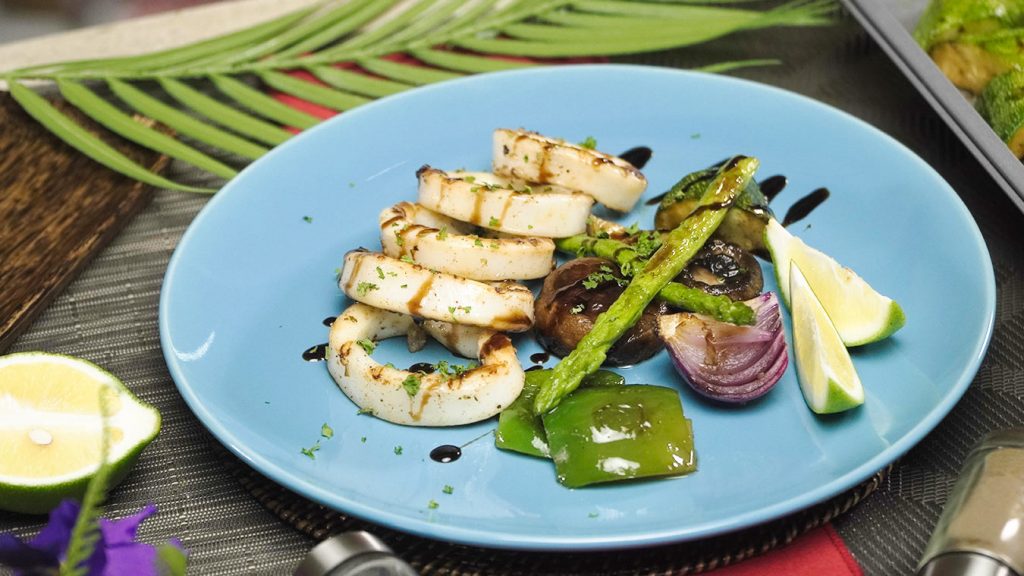 Calamari With Vegetables Recipe
How To Make Calamari With Vegetables
Bite into soft, savory squid and refreshing asparagus and tomatoes with this mouthwatering appetizer. Our Calamari With Vegetables Recipe combines seafood and vegetables like it's a match made in food heaven!
Ingredients
For Calamari:
1

lb

calamari,

fresh or frozen, whole bodies cleaned (best if you also have the cleaned tentacles)

6

tbsp

olive oil

2

cloves

garlic,

minced

1

tsp

dried oregano

1

tbsp

lemon juice,

or lime juice

salt and ground pepper,

to season
For Grilled Vegetables:
4

oz

bell peppers,

seeded and halved

4

oz

zucchinis,

sliced lengthwise into ½-inch-thick rectangles

4

oz

eggplants,

sliced lengthwise into ½-inch-thick rectangles

6

oz

brown mushrooms,

preferably buttons or portobellos

4

oz

asparagus,

trimmed

6

oz

red onions,

halved or quartered depending on size

½

cup

olive oil,

divided

1½

tbsp

balsamic vinegar

1

tsp

dried oregano

salt and ground black pepper,

to taste
To Serve:
2

lime wegdes

1

tbsp

balsamic glaze
For Garnish:
Instructions
Preheat your grill and grease with cooking spray.

Marinate your calamari or squid first. In a large mixing bowl, combine olive oil, garlic, oregano, and lemon or lime juice.

Season to taste with salt and pepper. Adjust accordingly.

Add your calamari or squid and toss to combine. Cover, then transfer to a chilled area. Allow to marinate for at least 30 minutes, no more than an hour.

Prepare a basting mixture for the vegetables by combining half of the olive oil, balsamic vinegar, and oregano in a mixing bowl. Whisk until evenly incorporated.

Arrange the vegetables neatly on a baking sheet and brush with the remaining olive oil on all sides. Season liberally with salt and pepper.

Working in batches, grill the vegetables until tender and lightly charred all over, anywhere from 5 to 10 minutes depending on the vegetable. The key to getting those great grill marks is to not shift the vegetables too frequently once they've been placed on the hot grill.

Baste the vegetables with the prepared mixture on both sides while grilling. Set aside once done, covered in foil.

Quickly clean your grill, then reheat at its highest setting and grease as necessary.

Grill the calamari or squid for roughly 2 to 3 minutes per side, or until it turns opaque in color.

Once grilled, arrange a bed of the grilled vegetables and place your seafood on top. Garnish with parsley and drizzle with balsamic glaze. Serve immediately.
Recipe Notes
Make the squid softer by pre-cooking it in boiling water for 30 to 45 minutes. Let it cool down to room temperature, then proceed to grilling.
Nutrition
Sugar:

8g

:

Calcium:

91mg

Calories:

599kcal

Carbohydrates:

19g

Cholesterol:

264mg

Fat:

50g

Fiber:

4g

Iron:

3mg

Monounsaturated Fat:

35g

Polyunsaturated Fat:

6g

Potassium:

817mg

Protein:

21g

Saturated Fat:

7g

Sodium:

62mg

Vitamin A:

1221IU

Vitamin C:

54mg
Nutrition Disclaimer
Commonly Asked Questions
Can you make calamari with octopus?
Many people confuse octopus with calamari or squid. They may look similar because of their tentacles, but the two are totally different species. Squid meat is a bit tougher, but has a smoother texture compared to octopus meat. Octopuses are also prepared differently than squid, as Japanese cuisine usually serves them raw. Although you can try experimenting with calamari recipes by using octopus, calamari essentially means squid dish in cooking.
Why is my calamari tough or rubbery?
Squid meat is usually firm and chewy, although it can turn tough and rubbery when overcooked. While some would say that you should either cook it quickly over high heat or slowly over low heat, in this recipe we recommend that the squid first be boiled before grilling.
Is squid ink safe to eat?
Squid ink is edible and is actually used as a food additive in a lot of different dishes.
Conclusion
Eat like a king with our delectable Calamari With Vegetables Recipe. This appetizer brings the taste of the sea to your dining table. The addition of grilled vegetables like asparagus and tomato also complements the rich taste of squid. Enjoy something new with this calamari recipe!