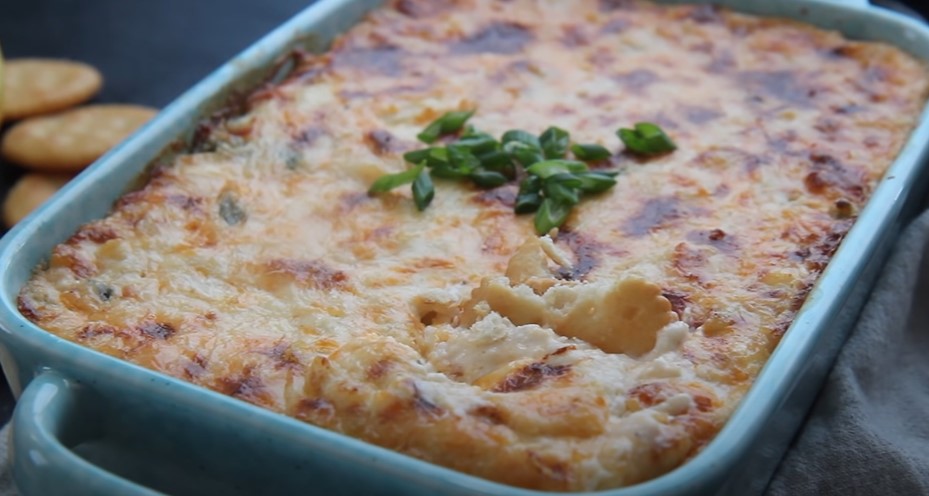 Hot Crab Rangoon Dip Recipe
I like recreating my own creamy dips at home. For instance, I made a before that I thoroughly enjoyed. However, recently, I've been dabbling with this Asian-style seafood dip that's full of crab bits, melting cheeses, and Thai sweet chili sauce topping. I remember eating this dip before in my local Chinese restaurant, and I just had to recreate that creamy, crab-filled, cheese dip again. This flavorful, seafood dip is called crab rangoon dip with just a bit of a spicy twist! Making this hot crab rangoon dip recipe was really fun and simple since the ingredients were easy to find in my local grocery store.
Before I start, I just want to say that this cheesy crab dip is different from a recipe which you might have seen from P.F. Chang's or other Asian restaurants. This crab rangoon dip is more of a deconstructed version of the original dish. In other words, the dip mainly focuses on the cream cheese and crab filling of the rangoon and turning it into a casserole sized dish. When I made the dip, I basically just combined all of the ingredients together except for the Thai sweet chili sauce. I used this as a topping when it was done baking.
Start with the cream cheese base, and then add in the mayo, sour cream, Sriracha, garlic, salt, and sugar. Afterwards, add in the crab meat, green onions, and the Monterey Jack cheese. I highly recommend using a good quality lump crab meat for this recipe so that the dip tastes naturally sweet and savory. Using imitation crab or canned crab is also okay, but the flavor won't be as fresh and flavorful. Once you have your creamy dip, transfer it to the baking dish, sprinkle the remaining cheese, and bake for a few minutes.
While that was baking, I prepared my wonton wrappers for deep frying. I used these crispy fried wonton chips for dipping. I also had , but using fried wontons gave a more authentic flavor combination with the creamy crab rangoon dip. When I was done frying, the dip was also ready to serve! It was really cheesy, creamy, and bursting with flavor that I just had to save some and share with my friends. One of them even suggested that I try making a baked bread bowl crab dip version of this recipe for added flair. And, honestly, I might just consider it for the next NFL football season!
How To Make How To Make Hot Crab Rangoon Dip
Lusciously creamy and spicy, this hot crab rangoon dip is made with cream cheese, crab meat, and mayo for a tasty side. Serve with fried wonton chips, tortilla chips, or crackers.
Ingredients
8

oz

cream cheese

¼

cup

mayonnaise

¼

cup

sour cream

1

tbsp

Sriracha

1

tbsp

lime juice,

fresh

1

small garlic clove,

minced

¼

tsp

salt

¼

tsp

sugar

8

oz

fresh lump crab meat,

well drained

3

scallions,

or green onions, white and dark green parts separated

1

cup

Monterey Jack cheese,

or mozzarella cheese, shredded, divided

¼

cup

Thai sweet chili sauce,

room temperature

1

tbsp

cilantro,

for garnish

24

wonton wrappers,

(from one 6-oz package), cut in half

vegetable oil,

for frying

salt
Instructions
Preheat the oven to 350 degrees F and set an oven rack in the middle position. Set aside 1 tablespoon of the dark green portion of the sliced scallions to use as a garnish on the finished dip.

Place the cream cheese in a large, microwave-safe bowl; microwave on high heat for 45 to 60 seconds, until the cream cheese is softened.

Whisk the cream cheese until completely smooth. Add the mayonnaise, sour cream, Sriracha, lime juice, garlic, salt, and sugar; whisk to combine.

Add the crab meat, scallions, and ¾ cup of the cheese; using a rubber spatula, fold to combine, being careful not to break up the lumps of crab meat too much.

Spread the dip evenly into a 1-qt baking dish and sprinkle the remaining ¼ cup cheese over top.

Bake, uncovered, for about 25 minutes, until the cheese is melted and the crab dip is bubbling.

Remove the rangoon from the oven and spread the Thai sweet chili sauce over the top. Sprinkle with the reserved dark green scallions and cilantro.
Crispy Wonton Chips:
Pour the vegetable oil to a depth of ¾-inch into a Dutch oven or large heavy pot. Heat over medium-high heat until the oil reaches 350 degrees F.

Fry the wontons in batches, without crowding the pan, for about 15 seconds on each side or until golden brown and crisp. Adjust the heat as necessary if the wontons are cooking too quickly or slowly.

Drain on paper towels and sprinkle lightly with salt.

Serve crab rangoon dip alongside the fried wonton chips, and enjoy!
Nutrition
Calories: 

454.59kcal

Protein: 

16.62g

Cholesterol: 

70.85mg