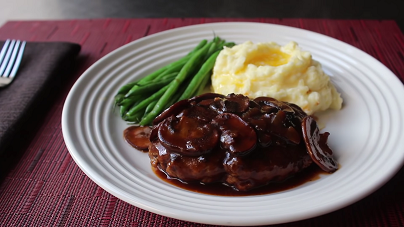 Slow Cooker Salisbury Steak Recipe
This slow cooker Salisbury steak yields tender beef patties slathered with rich brown gravy, mushrooms, and onions. It's just the thing when I want to give ground beef a delicious makeover. This simple Salisbury steak recipe is utterly pleasing to the taste buds! Doubtless, it'd be perfect for date nights and family dinners.
You might think this slow cooker Salisbury steak is pretty tough on the wallet because, well, it's a steak meal. Wrong. At its core, Salisbury steak is not actually a steak and is simply ground beef patties. It's much more inexpensive than actual steaks but just as scrumptious!
It only took me 10 minutes to make this restaurant-worthy dinner. Then, I just simply let my ever-reliable slow cooker work its magic. Five hours later and the mouthwatering aroma of my crock pot Salisbury steak was already filling the house. The flavor did not disappoint as well!
For my slow cooker Salisbury steak recipe, I took extra time to prepare my own homemade beef patties. Don't worry, that extra effort would be so worth it! I relied on egg yolks and panko bread crumbs to hold the lean ground beef together. The addition of milk, garlic, and minced onion also improved the texture and flavor of my steak patties. After mixing all the ingredients, I carefully shaped the seasoned ground beef into a small ball and flattened them into disc shapes. Then, I gave them a quick searing in the pan until they were deliciously browned.
What makes my Salisbury steak oh-so-tempting is the delicious gravy. This flavorful sauce is a combination of beef broth, brown gravy mix, ketchup, and dijon. I even tossed in some fresh parsley to impart fresh flavor to my beef gravy. The good news is you can be a bit experimental when crafting your slow cooker Salisbury steak with mushroom gravy. Add the ingredients you think would make the mushroom sauce even more flavorful. Just to give you an idea, au jus mix would lend a savory flavor to your gravy. Other excellent flavoring options are Worcestershire sauce and red wine.
When making my Salisbury steak in a slow cooker, I placed the sliced mushrooms and onions first in the crockpot followed by the seared beef patties. After that, I poured the brown sauce over the beef. Then, I just let my slow cooker do a wonderful job for five hours. At some point, I also removed the beef patties and added a dash of cornstarch and water to the beef broth. Albeit flavorless, cornstarch made the brown gravy in my easy crockpot Salisbury steak deliciously rich and thick! I then added the patties back to the crock pot until they were fully cooked.
Trust me, learning how to cook Salisbury steak in a crockpot is so worth it! It'll produce juicy and succulent beef patties doused in a flavorsome mushroom-onion gravy. Plus, you'll get to whip up mashed potatoes and do other chores while your crockpot Salisbury steak is still cooking. It's good to serve the patties and gravy over baked potato, true, but I also enjoy it tremendously with egg noodles, cauliflower rice, and a side salad.
How To Make Slow Cooker Salisbury Steak
Savor the deliciousness of crockpot Salisbury steak simmered with mushroom gravy and onions for dinner tonight! It's best served on top of mashed potatoes, pasta, and rice.
Total:
5 hours 10 minutes
Ingredients
6

oz

mushrooms,

sliced

½

onion,

sliced

1½

cups

beef broth,

low sodium

1

oz

brown gravy mix,

1 package, dry

2

tbsp

ketchup

1

tsp

dijon

2

tbsp

fresh parsley

2

tbsp

corn starch

4

tbsp

water
For Beef Patties:
1½

lbs

lean ground beef

1

egg yolk

¼

cup

onion,

minced

⅓

cup

panko bread crumbs

3

tbsp

milk

1

garlic clove

salt and pepper,

to taste
Instructions
Place the mushroom and onions in the bottom of the slow cooker.

In a large bowl, combine the lean ground beef, egg yolk, minced onion, panko bread crumbs, milk, garlic clove, and salt and pepper.

Using your hands, shape the meat mixture into 6 tennis-sized balls. Flatten and form the beef patties. Set them on a plate.

Brown each side of the beef patties over medium-high heat for three minutes.

After searing them, add the patties on top of the mushrooms and onions.

In a bowl, combine beef broth, brown gravy mix, ketchup, dijon, and parsley. Mix well before pouring the gravy over the beef.

Cook on Low for 5 hours.

One cooked, remove the patties and set them aside.

Then, turn the slow cooker to High.

Combine cornstarch and water in a small bowl, then add to the broth. Cook for a few minutes until it reaches a thick consistency.

Place the beef patties back in the slow cooker and cook until the Salisbury steak is done.

Remove from the slow cooker and serve over mashed potatoes, rice, or pasta. Enjoy!
Recipe Notes
You can also use cream of mushroom soup or golden mushroom soup for your gravy.

To give your

crockpot Salisbury steak recipe

a deeper flavor, feel free to incorporate wine, cooking sherry, and even pomegranate juice in the gravy. Or, just add more beef broth.

When making your

slow cooker Salisbury steak with mushrooms

, don't overmix the patties to keep them from drying out. Remember, if you over mix the beef mixture, the beef patties might turn out tough.
Nutrition
Calories: 

351.86kcal

Fat: 

23.87g

Saturated Fat: 

9.01g

Trans Fat: 

1.34g

Monounsaturated Fat: 

10.41g

Polyunsaturated Fat: 

0.77g

Carbohydrates: 

10.78g

Fiber: 

1.00g

Sugar: 

3.34g

Protein: 

22.87g

Cholesterol: 

105.61mg

Sodium: 

589.41mg

Calcium: 

55.67mg

Potassium: 

581.05mg

Iron: 

2.85mg

Vitamin A: 

23.59µg

Vitamin C: 

3.94mg