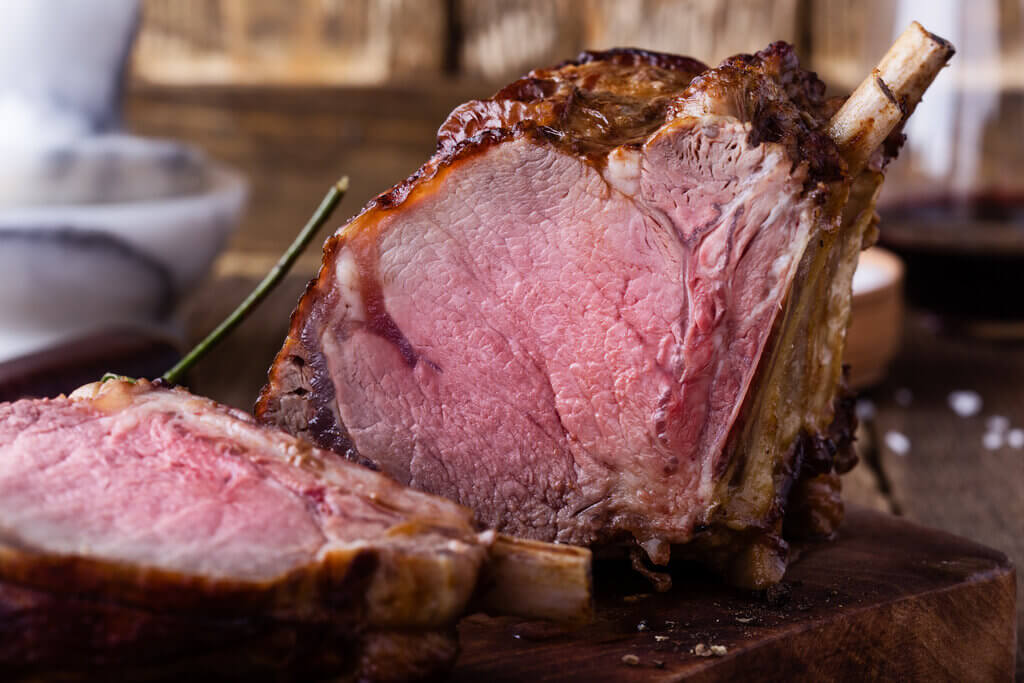 Smoked Prime Rib Recipe
Whenever I make this smoked prime rib roast, I always make sure that it's a full course meal. I usually serve this delicious and savory dish when I have relatives coming to visit. My homemade smoked prime rib is enough to satisfy a whole family for lunch. I made this juicy smoked prime rib using an electric smoker at home. It took a few hours to achieve the perfect tender and medium rare rib roast, but honestly it was worth the wait! The juicy beef was so rich and full of flavor that each bite was sooo appetizing to eat. I'd also like to think it's the best prime rib for dummies who want something flavorful but still easy to pull off in the kitchen!
To ensure this turns out to be the best smoked prime rib recipe, I made sure to buy the best quality of prime grade beef at my local grocery store. I used a bone-in prime rib roast. You can also use the boneless version, but I prefer having the bones present in the meat. The bones act like a thermal barrier when slowly cooking the prime rib on a smoker. It creates this layer between the heat source and the meat which protects it from overcooking. And, honestly, it's so satisfying to cut off the tender meat from the bones afterwards. This cooking method is definitely the best way to cook a prime rib roast. It tastes better when it's smoked rather than baked in the oven. You'll get that delicious smoke flavor, and fall-off-the-bone experience when it's served.
For this to happen, you'll need a good grill or smoker to cook the meat. I used one of those Traeger grills to make a delicious smoked prime rib Traeger made dish. If you don't have this grill, then using a traditional pellet smoker can also work. Most of these pellet smokers will have built-in thermometers for a constant temperature reading of the meat. You can place this meat thermometer directly into the meat for a more accurate reading of the meat's doneness.
Besides the meat, I also thought about the best prime rib rub to use as seasoning for the meat. The simplest prime rib rub you can use is salt and pepper mixed with olive oil. But for my recipe, I wanted a bit more of an herby and buttery flavor so it's extra savory. That's why I decided to make a garlic, butter, and herb mixture to season the rib roast. In a small bowl, I combined the softened butter with garlic, thyme, rosemary, salt, and pepper then rubbed it all over the meat.
The longer the seasoning stays on the prime rib, the better it will taste. In other words, this recipe can be made the night before and it will taste even better the next day! And you'll get the perfect prime rib every time. But since I was rushing a bit, I just went ahead and prepared my prime rib roast for smoking. I didn't do the reverse sear method for this smoked prime rib recipe to save time, and also because I already liked its dark brown roasted look. Reverse searing this beef is an optional step that you can try to add a delicious crust and smoky flavor to your smoked prime rib.
While smoking the prime rib, I prepared my side dishes and also an accompanying creamy horseradish sauce. So, if you're wondering what goes with prime rib, I highly recommend pairing it with this rich and tangy sauce. I also prepared an au jus gravy mix for my other relatives who prefer a more savory sauce for the meat. I love both sauces since it gives a variety of flavors to my smoked prime rib, making it even more mouthwatering. Next time I'm making this, I'll try wrapping it in bacon for an extra meaty and flavorful comfort food.
How To Make Smoked Prime Rib
Enjoy a flavorful dish with this tender smoked prime rib that's cooked with tasteful herbs and a savory garlic butter. Pair with a side dish of your choice.
Cooking:
3 hours 20 minutes
Total:
3 hours 30 minutes
Ingredients
6 lb prime rib roast, bone in

6 tbsp butter, softened

2 tsp garlic, minced

1½ tsp thyme leaves, minced

1½ tsp rosemary leaves, minced

Salt

, or kosher salt,

to taste

Ground

black pepper

,

to taste
Instructions
Preheat a

n

electric smoker

or

pellet grill

to

250 degrees F. Load the smoker with cherry or apple wood.

Place the butter, garlic, thyme, rosemary, salt, and pepper in a bowl, then stir to combine.

Rub the butte

r mixture

all over the roast.

Place the roast in a disposable aluminum pan.

Transfer the

prime rib on pellet grill

.

Cook until a thermometer registers the desired level of doneness.

Remove th

e prime rib roast from the

pellet smoker

, t

hen cover wit

h

aluminum foil

.

Let stand for 15 minutes. The roast will continue to cook during this time and the temperature will rise to another 5 degrees F.

Remove the bones from the roast.

Cut the roast into slices.

Serve

and enjoy!
Nutrition
Calories: 

1717.42kcal

Fat: 

155.19g

Saturated Fat: 

67.29g

Trans Fat: 

0.47g

Monounsaturated Fat: 

65.46g

Polyunsaturated Fat: 

5.67g

Carbohydrates: 

1.30g

Fiber: 

0.43g

Sugar: 

0.03g

Protein: 

73.60g

Cholesterol: 

357.12mg

Sodium: 

1094.16mg

Calcium: 

54.05mg

Potassium: 

1221.36mg

Iron: 

7.92mg

Vitamin A: 

98.24µg

Vitamin C: 

0.65mg