Bacon-wrapped smoked cornish hens make the meatiest dreams come true. The sweet and savory flavor of bacon and the juicy and smokey bites of roasted cornish game hens will create a lusciously good meaty flavor that you've been looking for. Here's an initial tip: don't forget to use chicken brine, as smoked cornish game hens brine adds moisture and helps with caramelization when we roast it later on.
If you're looking for the best smoked cornish hens recipe, this might be it! These smoked game hens are flavored with garlic and rosemary. With the juicy bacon wrap, you get an extra savory and smoky taste for your bacon-wrapped cornish hens.
Tip:
Try serving this savory
smoked game hen
with a bowl of starchy
mushroom rice
to balance out the oozing savoriness of the dish.
How To Make Bacon-Wrapped Smoked Cornish Hens
Bite into juicy smoked cornish hens wrapped in crispy bacon, flavored more with a succulent baste that makes up a tasty sauce.
Advertisement
Continue Reading Below
Ingredients
1½

lb

Cornish game hens,

giblets removed

1

lemon,

cut into 4 wedges

4

large

fresh rosemary sprigs

8

large

bacon,

slices

3

tbsp

olive oil

24

cloves

garlic,

peeled

⅓

cup

dry white wine

⅓

cup

chicken broth,

canned low-salt

Additional rosemary sprigs,

for garnish
Instructions
Preheat oven to 450 degrees F.

Wash hens and pat dry with paper towels.

Season the cavity of each hen lightly with salt and pepper.

Place 1 lemon wedge and 1 rosemary sprig in the cavity of each hen.

Rub hens with 1 tablespoon of olive oil.

Scatter garlic around the bacon-wrapped cornish hens.

Roast the hens for 25 minutes. After that, reduce the oven temperature to 350 degrees F.

Continue to roast.

When the cornish hens turn golden brown, check if the juices run clear when the thickest part of the thigh is pierced. Baste them every 10 minutes with pan juices and cook about 25 minutes longer.

Pour the juices from the cavity of the hens into the roasting pan, then transfer hens to a large platter.

Cover the hens with foil to keep warm.

Transfer the pan juices and garlic to a heavy medium saucepan over low heat.

Boil until reduced to sauce consistency, about 6 minutes.

Cut hens in half lengthwise.

Arrange on plates.

With a spoon, spread sauce and garlic around hens.

Garnish with additional rosemary sprigs.

Serve and enjoy!
Advertisement
Continue Reading Below
Advertisement
Continue Reading Below
Frequently Asked Questions
Is cornish hen healthier than chicken?
Cornish hens have a smaller size than chicken meat and they have fewer fat and calories. These hens are best served for 1 to 2 people. You can further reduce the fat and calorie content of cornish hens by removing the skin.
Do cornish hens taste gamey?
Compared to chicken meat, cornish hen meat has a slightly stronger gamier taste. But not more than the taste of quails. Once the hens are seasoned, they give a savory and light taste.
How do you keep cornish hens from drying out?
Refrigerating your game hens helps keep the moisture in. This method also dries up the skin and gives it a crispy result once you roast it.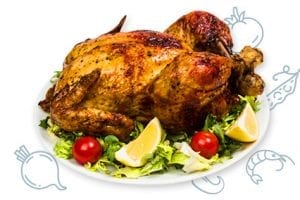 Conclusion
Smoked cornish hens are one of the best things to wrap in bacon. We get to have a party of savory flavors that will always leave us wanting seconds! Serve this mouthwatering dish for special dinners – the juiciness and rich flavors will leave your guests astounded.
Advertisement
Continue Reading Below
Topics:
Advertisement
Continue Reading Below
Advertisement
Continue Reading Below