This German roast beef sandwich is a showstopper. Imagine layers of hot, soft but crisp bread, sweet and tangy applesauce, crunchy and slightly spicy onion with the kick of horseradish, fresh and bright green lettuce, and a hefty portion of juicy and tender beef all in one big bite. 
Add to that a side of warm grilled potatoes and a tall mug of ice-cold beer of your choice. It'll be a sumptuous treat! 
Tips for Making a Roast Beef Sandwich
While most hot beef sandwich recipes call for mayonnaise, ours stands out with the use of applesauce as the main dressing. Applesauce and meat are a popular combination in German cooking. The sweetness and tang of applesauce compliment the savory taste of roasted beef creating an interesting contrast of flavors. The best part is that this roast beef sandwich takes only a few minutes to put together!
Having a fast-food or game night is fun with this easy to prepare beef sub. Check out these good-to-know tips we listed down for you:
When picking out meat, the best cut for roast beef is loin with the fat cap on top

. It makes a melt-in-the-mouth roast beef and is the perfect size for slow roasting in the oven. The fat bastes the meat as it roasts making it moist and juicy. You can easily ask for this cut from your local delicatessen.

Choose a thin beef cut of around ¼-inch thick

. It's more attractive to look at, and it's just the right thickness for a nice bite. In addition, using a roast beef cut of this thickness allows you to savor the taste and flavors of your deli meat.

Make your own roast beef at home

. Choose from a

crockpot roast beef

to an all-out holiday

beef roast recipe

.

Use a soft but sturdy kind of bread

that is able to hold all the fillings of your roast beef sub together. Ciabatta,

sourdough

, baguette, and

artisan bread

are good options to choose from.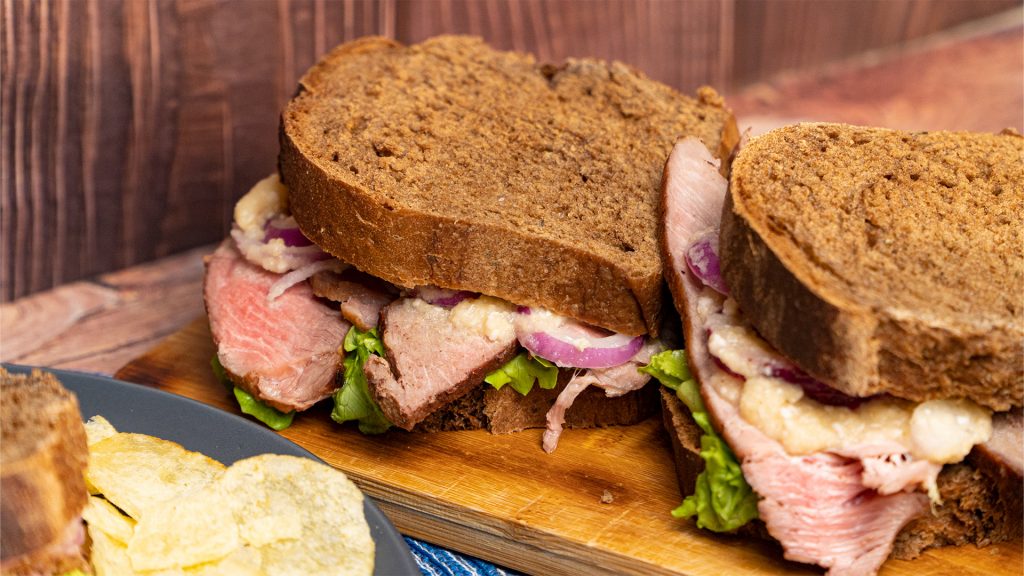 German Roast Beef Sandwich Recipe
How To Make German Roast Beef Sandwich
Savor a mouth-watering roast beef sandwich with a yummy tart applesauce dressing. Have onion slices piled on top of lettuce shreds and juicy roast beef cuts sandwiched between crisp rye bread for a fantastic treat.
Ingredients
1

lb

deli roast beef

¾

cup

applesauce

2

tsp

horseradish,

prepared

1

tbsp

butter

¼

tsp

salt

⅛

tsp

pepper

8

slices

rye bread

1

cup

lettuce,

shredded

1

red onion,

small, thinly sliced
Instructions
In a bowl, add the applesauce, horseradish, and sliced onions then mix until well-combined. Set it aside.

In a non-stick skillet, melt the butter and cook the roast beef for around 5 to 10 minutes, or until it warms through.

Season the roast beef with salt and pepper.

On a slice of rye bread, assemble the lettuce, beef slices, and applesauce mixture.

Serve with potato chips on the side and enjoy a mouth-watering German roast beef sandwich!
Nutrition
Sugar:

8g

:

Calcium:

378mg

Calories:

361kcal

Carbohydrates:

40g

Cholesterol:

65mg

Fat:

9g

Fiber:

5g

Iron:

4mg

Monounsaturated Fat:

4g

Polyunsaturated Fat:

2g

Potassium:

532mg

Protein:

31g

Saturated Fat:

2g

Sodium:

2285mg

Vitamin A:

234IU

Vitamin C:

55mg
Nutrition Disclaimer
Frequently Asked Questions
What should I put in my German-style sandwich?
You may add your favorite ingredients to this sandwich to make an even yummier snack! Caramelized onions go well with roast beef. You can also add chili oil or sauce if you want a spicy kick in your palate. Sliding in some tomato slices will add a sweet, juicy taste. Adding cheeses will give an element of creaminess, but you can use sour cream as a lighter option. You can even switch up the bread by using bagel, ciabatta, or hoagie.
What kind of cheese goes on a deli roast beef sandwich?
Melting cheeses such as Mozzarella, cheddar cheese, Swiss cheese, American cheese and Gruyere go well with roast beef sandwiches. If you're up for strong and sharp flavors, blue cheese sauce is a must-try.
Can I make this beef sandwich in advance?
For an alternative on-the-go sandwich or a big batch of meal prep, you can individually wrap them in plastic wrap or aluminum foil and keep them in the fridge for up to 3 days. When ready to eat, reheat roast beef sandwiches in a microwave (for plastic-wrapped sandwiches), in a cast iron skillet on stovetop or grill (for foil-wrapped sandwiches). You'll have a hot beef sandwich ready in minutes. However, to prevent bacteria build-up, the best practice is to keep the roast beef, onion applesauce mix, lettuce, and bread separately in an airtight container in the fridge until ready to use.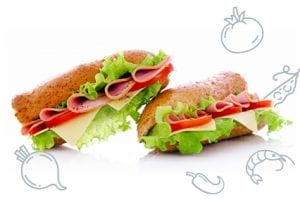 Conclusion
This German Style Roast Beef Sandwich packs good roast beef, fresh vegetables, and mouth-watering sauce into one yummy treat. You can easily serve this for lunch as it is a hefty meal in itself. Don't miss out on this perfect roast beef sandwich you can have while on the go!
Comments
The photo doesn't seem to match the recipe.

Comment is awaiting moderation.