Thinking of ways you can turn simple shrimp into something fancier? You're in luck. Now, you can host dinner parties at home with this arsenal of a simple but delicious dish. This shrimp recipe is fancy but easy-to-make.
In this recipe, we'll show you how to combine the saltiness of the prosciutto to complement the meatiness of the shrimp. This recipe is easy and definitely hassle-free. We guarantee that by simply following these steps, you will be able to produce and absolutely delicious dish.
Serve this with some sour cream or some ketchup mixed with soy sauce and enjoy it. Make sure you eat it instantly after preparation. The shrimp meat tends to be hard and gummy after a while so it is best to eat it right after you cook it. 
How To Make Prosciutto-Wrapped Shrimp
Who would've thought that shrimp and ham go so well together? This tasty treat works as both a main and an appetizer.
Ingredients
24

large shrimp (about 1 lb)

peeled and deveined

1

tbsp

instant minced garlic

1/2

tbsp

dill weed

1/2

tbsp

dried tarragon leaves

1/2

lb

prosciutto

sliced paper-thin

Nonstick cooking spray
Instructions
In a medium bowl place shrimp, garlic, dill, and tarragon; toss to coat.

Cut prosciutto slices in half lengthwise.

Wrap each shrimp in a half-slice of prosciutto. Thread wrapped shrimp on skewers, leaving a little space between each piece.

Spray lightly with cooking spray.

Place skewers on center of cooking grate and grill for 5-6 minutes, turning once halfway through grilling time.

Note: If using wooden skewers, soak in water 30 minutes before using so ends won't burn during grilling. 
Nutrition Facts
Calories:
1
kcal
|
Carbohydrates:
1
g
|
Protein:
1
g
|
Sodium:
1
mg
Commonly Asked Questions
What can I use as a substitute for prosciutto?
If you don't have prosciutto on hand, you can always use ham or bacon. A word of caution, though, you should use thinly cut ham or bacon to be able to have that prosciutto-like results. 
How Can I Determine the Freshness of the Shrimp?
There are obvious clues that shrimps that are sold are no longer fresh. For instance, there is that obvious odor. Sure, a shrimp naturally smells fishy, but when a shrimp is no longer fresh, it exhibits a foul fishy odor. Another thing to look at is whether or not the shell of the shrimp is slimy. If you're not sure how to determine the freshness of the shrimp, head over to the freezer section. The shrimps inside in the freezer section have a guaranteed freshness to them.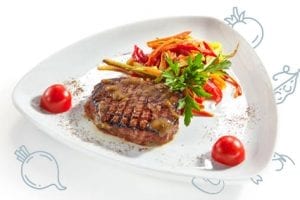 Conclusion
This dish is the best combination between the saltiness of the prosciutto and the sweetness of fresh shrimp. Remember to make an extra-large batch if you intend to have guests over. This recipe has always proven to be a crowd favorite. Choose only the freshest fish.