This watermelon sorbet is lusciously fruity and refreshing, the perfect summer fruit dessert. It's a delightful combination of watermelon purée and sugar. Plus, you don't even need an ice cream maker to make this cooling treat at home. It's a lovely way to finish off a heavy meal and the best warm afternoon refreshment. And if you're feeling a bit extra, you can even top your homemade sorbet with a scoop of watermelon ice cream, grape ice cream, or any flavor you like.
Making this watermelon sorbet recipe is a breeze. At its core, any sorbet recipe has a base consisting of sugar and water. But it can even become delectably sweeter when you add raw honey or maple syrup. You can also get creative and infuse the sugar syrup with lime juice and lemon juice. Add a splash of cream or coconut milk, and you even got yourself a refreshing watermelon sorbet!
Tips for Making Watermelon Sorbet
Some watermelon desserts are meant to boost your day, much like this easy sweet sorbet. And all you need are five ingredients, a freezer-safe bowl or container, and a blender. 
Follow our tips and tricks on how to make watermelon sorbet the right way for more enticing results: 
Pick a good, sweet watermelon

. To make one of the best

watermelon recipes

, make sure that you use a

sweet watermelon

. Do so by checking  the appearance of the whole fruit. It should have a creamy yellowish spot that indicates ripeness. Moreover, a watermelon that feels quite heavy for its size tends to be sweeter.

Add the right amount of sugar

. Targeting the proper sugar level is the simplest path to a melts-in-your-mouth sorbet. When you add too little sugar, the sorbet might become too icy. But if too much sugar is added, it will have a slushy texture. So to gauge the sugar level, lower a whole raw egg into the sorbet base. The egg should float in the middle, with just a quarter-size patch of eggshell exposed above the surface.

Incorporate a stabilizing component in the sorbet base

. Stabilizers prevent ice crystal formation, hence, giving your sorbet a fantastic structure and smoother texture.

Fruit jam, jelly, and gelatin

(powdered or sheets) are great options. If you add such stabilizers to the base, your

frozen watermelon

dessert will not melt easily.

Add a small amount of acidic ingredients to balance the flavor

. The addition of acidic ingredients, such as lemon juice and lime juice, balances out the flavor of the sweet, fruity sorbet. You can also use apple cider vinegar, red wine vinegar, or balsamic vinegar as an alternative. Simply start with one tablespoon and gradually add more according to your taste preference. 

Add flavorful elements to your sorbet

. Apart from the basic

sorbet ingredients

, you can also add various components. Try making a simple syrup using water, sugar, and flower petals. Fresh herbs and spices also provide an interesting taste to the sorbet. Just make sure they don't overpower the iced treat's original sweet flavor.

Try adding some alcohol to the sorbet. Feel free to add a bit of booze that harmonizes well with the taste of the fruit. When alcohol is infused in the sorbet base, the freezing point of the sorbet is reduced. Your sorbet will turn out smoother and softer — without the unpleasant ice crystals.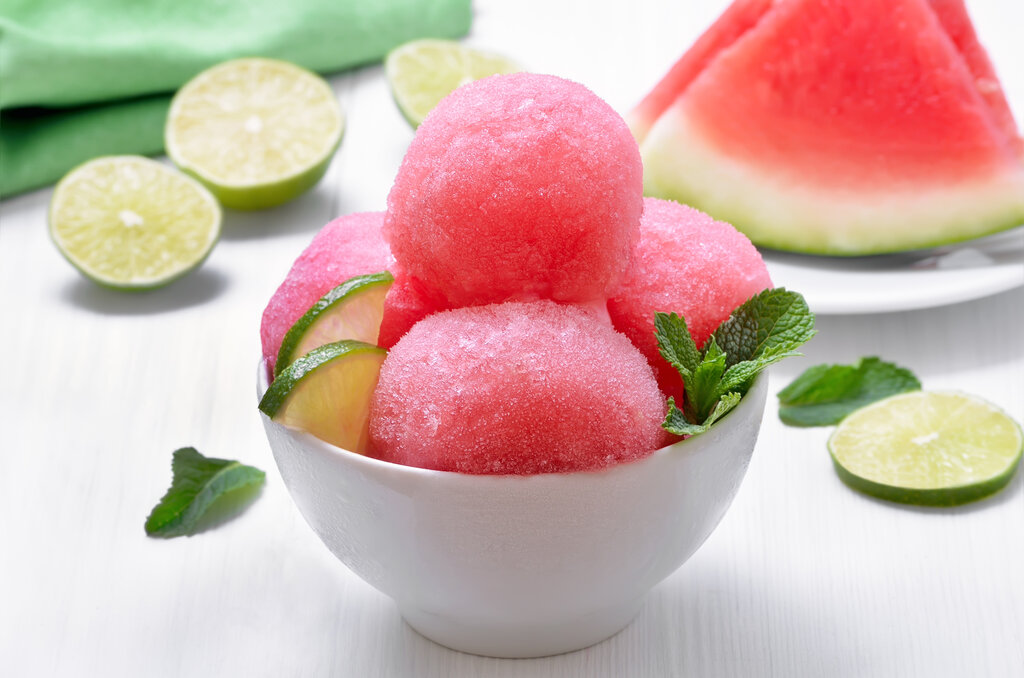 Watermelon Sorbet Recipe
How To Make Watermelon Sorbet
Sweet and fruity watermelon sorbet is just the frozen dessert you need on a hot summer day. You only need watermelon, sugar, lime and lemon juice, and water. No fancy ice cream maker required!
Ingredients
½

cup

water

⅔

cup

sugar

1

tbsp

lime juice

2

tbsp

lemon juice

6

cups

watermelon,

seeded and diced
Instructions
Combine the water, sugar, and juices in a saucepan and cook the mixture over medium heat until the sugar dissolves.

Place the watermelon in a food processor or blender and process it until it turns smooth.

Strain the watermelon so you end up with about 4 cups of juice. Add it to the sugar mixture and mix well. 

Pour the mixture into an ice tray and place it in the freezer.

Once the mixture freezes, pour it back into the food processor and mix just enough to make it smooth. You may need to add a few tablespoons of water for this process.

Place the mixture in a bowl and refreeze for several hours before serving. Enjoy!
Recipe Notes
You can use coconut sugar, brown sugar, or turbinado sugar to make the sorbet base.

Cover the surface of the sorbet with a plastic wrap to prevent the formation of ice crystals. 

Incorporate corn syrup into the base for a creamier and richer

watermelon sorbet

.
Nutrition
Sugar:

32g

:

Calcium:

11mg

Calories:

133kcal

Carbohydrates:

34g

Fat:

1g

Fiber:

1g

Iron:

1mg

Potassium:

170mg

Protein:

1g

Saturated Fat:

1g

Sodium:

3mg

Vitamin A:

865IU

Vitamin C:

15mg
Nutrition Disclaimer
Frequently Asked Questions
Is watermelon sorbet healthy?
Watermelon sorbet is absolutely healthy. It's vegan, dairy-free, and perfect for clean-eating and paleo diets. It relies on the naturally sweet and refreshing flavor of watermelon with a bit of sugar. You can even skimp on the sugar to make a much healthier version!

How to make watermelon sorbet with an ice cream maker?
Making watermelon sorbet with an ice cream maker is straightforward. As in our version, start by preparing the simple syrup. Then, chill the sugar syrup. Puree the diced watermelon next using the food processor and combine with the syrup. After that, simply freeze the finished mixture in the ice cream maker. Make sure to follow the manufacturer's instructions on how to use your appliance for the best outcome.
What is the difference between sorbet and sherbet?
Sorbet and sherbet (along with  gelato and ice cream) are both popular frozen treats. Their names might sound similar, but they have a few differences that you should know about. In essence, the main difference between these two equally flavorsome desserts is their dairy content. Sorbet usually contains fruit and sugar, whereas sherbet features fruit and cream. Given that, sherbet is richer and creamier than sorbet. Light and smooth, sorbet is the perfect cold dessert that won't weigh you down.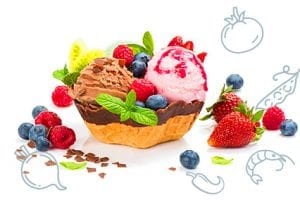 Conclusion
The refreshing flavor and vibrant color of watermelon sorbet are always welcome on a hot afternoon. It only calls for five simple ingredients and doesn't require a bulky ice cream maker. Serve with a sprig of fresh mint or fresh fruit slices on top for a lovelier presentation.