In this mushroom and tomato quiche recipe, we're making everything from scratch. Combining mushrooms, tomatoes, cheese, and eggs, we have a creamy and cheesy filling to pour on a homemade quiche crust. Enjoy the fresh and umami flavors of this all-time favorite brunch dish with a light spring salad and fresh fruits on the side.
Tips on Making Mushroom and Tomato Quiche
Quiche is a highly customizable dish in which you could add your favorites — from leftovers to deli meat, sun dried tomatoes, and even your favorite vegetables such as zucchini, spinach, basil, onion, and more. Before heading into the kitchen, read these pro tips for making the best breakfast quiche to perfect every time. 
Always blind bake the crust

. In blind baking, you pre-bake the pie crust without the filling. Doing this ensures that it is cooked through and won't get soggy.

Immediately pour the filling while the crust is hot

. The heat will cook the egg mixture creating a solid layer that will keep the rest of the tomato

mushroom filling

from spilling. 

Use any tomato, cheese, and mushroom that's available on hand.

You can use heirloom tomatoes, Roma tomatoes, enoki mushrooms, portobello mushrooms, Gruyere,

swiss cheese

,

cheddar cheese

, and even

feta cheese

.

Any add-ons for the filling should be dry

so that the quiche won't end up watery. Make a spinach mushroom tomato quiche by adding spinach in the mix, thawed, squeezed, and drained properly. Drain the canned mushrooms well. If you'll be adding bacon, zucchini, or peppers, a quick saute will help remove any excess moisture.

Do not overstuff.

The creaminess comes from the custard, so you want every bite to have a good ratio of custard to the rest of the ingredients.

Use store-bought frozen pie crust

for convenience, or make it a

crustless quiche

. Both ways are delicious.

Aside from making a big pie,

you can portion the quiche into small ramekins or muffin tins

and make personal-sized quiches for everyone like this

spinach quiche

.
We have more quiche recipes for you to try. For now, let's head right on to making this delicious mushroom and tomato quiche.
How To Make Mushroom and Tomato Quiche
A tasty savory tart loaded with mushrooms, fresh tomatoes, and cheese on a flaky homemade quiche crust. This mushroom and tomato quiche deserves a spot on your breakfast menu.
Advertisement
Continue Reading Below
Ingredients
1½

cup

all-purpose flour,

add more for rolling

4

tbsp

unsalted butter,

at room temperature

4

tbsp

shortening,

at room temperature

¼

cup

ice-cold water

2

tsp

olive oil

4

large eggs

8

oz

Monterey Jack cheese,

grated

½

cup

canned button mushrooms,

quartered

salt and pepper ,

to taste

12

cherry tomatoes,

cut in half

¼

cup

heavy cream

¼

cup

milk
Instructions
Crust:
In a large bowl, combine flour, butter, water, and shortening. Mix everything together until the dough becomes firm.

Form the dough into a ball and wrap it in plastic.

Chill the dough for 20 minutes and preheat the oven to 400 degrees F.

Roll out the pastry to about ⅛ -inch thick on a floured surface, then place it on a pie plate.

Prick the base of the pastry with a fork and press a sheet of aluminum foil around the pastry edge. Chill it for 10 minutes.

After chilling the pastry, brush it with olive oil and bake it in the oven for 10 minutes.

Take off the foil and bake the pastry for another 5 minutes while making the filling.
Mushroom Tomato Filling:
In a medium bowl, lightly beat the eggs, cheese, milk, & cream.

Stir everything until they are well-blended.

Season the mixture with salt and pepper.

Evenly distribute the mushrooms and tomatoes into the crust.

Pour the egg mixture and bake it in the oven for 30 minutes or until the crust is golden and the filling set but slightly jiggly in the middle.

Once you're finished baking, serve your mushroom and tomato quiche and enjoy!
Advertisement
Continue Reading Below
Advertisement
Continue Reading Below
Commonly Asked Questions
Can you make quiche ahead of time and reheat?
Yes! Whip up the quiche filling and crust and put them together to bake the next morning. You can also bake and chill it covered with plastic wrap the night before, then reheat it in the morning.

How do you fix a soggy bottom quiche?
A soggy bottom quiche could be caused by underbaking or using ingredients that are too moist. First, if the tomato quiche is underbaked, simply bake it for a few more minutes until set. Baking it at the lowest rack will help cook the bottom faster since it's closer to the heat source. Moreover, use a glass baking dish if you have it so that you can see if the crust is brown enough. Next time, saute the ingredients to remove excess moisture before adding them to the egg mixture. Lastly, always blind bake the crust.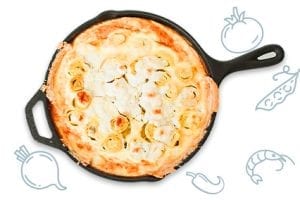 Conclusion
A creamy quiche with tomatoes, cheese and mushrooms baked into a homemade quiche crust. Anyone would be delighted to be served this mushroom and tomato quiche. Make it for your family and friends today!
Advertisement
Continue Reading Below
Topics:
Advertisement
Continue Reading Below
Advertisement
Continue Reading Below