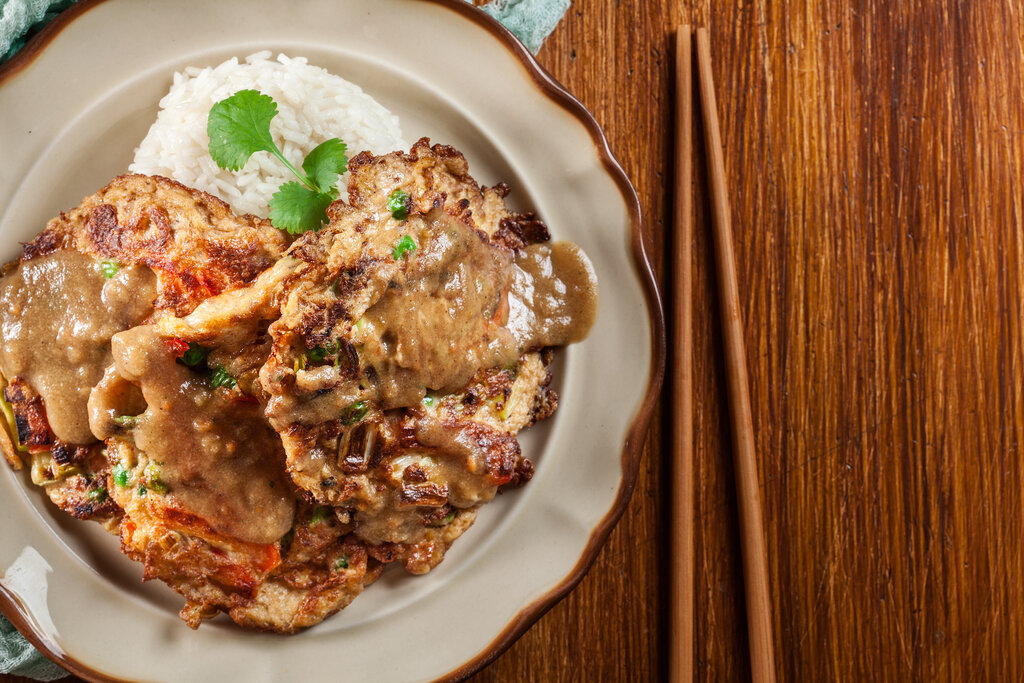 Egg Foo Young Gravy Recipe
I made this delicious egg foo young gravy for breakfast one time, and it was the best homemade Chinese food I ever made. This egg foo young is a popular dish you can order in most Chinese American restaurants and Chinese Indonesian cuisines. It's a dish that combines a variety of cooking styles to create the perfect savory dish.
So, what is egg foo young, or egg foo yung? Well, it's a Chinese omelette or Chinese egg dish that's filled with fresh vegetables and meat such as chicken or beef which you can adjust to your liking. For my chicken egg foo young gravy recipe, I used simple vegetable ingredients like green onions, mushrooms, and celery to mix with the chicken meat that I included. You can also switch out the chicken with other kinds of meat for fun recipe variations. You can make beef egg foo young or pork egg foo young which are both equally delicious Chinese recipes.
Other egg foo young recipes would omit the meat, and just add in crab meat to make a seafood version of the omelette. Sometimes, they just remove it altogether to make an all vegetable egg foo young for a healthy, vegetarian alternative. If you're going for that option, then you can freely include other kinds of vegetables as well such as napa cabbages, carrots, or mung bean sprouts.
I love this recipe because I can adjust and change the recipe at times to make a heartier and more savory meal. It's also so easy to make since it's similar to making a regular omelette. The only difference is that egg foo young includes a homemade egg foo young sauce. This gravy sauce enhances the flavor of the whole dish; it's basically the secret ingredient. It's made from chicken broth mixed with oyster sauce, sugar, soy sauce, cornstarch and water. The result is a thick, smooth, and dark brown gravy which you pour all over the omelette.
I made the gravy sauce using a small pan, then set it aside first to make the egg foo young next. Simply combine the ingredients in a large bowl, and then gently pour it over the pan. Wait for a few minutes before flipping the egg. When the omelette is golden brown in color, then it's ready to be served. I transferred mine to a plate, poured the gravy, and ate it alongside a cup of white steaming rice with cooked Chinese sausage slices for a complete and satisfying meal.
How To Make How To Make Egg Foo Young With Gravy
Enjoy an Asian-inspired breakfast with this tasty egg foo young gravy recipe. It's a Chinese style omelet packed with meat and fresh veggies.
Ingredients
For Egg Foo Young Gravy:
½

cup

chicken broth,

chicken bouillon or chicken stock

1

tbsp

oyster sauce

¼

tsp

sugar

1

tsp

soy sauce

1½

tsps

cornstarch

4

tsps

water
For Egg Foo Young:
6

large eggs

½

cup

chicken,

beef, shrimp, or crab meat, cooked

½

cup

celery,

thinly sliced, or napa cabbage

½

cup

mushrooms,

thinly sliced

½

cup

green onions,

thinly sliced, whites only

¼

cup

green onion tops,

thinly sliced, greens only

¼

tsp

sesame oil

1

tsp

light soy sauce

vegetable oil,

for frying, or canola oil

½

cup

mung bean sprouts,

finely chopped, optional

3

Chinese sausages,

sliced into ¼-inch pieces, optional
To Serve:
white steamed rice

green onions,

finely chopped
Instructions
Egg Foo Young Gravy:
Make the sauce by combining the chicken stock, oyster sauce, sugar, and sauce in a small pan over medium heat. Cook until warm and bubbly.

Prepare cornstarch slurry by combining the cornstarch and water together in a small bowl. Stir to combine.

Add in the cornstarch slurry and stir until the sauce thickens. Turn off the heat.
Egg Foo Young:
To make the egg foo young, in a large bowl add the eggs. Beat eggs together until the whites break down completely.

Stir in the cooked chicken or cooked shrimp, celery, mushrooms, sliced green onion whites, soy sauce, sesame oil into the egg mixture, and stir well.

In a heated wok, add about a tablespoon of vegetable oil into the base. When the oil is hot, stir it around, coating the sides. Pour about a half cup of the egg foo young batter into the pan.

The eggs should bubble up when the batter is poured into the pan. Stir the uncooked eggs gently to the sides of the pan so they cook. The egg foo young will cook for about 2 minutes before the eggs should be flipped to the other side.

Gently flip the egg foo young to the other side, and cook for another 2 to 3 minutes, or until this is a golden brown color.

Serve with brown gravy and top with additional chopped green onions , and pair alongside white rice.
Nutrition
Calories: 

1032.98kcal

Protein: 

70.44g

Cholesterol: 

1224.60mg
Topics: