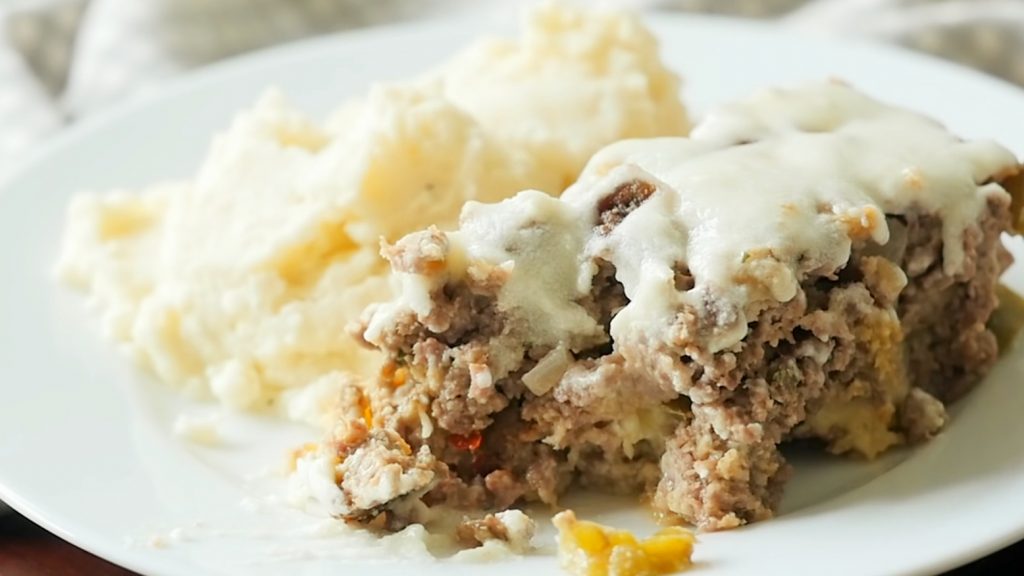 Philly Cheesesteak Meatloaf Recipe
Philly cheesesteak meatloaf is a next-level take on the classic Philly cheesesteak sandwiches. Some days I get a sudden and very serious hankering for Philly cheesesteaks. To satisfy my cravings, I usually just make the famous American sandwich at home OR whip up this meatloaf recipe. I can vouch that this version delivers the classic flavors of a Philly cheesesteak sandwich!
This unique meatloaf recipe lets you enjoy the taste of Philly cheesesteaks in the form of meatloaf. Much like the sandwich, meat and cheese are the main stars here. Instead of thinly-sliced beef, however, I used ground beef. As far as cheese options go, some probably prefer mozzarella or American cheese. But as a nod to the classic Philly cheesesteak, I used slices of provolone cheese.
To capture the flavors of the iconic sandwich, I also made my meatloaf with green bell peppers, onions, and mushrooms. Of course, let's not forget about the ketchup and Worcestershire sauce for an extra umph of flavor. With these simple ingredients, you can whip up one of the best meatloaf recipes out there!
The best part about this meatloaf recipe with cheese is that it is super easy to pull off! Simply saute the veggies, combine everything in a bowl, shape the loaf, and stuff it with provolone. Pop the beef and cheese meatloaf in the oven, and let it bake. To hold your meatloaf together, add breadcrumbs and eggs to the ground beef mixture.
Use keto breadcrumbs to make a low-carb version or skip the breadcrumbs altogether. If you love bacon, a Philly cheesesteak meatloaf wrapped in bacon will make the dish extra savory! Make sure to top your meatloaf with more provolone cheese halfway through for a gooey, cheesy melt on top. Yum.
Another great thing about this Philly cheesesteak meatloaf recipe is that it makes a big batch. Perfect for family dinners! My meatloaf- and sandwich-loving family love, love, love it so much. And I know you will too! Make sure to serve with some mashed potatoes on the side for a truly filling meal.
How To Make Philly Cheesesteak Meatloaf
Have a one-of-a-kind gastronomic experience by making this Philly Cheesesteak meatloaf recipe. It's an easy and sumptuous take on the classic American sandwich.
Ingredients
2 tbsp butter

1 yellow onion, small, diced

2 lb ground beef

1 green bell pepper, small, diced

2 tbsp ketchup

8 oz brown mushrooms, minced

½ tsp kosher salt

2 tbsp Worcestershire sauce

½ tsp ground black pepper

2 eggs

1 cup panko breadcrumbs, (or keto bread crumbs)

8 oz provolone cheese, slices
Instructions
Preheat the oven to 375 degrees F and spray a large loaf pan with cooking spray.

Heat butter in a large skillet over medium heat. Saute the onions, bell peppers, and mushrooms. Add salt and pepper.

Cook for at least 1 to 2 minutes or until the onions caramelize and the mushrooms turn brown before stirring. Let it cook for another 1 to 2 minutes before stirring again.

Set it aside and allow it to cool for 5 minutes.

In a large bowl, combine the ground beef, ketchup, Worcestershire sauce, eggs, panko breadcrumbs, and the sauteed vegetables.

Add half the mixture to the loaf pan. Then, add half of the cheese to the middle of the pan in a 2-inch wide section.

Cover with the rest of the meat and form into a rounded top loaf shape.

Cook for 40 minutes, then pull the loaf out of the oven. Cover with remaining cheese, and put back in. Cook for 15 to 20 minutes, then let rest for 10 minutes.

Serve and enjoy!
Recipe Notes
Feel free to use a combination of Cheese Wiz and provolone cheese for an extra cheesy dish.
Nutrition
Calories: 

1342.07kcal

Protein: 

88.29g

Cholesterol: 

389.23mg