The Philly Cheesesteak is a staple in both American culture and cuisine. It's so well-loved that even fast-food joints, like Subway, made their own version of it. And with our recipe, we're recreating Subway's take on the Philly Cheesesteak. Subway is no longer selling this sandwich, but don't worry! With our recipe, you can easily recreate their version of Philadelphia's iconic local food. A bite of this and you're on your way to food heaven! It may be a bit challenging to make in the kitchen, but we promise that with our clear instructions you'll be mastering this recipe in no time.
With the cheesesteak being a well-loved sandwich and Subway a popular sandwich restaurant, it was just about time before they included this iconic dish in their menu. Subway offered many options for their "Big Philly". Customers could choose from 6 varieties of bread, 4 different cheeses, and all kinds of toppings, condiments, and dressing. But in our recipe, we'll be using French bread.  We're also including peppers and onions, one of the Philly's original, signature ingredients that was missing from Subway's Big Philly. But make no mistake, what you'll end up making will still taste as savory and scrumptious as any authentic Philly cheesesteak. You'll be biting into crunchy French bread that's soaked with the meaty juices of thinly sliced and sautéed ribeye steak and melted cheese.
Thanks to our recipe, you won't need Subway if you want a taste of their Big Philly. It might be more hands-on to make, but it's definitely a challenge worth exploring. So with this dish, you'll be introducing the local taste of Philadelphia food to friends and family without needing to fly all the way there! Partner this dish with Beer Batter Onion Rings and you're ready to food binge!
Copycat Subway Philly Cheesesteak Recipe Video
How To Make Copycat Subway Philly Cheesesteak
This cheesesteak boasts of smoky, ribeye steak with melted cheese and flavorful onions and peppers. Just a bite of our Copycat Subway Philly Cheesesteak and you're on your way to food heaven!
Advertisement
Continue Reading Below
Ingredients
For Marinade/Dressing:
¼

cup

grain mustard

½

cup

balsamic vinegar

2

cloves

garlic,

chopped

¼

cup

extra-virgin olive oil

1

tsp

salt

1

tsp

black pepper
For Philly Cheesesteak:
2

tbsp

olive oil

2

lb

flank steak

1

red bell pepper,

halved and seeded

1

green bell pepper,

halved and seeded

1

red onion,

cut into ¼-inch slices

10

oz

BBQ sauce

1

loaf

French bread

1

lb

fresh mozzarella cheese,

sliced or grated
Instructions
For Marinade:
Mix mustard and balsamic vinegar in a small bowl.

Add garlic, drizzle in olive oil while mixing.

Season mixture with salt and pepper to add taste.
For Philly Cheese Steak:
Place steak inside a bowl.

Pour in ¾ of the marinade inside bowl and combine.

Marinate steak at room temperature for at least 30 minutes.

Coat onions with BBQ sauce.

Saute onions and pepper in oil until golden brown.

Once golden brown, remove from pan to keep warm.

Remove steak from the marinade and grill.

After 5 minutes, turn steak over to sear its other side. Transfer steak to a cutting board. Let it cool for 10 minutes before slicing.

Cut bread lengthwise and toast for a few minutes.

Brush the remaining marinade on both sides of the bread.

Arrange steak on one half of the bread, then season it with peppers and onions.

Top steak with cheese, then cover it with other half of the bread.

Cut the entire sandwich into 4 pieces and serve.
Advertisement
Continue Reading Below
Advertisement
Continue Reading Below
Commonly Asked Questions
What's the best cheese for Philly cheesesteak?
Traditional Philly cheesesteaks used American cheese or provolone cheese (sometimes even together). Meanwhile, other stalls experimented by using Cheese Wiz. In this recipe, we used mozzarella cheese since, like American cheese, it's the type that melts. However, you are free to experiment if you want to try versions with different cheeses.
What's the difference between a Philly cheesesteak and a regular cheesesteak sandwich?
Generally, a regular cheesesteak is just a sandwich that doesn't use the same ingredients the Philly does. For most, using a steak other than ribeye, from steak burger patties to ground steak meat is already enough to disqualify it from being one. Having the cheese unmelted and using a bread not similar to a hoagie or Italian roll also doesn't make it a Philly.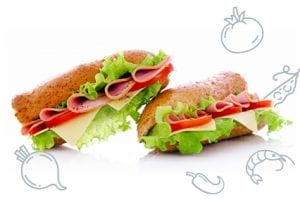 Conclusion
You don't need Subway to bring back the Big Philly just to have a taste of Philadelphia's famous local food. Just follow our recipe's steps and you're closer to cheesesteak heaven than you might expect. Also, feel free to experiment with the type of cheese you want. Maybe you can even help settle a long-standing debate over whether American, provolone or Wiz is the best for Philly cheesesteaks.
Advertisement
Continue Reading Below
Topics:
Advertisement
Continue Reading Below
Advertisement
Continue Reading Below