American-Italian cuisine has gifted us with some of the best-known staple foods in the Mediterranean like pasta, which we can enjoy in different ways. For instance, you can have penne pasta creamy or tangy and spicy like those with marinara sauce. For example, in this appetizing Spicy Penne Recipe, we're using marinara sauce loaded with tomatoes, herbs, and spices. Yes, it's deliciously spicy, but don't turn it down just yet if you're the type of person who doesn't like spicy food at all. Because besides the pungent taste that chili peppers bring into our spicy penne, they actually contain vitamins and minerals such as Vitamin C.
In this recipe, we're cooking our meatless marinara sauce in a slow cooker or crockpot. Slow cooking certainly lessens the hassle and gives us a meal that tastes amazing! Just put everything together with the right layering, wait for a few hours, and you can enjoy a superb meal. Slow cooking brings out the flavors of the tomato sauce, herbs, and spices while keeping its moisture and nutrients. This dish is also featured as one of the recipes for inspiration in 50 types of pasta and their best pairing sauce.
For our crockpot spicy penne, we need less than 3 hours to have a well-done spicy penne in marinara sauce. If you haven't reached the minimum time yet, don't dig in even if the tempting robust aroma reaches you. Opening the crockpot cover earlier than you should since it just add up your cooking time, so don't make that common mistake in slow cooking. Don't worry, it may be slow but this mouth-watering spicy penne is worth the wait. If you love pasta and are craving for a more peppery and savory dish, try out our Copycat Ruby Tuesday's Sonoran Chicken Pasta Recipe. Spice up your lunch, your dinner for two, and even your breakfast and savor a kicking Spicy Penne Recipe!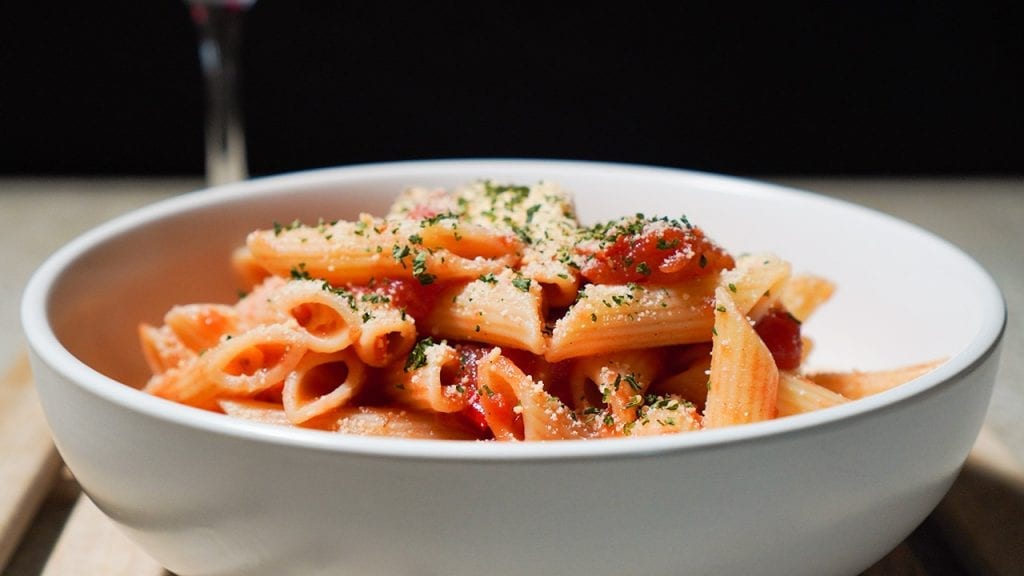 Pasta Arrabiata (Spicy Penne Pasta) Recipe
How To Make Pasta Arrabiata (Spicy Penne Pasta)
Spice up your crockpot with this meatless and flavor blasted pasta arrabiata! It's so delicious, you're going to want to pack your lunch tomorrow.
Ingredients
5

cups

penne pasta

1

jar

marinara sauce,

use only 12 oz, chunky

2

chili peppers ,

seeded and diced

½

tsp

oregano

⅛

tsp

salt

⅛

tsp

pepper

parmesan cheese ,

grated or shredded

dried oregano ,

optional
Instructions
In a crockpot, add the chili peppers, marinara sauce, oregano, salt and pepper and mix well until combined.

Cover and cook over high heat for 2 hours.

Cook the penne pasta in a pot of boiling water according to package instructions.

Add the cooked pasta to your sauce in the crockpot and mix well to combine.

Serve and add parmesan cheese and dried oregano as a garnish. Enjoy!
Nutrition
Calcium:

20mg

Calories:

140kcal

Carbohydrates:

28g

Fat:

1g

Fiber:

3g

Iron:

2mg

Potassium:

406mg

Protein:

6g

Saturated Fat:

1g

Sodium:

643mg

Sugar:

5g

Vitamin A:

535IU

Vitamin C:

8mg
Nutrition Disclaimer
Commonly Asked Questions
How do you make perfect penne pasta?
The perfect state of any pasta is al dente which means it should be firm. You can make the perfect penne pasta just by following the instructions given on the packaging. But in general, remember to put the right amount of water in the pot depending on the amount of pasta you're cooking and sprinkle with salt. You can also pout in a little bit of oil in the water to prevent your pasta from sticking with each other. Bring the water to a boil over high heat. Place the penne in the boiling water and stir. Cook the pasta for approximately 15 minutes or until al dente. Avoid overcooking your pasta to prevent it from having a gummy texture. For a warm dish like this Spicy Penne Recipe, do not rinse the pasta. The starch in the water that's left in the pasta makes the sauce stick to it.

Can cooked pasta be frozen and reheated?
Yes. Cooked pasta can be frozen and reheated. Just make sure it's cooked al dente to prevent it from becoming mushy after reheating. You can store it in the freezer for up to 3 months if placed in an airtight container. Before reheating, place it in the fridge to thaw. There are different ways to reheat pasta with a sauce like this spicy penne recipe. For 20 minutes, bake the pasta at 350 degrees F. It can also be warmed over medium-low heat in a saucepan or in a microwave.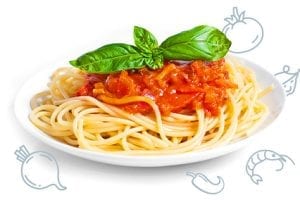 Conclusion
Make your dinner even more special with this Spicy Penne Recipe! Enjoy this delicious pasta dish at any time of the day. Relish the perfect blend of flavors from the slow-cooked marinara sauce and spicy peppers poured or combined with al dente penne pasta.
Topics: