If you think you need fancy ingredients to come up with a decent pasta dish, think again! With a few simple ingredients and with only three simple steps, you'll be able to make a light, hearty, and freshly-made bow tie pasta drenched in garlic butter sauce. This recipe is so simple, there's no excuse to settle for microwave food even on your most busy days.
Expect this bow tie pasta recipe to pack that satisfying garlicky and buttery sauce flavor. A squeeze of lemon wedge will give it a refreshing zest. Top it all off with a garnish of parsley for a pop of color. This dish is also great to have with some succulent grilled chicken breasts for a more filling meal.
What Is Bow Tie Pasta?
Bow tie pasta is a type of pasta that resembles the shape of a bow tie. It's Italian word farfalle or butterfly is also inspired by its shape. With the dough made of all-purpose flour, semolina, and eggs, each piece is uniformly made—cut into small rectangular or oval pieces with ruffled edges. Each piece of pasta is then pinched in the middle to get that unique bow tie look. Learn more about types of pasta and their best pairing sauce.
Despite its fun structure, this is one of the older variants of pasta. It was invented long ago in the Northern parts of Italy as a clever way of reusing leftover pasta dough. Don't get it wrong, though. The shape of farfalle isn't only just for aesthetic purposes. Its shape makes it a great pasta choice for recipes that require sturdier noodles. Bow tie pasta is ideal for cream-based and tomato-based pasta dishes, soups, and baked pasta recipes as it holds its shape well. It is particularly shaped making it excellent for carrying sauce and bits of ingredients very well. If you want to try a tomato-based farfalle dish, feel free to make our zesty bow tie pasta with shrimp and zucchini in tomato sauce. 
Why Is Bow Tie Pasta So Popular?
Aside from being easy, accessible, and delicious, bow tie pasta is also a great option to serve to kids. Simply making the switch from your regular pasta noodle to farfalle can do wonders with its appearance alone. The fun shape of bow tie pasta can pique your kids' interest and keep them entertained while gobbling up their meal. 
Individual bow tie pasta noodles are small and short. This makes it a less messy pasta option compared to your regular long-strand noodles. There won't be a struggle with twisting and slurping the pasta noodles, and you won't have to clean up after so many pasta drips. Talk about hitting two birds with one stone! Check out our article on quick and easy recipes that are perfect for working moms for more kid-friendly recipes like this one.
Garlic Butter Sauce Goes Well With Bow Tie Pasta
In terms of flavor, this bow tie pasta has a lot to offer. The farfalle pasta doesn't have much flavor by itself, but it should have a slight sweetness from the semolina and all-purpose flour combination. It's the perfect medium for adding the sauce. You can expect this pasta dish to be chock full of garlicky and buttery goodness.  
To elevate its flavor a little more, we recommend serving a plate of this garlic butter pasta garnished with parsley and with a lemon wedge on the side. The parsley will not only add a pop of color to the dish but also a bit of earthiness and pepperiness to complement the richness of the sauce. A splash of lemon should add a bit of brightness to the dish's overall savory flavor. Adding a lemon wedge on the side gives the eaters control as to how much acidity they want on their plate. For less saturated fat content, you can try swapping out butter with olive oil for this recipe and you'll get a bow tie pasta version of the delicious Aglio e Olio we adore.

Tip:
You may also add grated parmesan for an added depth of flavor. 
Side Dishes To Have
If you have extra time on your hands, you might want to try serving this pasta meal with a side dish. This bow tie pasta in garlic butter sauce should taste great with roasted parmesan broccoli. What better way to persuade kids into munching on healthy veggies than with coating the greens with marinara and melted cheese? You'll be sure to enjoy the classic pair of garlic butter and tangy tomatoes. 
While you're at it, you can also throw in slices of freshly-made focaccia bread with parmesan on the side. Nothing beats the experience of having warm cheesy bread on a bed of scrumptious pasta.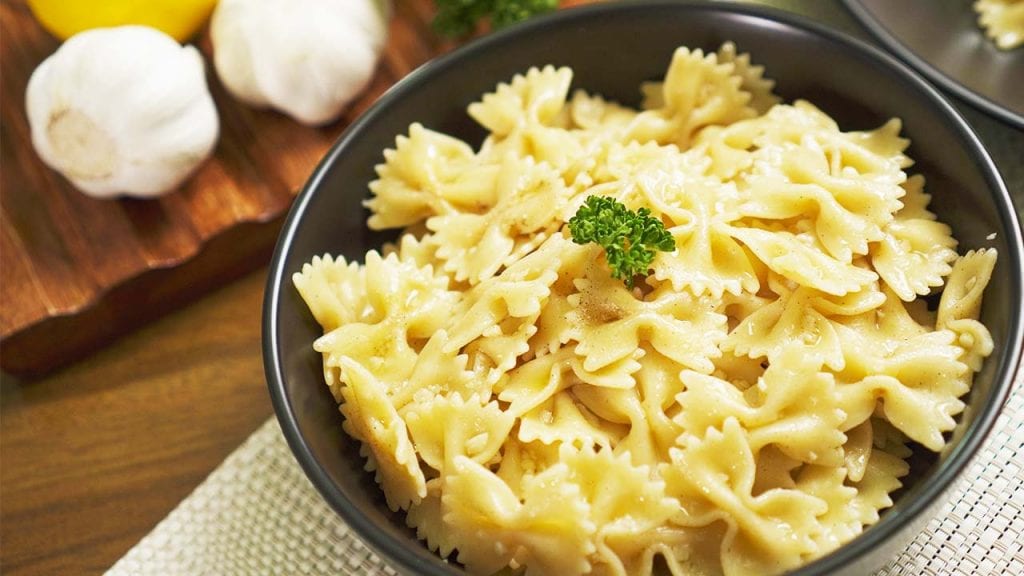 Buttery Garlic Bow Tie Pasta Recipe
How To Make Buttery Garlic Bow Tie Pasta
This bow tie pasta recipe tossed in a creamy garlic butter sauce with a squeeze of lemon juice, then garnished with parsley is definitely a fun pasta dish perfect for a cozy and satisfying homemade meal.
Ingredients
10

oz

bowtie pasta,

(1 package)

6

tbsp

unsalted butter

8

cloves

garlic,

minced

salt and ground black pepper,

to taste
To Serve:
1

sprig

parsley,

per serving

1

lemon wedge,

per serving
Instructions
Follow cooking instructions for bowtie pasta or boil in salted water for 6 to 8 minutes. Drain and set aside when finished.

In a saucepan, melt butter. Add the minced garlic and sauté until fragrant.

Add the pasta, salt, and pepper. Toss to coat and remove from the heat.

Serve warm with parsley and lemon wedge.
Nutrition
Sugar:

3g

:

Calcium:

43mg

Calories:

565kcal

Carbohydrates:

74g

Cholesterol:

60mg

Fat:

24g

Fiber:

3g

Iron:

1mg

Monounsaturated Fat:

6g

Polyunsaturated Fat:

1g

Potassium:

260mg

Protein:

13g

Saturated Fat:

15g

Sodium:

10mg

Trans Fat:

1g

Vitamin A:

730IU

Vitamin C:

6mg
Nutrition Disclaimer
Commonly Asked Questions
What's a good alternative for farfalle (bow tie) pasta?
Farfalle pasta has a unique shape that allows it to hold sauces and bits of ingredients on top. Because of this, the best alternative for farfalle is a pasta type that can do the same. If you're out of bow tie pasta, you can also use distinctly-shaped pasta noodles like conchiglie and fusilli. The cave-like structure of conchiglie and the cork-like shape of fusilli should be able to carry components of pasta well.
How do I store pasta?
To store leftover pasta, keep the sauce and the pasta noodles in separate containers. Make sure that the noodles and sauce have already cooled off before you store them. This will keep the pasta to stay fresh longer. Keep them in the fridge. The pasta noodles should stay good for up to 5 days, and the garlic butter generally keeps for up to 15 days. Keeping the noodles in the freezer can make them last for up to 3 months.
How do I reheat pasta?
There are several ways in which you can reheat pasta. For this recipe, we recommend doing the easiest ones. On a baking dish, place your leftover noodles and leftover sauce. Cover it with aluminum foil, and bake it in the oven for 20 minutes at 350 degrees F. If you don't have an oven, you can also heat pasta on your stovetop. Over medium heat, add olive oil to your saucepan. Add your noodles and sauce, and saute until heated throughout.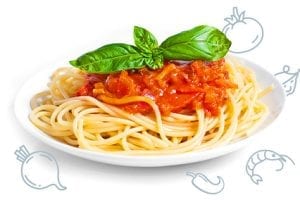 Conclusion
You don't have to spend a lot of time and money on making a delicious homemade pasta dish. With this simple bow tie pasta recipe, you'll have a fun and cozy meal in under 20 minutes. It's kid-friendly, too! Enjoy a hearty combination of farfalle pasta noodles smothered with a garlicky and buttery sauce for a unique take on familiar flavors.