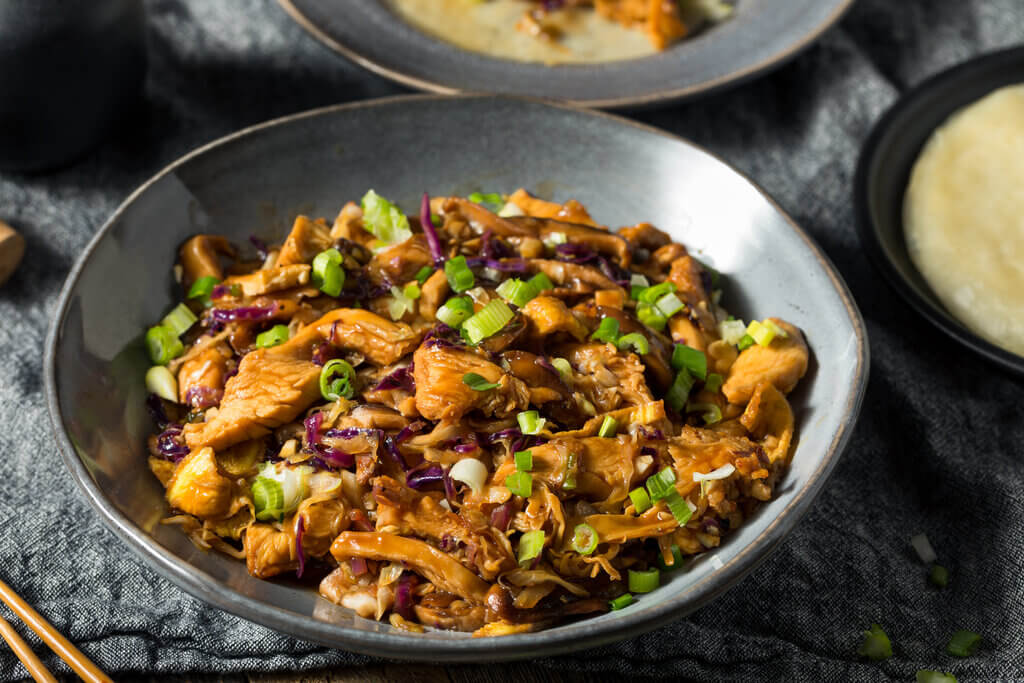 Moo Shu Chicken Recipe
Moo shu chicken, also spelled as mu shu chicken, is a tasty dish with chicken breast filets, mushrooms, and cabbage cooked together in a sweet-savory sauce. If you're into Chinese food with a few Americanized elements, this chicken recipe will be right up your alley! It's also the perfect meal when you're way behind in dinner preparations, as it only takes 30 minutes to prep and cook.
I have a weakness for dishes with crunchy veggies and tasty meat slathered with a flavorful sauce. And the moo shu food downright meets all of these criteria, and then some. The moo shu recipe, firmly rooted in northern Chinese cuisine, is also a massive hit in the US. Traditionally, Chinese mu shu food consists of pork, wood ear mushrooms, scrambled eggs, and lily flowers and is usually served with thin flour wrap (or spring pancakes). The American version of this Chinese recipe, on the other hand, uses flour tortillas, napa cabbage, bamboo shoots, and aromatics. Still, it has the authentic taste of Chinese cuisine.
Over time, I've tried many variations of the moo shu recipe, from moo shu pork to beef, and even vegetables. And of course, there's this chicken version, and it was so much better than I'd imagined. Turns out, moo shu chicken is not only delicious, but also easy to recreate at home. With my easy recipe, you can have a healthy dinner brimming with Asian flavors even without visiting your favorite Chinese restaurant.
My version is a bit of a mix of the traditional Chinese and American variations. And I'm super ecstatic to say that it tastes even better than the usual Chinese takeouts! The chicken breast filets, shiitake mushroom caps, and shredded cabbage give my moo shu chicken recipe contrasting textures and flavors. Use a combination of green and purple cabbage for a bit of vibrancy, appearance-wise. This comfort food also gets a kick from a dash of minced ginger.
The sauce is what gives my homemade moo shu chicken an extra oomph of flavors. It has the perfect balance of salty, nutty, and umami flavors. Hoisin sauce and soy sauce, two popular ingredients in Chinese cookery, combine to give this dish salty and umami flavors. You can even add a bit of oyster sauce to amplify the Asian palate even more. There's also a bit of nuttiness in my sauce coming from the sesame oil. I also tossed in a teaspoon of honey, which provided a hint of delicate sweetness to the sauce.
Cooking dinner is a race against the clock, especially during busy weeknights. I always welcome a few shortcuts to speed up the preparation–without sacrificing the taste of the outcome, of course. Instead of shredding the cabbage yourself, just grab a bagged shredded cabbage or coleslaw mix at the supermarket. Or, buy a prepared package of thinly-sliced shiitake mushrooms. Although, to be honest, the trickiest part of this moo shu chicken recipe is cutting the chicken into thin strips. I opted for pre-cut store-bought chicken breast filets and simply cut the meat crosswise into thinner slices.
If you want to stay true to the traditional recipe, I suggest that you serve moo shu chicken with pancakes. Mu shu chicken and Mandarin pancakes, also called Peking duck pancakes, are the ultimate pairing. But I decided to give this takeout favorite an Americanized spin. I served mine in flour tortillas and drizzled it with extra hoisin sauce. If you're trying to cut out some carbs, using lettuce leaves to wrap your moo shu chicken is your best option. This vibrant Asian food will definitely be a delicious and healthy addition to your dinner table!
How To Make Moo Shu Chicken
Juicy chicken breast filets, mushrooms, cabbage, and scrambled eggs are cooked in a flavorful sauce to make a delicious moo shu chicken. Serve with Mandarin pancakes, flour tortillas, or your preferred moo shu wrappers.
Ingredients
1 lb Foster Farms Simply Raised Thin-Sliced Breast Filets, cut crosswise into thin slices

1tbsp vegetable oil, divided use

2 eggs, lightly beaten

1 cup shiitake mushroom caps, thinly sliced

3 cups bagged shredded cabbage, such as a coleslaw mix

2 tsp ginger, minced

2 tbsp soy sauce

2 tbsp hoisin sauce

1 tsp sesame oil

1 tsp honey

2 tsp cornstarch

Salt, to taste
For Serving:
flour tortillas, or mandarin pancakes

sliced green onions

hoisin sauce
Instructions
Heat 1 teaspoon of oil in a large skillet over medium heat. Add the eggs and season to taste with salt and pepper. Cook until flat omelet forms for about 3 to 4 minutes.

Carefully flip the eggs and cook on the other side until done for 1 to 2 minutes more.

Remove the eggs from the pan and cut them into strips. Cover to keep warm.

Wipe out the pan with a paper towel.

Heat the remaining 2 teaspoons of oil in the pan.

Add the chicken and cook, stirring occasionally. Cook for 4 to 5 minutes or until meat is browned. Remove the chicken from the pan and place it on a plate; cover to keep warm.

Add the cabbage, ginger, and mushrooms to the pan and cook for 2 to 3 minutes or until mushrooms are tender and cabbage is wilted.

Return the chicken and eggs to the pan.

In a small bowl, whisk together the soy sauce, hoisin sauce, sesame oil, honey, and 1 tablespoon of water. Whisk in the cornstarch until smooth.

Add the sauce to the pan and turn the heat to high; bring to a boil. Boil for 30 seconds or just until the sauce starts to thicken.

Serve immediately with tortillas, extra hoisin sauce, and green onions.
Recipe Notes
You can transform this

moo shu chicken recipe

into a tasty moo shu beef or pork by using beef or pork instead of thinly-sliced chicken breast.

Add a dash of sherry to amp up the flavor of your chicken recipe.

Feel free to serve

mu shu chicken

over a bed of cauliflower rice.

Top with toasted sesame seeds for a more delightful serving.
Nutrition
Calories: 

123.45kcal

Fat: 

7.13g

Saturated Fat: 

1.13g

Trans Fat: 

0.04g

Monounsaturated Fat: 

3.85g

Polyunsaturated Fat: 

1.65g

Carbohydrates: 

11.09g

Fiber: 

2.05g

Sugar: 

5.83g

Protein: 

4.68g

Cholesterol: 

80.22mg

Sodium: 

610.43mg

Calcium: 

38.86mg

Potassium: 

218.51mg

Iron: 

0.91mg

Vitamin A: 

37.02µg

Vitamin C: 

19.31mg