Ditch your usual fried chicken meal with this savory bourbon street chicken. Made of dark chicken meat marinated in sweet and savory bourbon sauce, these bite-sized tender bourbon chicken bites will surely satisfy your tastebuds. Above all, you can enjoy this savory Chinese bourbon chicken over a serving of hot white steamed rice for a completely satisfying meal.
Tips for Making Bourbon Street Chicken
The popular bourbon chicken sauce is a flavorful combination of oaky bourbon whiskey, sweet sugar, savory soy sauce, and top of all, aromatic garlic. The same sweet and earthy sauce also brought life to the now-famous Applebee's bourbon street chicken and shrimp.
This homemade bourbon street chicken recipe is genius because it's a delicious way to put liquor in everyday dishes. You also don't have to worry if you're thinking of how to make this recipe alcohol-free. How? It's because we will provide alternative steps to enjoy this without the flavor of the alcohol. Here are the tips and variations you can try to remember when making this easy bourbon chicken:
Make sure to marinate your chicken

. Aside from added flavors, marinating your dark chicken meat keeps it from drying out and prevents it from getting chewy. This method will also give our chicken a nice caramelized crust when we bake it later on. 

You can use chicken breasts

if you prefer a lean cut of chicken. In this recipe, we used dark chicken meat, which is the leg and thigh parts of the chicken because we want to serve tender bite-sized chicken pieces.

If you're out of bourbon

, whiskey, scotch, and of course, brandy will work well in place of it.

Use apple or pineapple juice

instead of the usual bourbon and white wine if you've been staying away from alcohol.

Serve bourbon street chicken with roasted vegetables aside from the fragrant white rice. You can also pair it with roasted potatoes and carrots and you'll love the sweet and smoky flavors of these dishes. You can also pair it with sauteed asparagus to add more crunch to your meal.
How To Make Bourbon Street Chicken
This bourbon street chicken has the perfect blend of earthy, sweet, and savory flavors from our brown sugar bourbon sauce. Baked to perfection, this mouth-watering combination will give you juicy and savory chicken!
Total:
1

days
1

hr
5

mins
Advertisement
Continue Reading Below
Ingredients
1

lb

dark chicken meat

½

cup

soy sauce

½

cup

brown sugar

½

tsp

garlic powder

1

tsp

powdered ginger

2

tbsp

onion powder

½

cup

bourbon whiskey

1

tbsp

white wine
Instructions
Preheat the oven to 350 degrees F.

Pull the chicken apart into bite-sized chunks.

Mix the rest of the ingredients except the wine to create a marinade. Pour over the chicken in a bowl.

Cover and refrigerate overnight, for 8 to 24 hours.

Bake the chicken for 1 hour in a single layer with the marinade, basting every 10 minutes or so.

Scrape the pan juices into a frying pan and add the white wine.

Heat and stir in the chicken.

Cook for 1 minute and serve.
Advertisement
Continue Reading Below
Advertisement
Continue Reading Below
Commonly Asked Questions
Is bourbon chicken real chicken?
Yes, it is! They named Bourbon street chicken after Bourbon Street in Louisiana, where it originated. Bourbon chicken is commonly found in Cajun and Chinese restaurants. They make it out of dark chicken meat, which are the chicken thighs and leg parts. This part of the chicken gives the dish soft and juicy bites. You can also use other chicken parts and cook them with the iconic bourbon glaze sauce.
Does bourbon chicken have alcohol?
Yes. Bourbon street chicken contains real bourbon whiskey. The tang of alcohol decreases as it cooks. However, although some of the bourbon's alcohol content dies down a little when we cook it, this dish still has the potential to make you lightheaded. Especially if you have a low tolerance to alcohol.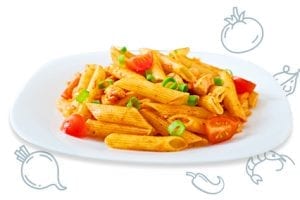 Conclusion
The delicious mix of oaky bourbon, light white wine, salty soy sauce, and aromatic spices make the best bourbon street chicken. Make a platter of it with a healthy roster of side dishes for special occasions or if you simply want to treat yourself!
Advertisement
Continue Reading Below
Topics:
Advertisement
Continue Reading Below
Advertisement
Continue Reading Below