This mouthwatering sous vide London broil recipe makes an inviting dinner meal with just a few ingredients. Think succulent steak drizzled with a savory Dijon soy glaze. Yum. To ensure that my steak comes out moist and tender, I always cook it sous vide-style! Not to brag, but my recipe guarantees a delicious and juicy London broil every time.
Sous vide literally means "under vacuum" in French. It's a cooking method wherein the food is placed in a sealed container, then slow-cooked in a warm water bath. This technique allows the steak to absorb the flavors of the marinade without getting overcooked. Which is why it's my favorite way of cooking steaks! But what I really love most about sous vide is I get to do other things while my food is cooking.
The London broil cut, synonymous with flank steak or top round, is perfect for sous vide. However, you can substitute the London broil with rib-eye steaks or a New York sirloin steak. Using garlic, soy sauce, mustard, and Worcestershire sauce really elevated my sous vide top round London broil. Who would've thought that such simple ingredients could make a dish so flavorful and elegant? Try adding your favorite wine, too, and you'll have a steak that has a deep, rich flavor.
It's easy to cook a London broil in the sous vide machine. As with most steak recipes, I rubbed some salt all over the meat before cooking. This provides consistent flavor throughout. Then, I placed the steak in a resealable bag, followed by the marinade-slash-sauce. For a yummier result, you can marinate the steak for 30 minutes to 2 hours before cooking. So, how long do you sous vide a London broil? I cooked my steak at 132 degrees Fahrenheit for 7 hours. If  you use a frozen steak, add 1 hour. And if you sous vide London broil for 2 hours or 3 hours, it'll be slightly chewy but flavorful. Note that the steak might turn out mushy and dry if cooked for 12 hours. 
The cooking temperature, meanwhile, might also vary depending on your desired steak doneness. 
Rare: Sous vide at 130 degrees Fahrenheit
Medium Rare: Sous vide at 135 degrees Fahrenheit
Medium: Sous vide at 145 degrees Fahrenheit
After I sous vide my steak, I usually give it a quick sear. See? Having a delicious meal doesn't have to be complicated when you've got this easy recipe! You can even mix-and-match ingredients to suit your taste. It may take some time to cook, but I assure you the result will be worth it. You'll end up with an impressive steak dinner that's great for many occasions. Happy cooking!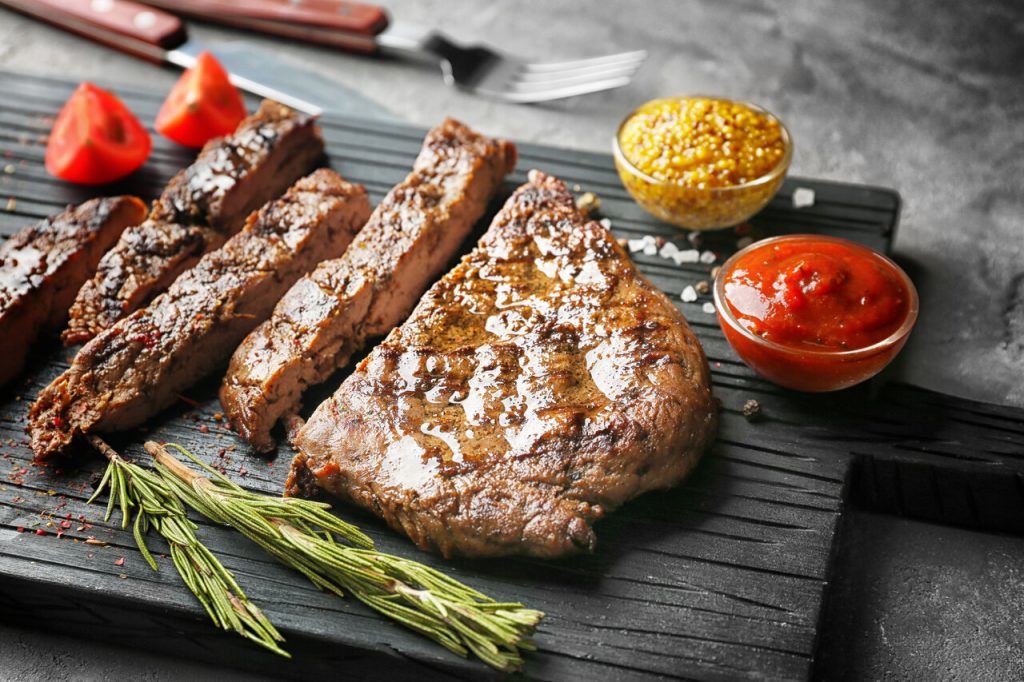 Sous Vide London Broil Recipe
How To Make Sous Vide London Broil
Have an elegant, posh meal by making this sous vide London broil recipe. A delish steak that's slow cooked and infused with garlic, soy sauce, and mustard.
Ingredients
3

lb

London broil,

top round or flank steak

2

tbsp

salt

4

garlic cloves,

smashed

2

tbsp

soy sauce

2

tbsp

brown sugar

1

tbsp

Dijon mustard

1

tbsp

Worcestershire sauce

1

tbsp

rice vinegar
Instructions
Preheat the sous vide water bath to 132 degrees F.

Season each side of the London broil with 1 teaspoon of salt. Allow it to rest for 30 to 90 minutes at room temperature.

In a bowl, combine the garlic, soy sauce, brown sugar, Dijon mustard, Worcestershire sauce, and rice vinegar.

Place the steak and sauce in a resealable or vacuum bag.

Use the "Wet" function of the vacuum sealer to seal the bag. Or use the water displacement method to remove air if a zip lock bag is in use.

Place the bag in the heated water bath and cook for 7 hours.*

Remove the bag from the water bath and place it in an ice bath for 10 minutes.

Remove the steak from the bag and wipe it dry with a paper towel. Pour the drippings from the bag into a small saucepan.

Simmer the sauce for about 3 to 4 minutes or until it's reduced.

Heat an iron skillet or griddle over high heat. Once hot, sear the London broil for 1 minute per side. Transfer the steak to a plate and let it rest.

Slice the steak as desired and drizzle with Dijon soy glaze. Serve and enjoy!
Recipe Notes
*Add 1 more hour if the steak is frozen.
Nutrition
Sugar:

6g

:

Calcium:

96mg

Calories:

478kcal

Carbohydrates:

8g

Cholesterol:

208mg

Fat:

12g

Fiber:

1g

Iron:

7mg

Monounsaturated Fat:

5g

Polyunsaturated Fat:

1g

Potassium:

1348mg

Protein:

80g

Saturated Fat:

4g

Sodium:

4307mg

Vitamin A:

6IU

Vitamin C:

2mg
Nutrition Disclaimer