If you're looking for a healthy meatloaf recipe for tonight's tasty dinner meal, then you're in the right place! Meatloaf may have a bit of a bad reputation among foodies for being a "filler" food. 
However, our delicious Low Cholesterol Meatloaf Recipe will make you forget all of that! After all, when all's said and done, meatloaf still remains a comfort dish to many. It's easy to whip up, and is delicious and filling to eat for lunch or dinner! 
The Classic Meatloaf With Glaze
In this recipe, we'll be making a healthier version of the classic dish known as meatloaf. Meatloaf is made of ground meat and other ingredients, such as vegetables and breadcrumbs, (or eggs and oats), that are mixed then shaped into a loaf. It's topped with sauce, then baked or smoked to cook.
Ground beef is commonly used when making meatloaf. However, other choices of meat include turkey, lamb, pork, chicken, or even veal. And because this dish has the tendency to become dry after baking or smoking, the sauce is very important. The most popular go-to sauce for this dish is tomato sauce, but others make their own meatloaf glaze using ketchup, brown sugar, and vinegar. Lastly, for seasoning, herbs or diced onions are added for flavor.
Whenever someone mentions "meatloaf", the food we often picture in our heads is the American version. However, different cuisines have their own version of this popular dish. Countries like Finland, Denmark, and Sweden often serve theirs with a side or a meatloaf topping of mashed potatoes, while Chile sometimes replaces the mashed potatoes with rice. 
The fact that almost every country has their own version of this classic dish attests to just how great it is. Not only is it a versatile dish, it's also very very budget-friendly. It's a convenient dish to whip up if you have some leftover ground meat in the freezer. In addition, you can also use just about any vegetable you might have lying around in the refrigerator. And most of all, it's incredibly easy to make! So, busy parents who don't have much free time can still make a healthy, delicious meal for their family. 
If you want to try a meatloaf-potato combination, we have a casserole recipe for Meatloaf with Cheesy Mashed Potato that you might like. But if you want to give the classic version a try, give our Simple Meatloaf Recipe a go! But we highly suggest making this healthy meatloaf recipe for your next go-to meal! 
Why Make Low Cholesterol Meatloaf Recipe?
We know that meatloaf is a yummy but easy and convenient dish to make for lunch or dinner. But why not make a healthy, low cholesterol version of this savory dish? 
If you, or any loved one, have a history or likelihood of developing heart diseases, then low cholesterol recipes are great for maintaining your heart's health. Almost all foods have some level of cholesterol in them. But some food or dishes have more bad cholesterol than the good kind. These are the ones to avoid if you really want to take care of your heart.
Good thing, this meatloaf recipe uses ingredients with zero to low levels of cholesterol! So, no need to worry about your heart with this recipe around! If you want to know more about low cholesterol diets or try low-cholesterol recipes, then read on our 10 Healthy Recipes For A Low Cholesterol Diet. 
How To Make Healthy, Low Cholesterol Meatloaf Recipe
In this recipe, we're straying from the traditional meatloaf recipe by making a healthier, heart-friendly version. We'll also show you how to make meatloaf without breadcrumbs by using oats! Other than being healthier for the heart, this meatloaf recipe with oatmeal also has other health benefits. Oats are nutritious, good at controlling blood sugar levels and for digestion, and can also help improve your skin's health. If you're interested in healthy recipes like this one, we recommend you give our library of Healthy Recipes a visit!
In terms of cooking, this recipe is fast and easy to do. In just under an hour, you'll have a delicious meatloaf meal ready for serving. Also, if you don't know how to tell if meatloaf is done, just check our Recipe Notes down below. 

Tip:
Avoid using a
small
loaf pan or baking dish when making
meatloaf recipes
. We recommend you use a sheet pan or a large baking dish instead. This gives your meatloaf room to breathe and to cook properly.
You'll also only need a couple of ingredients to make this recipe. One of these includes the creole sauce. In case you can't find any in stores or groceries, you can make your own creole sauce for this recipe.
How To Make Creole Sauce For This Meatloaf Recipe
Creole sauce, or "red gravy", is one of Southern cuisine's delicious inventions. This sauce is most commonly made with tomato sauce and the classic base of celery, onions, and green bell peppers. In case you want to make your own version of this recipe, you'll need a couple of ingredients. 
Make sure you have 1 cup of diced celery, 1 cup of diced onion, and 1 cup of diced green pepper. You'll also need 2 dashes of tabasco sauce, 2 tablespoons of dried basil, and 2 tablespoons of olive oil. Don't forget 1 can of diced small tomatoes, 1 can of tomato sauce, and 3 cloves of minced garlic. Lastly, you'll need 1½ teaspoons of plain flour as a thickening agent.
To make homemade creole sauce: first, saute the peppers, onions, and celery in olive oil until they're tender. Add the flour until it's well-blended, then add the diced tomatoes and tomato sauce. Finally, add the rest of the ingredients, then let the sauce simmer for around 30 minutes. Voila, you have your own homemade creole sauce for this meatloaf recipe! 
Make a healthy meatloaf dish with this low cholesterol recipe. And in case you have some extra turkey meat in the fridge, try our Savory Turkey Meatloaf Recipe.
How To Make Low Cholesterol Meatloaf
Eat healthy with our tender and savory Low Cholesterol Meatloaf Recipe. Topped with a flavorful creole sauce, this meatloaf is both healthy and delicious!
Ingredients
1

lb

ground chuck ,

or any lean ground meat like chicken or turkey

2

cups

oats,

quick-cooking

110

oz

creole sauce

1

small

onion

1

small

green pepper

1

small

carrot

1

stalk celery

Salt,

to taste

Pepper,

to taste
Instructions
Preheat the oven to 350 degrees F.

Place the ground chuck in a large bowl. Then, add ¾ of the creole sauce.

Finely chop the onion, green pepper, carrot, and celery. Then, add to the bowl.

Add the oats, then season with salt and pepper to taste.

Mix all the ingredients together, then transfer into a large loaf pan.

Add the remaining creole sauce on top of the meatloaf mixture.

Bake for 1 hour then serve while hot! Enjoy a healthy, Low Cholesterol Meatloaf.
Recipe Notes
If you feel like the mixture is not thick enough, you can add more oats until you have achieved the desired consistency.
If you think your meatloaf is too dry, then try sauteing the vegetable ingredients first before adding them to the mixture.
Meatloaf's cooking time differs depending on the recipe. However, one way to tell if your dish is done is to check the meatloaf's internal temperature. It should reach 160 degrees F before it can be served.
Nutrition
Calcium:

151mg

Calories:

645kcal

Carbohydrates:

73g

Cholesterol:

81mg

Fat:

27g

Fiber:

17g

Iron:

12mg

Potassium:

3131mg

Protein:

36g

Saturated Fat:

9g

Sodium:

4174mg

Sugar:

35g

Vitamin A:

5532IU

Vitamin C:

71mg
Nutrition Disclaimer
Commonly Asked Questions
What's the best meat to use in this meatloaf recipe?
While this recipe recommends using ground chuck, you can also opt for other types of lean meat, like chicken or turkey. These lean meats have less fat content and therefore fewer amounts of bad cholesterol. However, be careful when using ground chicken or turkey for your meatloaf, since they can easily dry your dish out. An easy solution to this would be to use a blend of lean meat and fattier meat. 70% of the blend can be any lean meat of your choice, while 30% can be beef, pork, or even lamb meat.
What to do with leftover meatloaf?
Have some leftover meatloaf from last night's dinner? Don't worry! There are many ways to serve your leftover meatloaf like it's a totally new dish. You can make delicious hamburger meatloafs by using the leftover dish as the patty. You can also crumble the remaining leftovers in a skillet and saute it along with diced onions, potatoes, and bell peppers. Top it off with an egg and you have a breakfast meatloaf hash! You can also add it to your soup, or mix it with fried rice.
How to freeze meatloaf?
Place the meatloaf in a loaf pan and cover with a plastic wrap, then store in an airtight freezer bag. Raw, uncooked meatloaf can last for up to 6 months in the freezer, while stored cooked meatloaf can last for around 3 to 4 months.
How to reheat meatloaf?
To reheat your frozen meatloaf, first, let it thaw for 24 hours in the refrigerator. Then let it come to room temperature as you preheat the oven to 250 degrees F. Bake it for 25 to 30 minutes, or until the meatloaf is heated all the way through.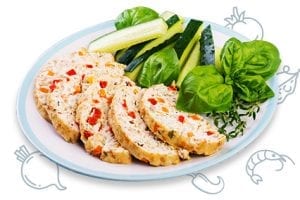 Conclusion
This Low Cholesterol Meatloaf Recipe of ours is both healthy and delicious! It's easy to make and uses convenient, readily available ingredients. Make this heart-friendly comfort dish for your next lunch or dinner!