Yearning for Wendy's buffalo nuggets but need to cut down on fast food? Cure your craving with these vegetarian tofu nuggets. Not only a healthier option for your diet, but this easy-to-make recipe is also ideal for a perfect snack. They're even better with barbeque sauce or ketchup.
If you want to make the shift to a plant-based diet, this recipe can act as a transition for you. It's flavorful and still has that deep-fried goodness that makes it taste almost like the real thing. Try it out for yourself and you'll be surprised how good they taste!
How To Make Vegetarian Wendy's Copycat Buffalo Nuggets
These meat-free nuggets might just trick you into thinking you're eating regular chicken nuggets! Try these tofu nuggets for a healthier snack that tastes just as good as the real deal.
Ingredients
2

block

tofu

extra firm

1

tsp

onion powder

1

tsp

garlic powder

1

tsp

cayenne pepper

1

tsp

paprika

1

tsp

sea salt

1

tsp

black pepper

2

cups

double strength chicken-style vegetable broth

1/2

cup

all purpose flour

1

cup

breadcrumbs

5

eggs

1/3

cup

Frank's hot sauce
Instructions
Prepare tofu for your Wendy's copycat vegetarian Buffalo chicken nuggets. Using paper towels, pat 2-blocks of extra firm tofu until dry. Slice tofu into bite-sized nugget pieces and place in a large mixing bowl.

Next, add 2 cups of double strength chicken-style vegetable broth to your tofu pieces.

Set the tofu mixture aside and begin prep work for the egg mix.

In another mixing bowl, beat 5 eggs. Add ⅓ cup of Frank's hot sauce and whisk until combined.

In a separate bowl prepare dry ingredients. Add ½ cup of all purpose flour to your mixing bowl.

Next, add 1 cup of breadcrumbs to the flour. This will add a crunchy exterior to your nuggets.

Now, add a teaspoon each of onion powder, garlic powder, cayenne powder, paprika, sea salt and black pepper and mix.

Remove each piece of tofu from the double strength chicken-style vegetable broth and coat thoroughly with the flour mixture.

Next, dredge the tofu pieces in egg mixture, and then coat them once again with the breading mix.

Place tofu pieces onto a plate until you have finished coating all of them.

In a deep pan or large pot, heat enough canola oil to cover your nuggets. Fry for 3 to 5 minutes or until golden brown. Be careful not to heat your oil on high heat, this will burn the breading on your nuggets.

Tip: ensure the temperature of oil is at 365F for perfectly crispy nuggets.

Cook your tofu nuggets in batches to prevent a soggy outer layer. Once cooked thoroughly, remove your copycat tofu nuggets onto some paper towels and remove excess oil.

Serve your Wendy's copycat Buffalo tofu nuggets with your choice of dipping sauce but, is best served with a dollop of ketchup.

Dunk into some ketchup and enjoy this guilt-free tofu nuggets today!
Nutrition Facts
Calories:
194
kcal
|
Carbohydrates:
22
g
|
Protein:
11
g
|
Fat:
7
g
|
Saturated Fat:
2
g
|
Cholesterol:
205
mg
|
Sodium:
859
mg
|
Potassium:
160
mg
|
Fiber:
2
g
|
Sugar:
2
g
|
Vitamin A:
767
IU
|
Vitamin C:
1
mg
|
Calcium:
80
mg
|
Iron:
2
mg
Commonly Asked Questions
What can I substitute eggs with?
If you're looking to make this recipe entirely vegan, you can swap eggs for ground flaxseed and warm water. 1 tbsp ground flaxseed with 3 tbsp warm water will give you the equivalent of one egg.
Do these tofu nuggets taste like real chicken?
They definitely won't taste 100% similar but the texture should somewhat resemble chicken. This is why it's important to choose firm tofu and marinate it well so that that it won't taste as bland.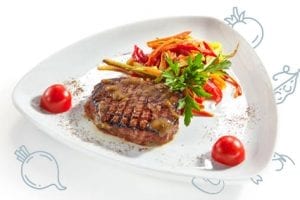 Conclusion
Many of us might be thinking of jumping on the vegan bandwagon for its numerous benefits. However, we might not know where to start and how to get around many mainstream recipes. With this take on a copycat Wendy's Buffalo Chicken Nuggets, you will see how easy it is to make the swap. Try it and let us know what you think!