Imagine eating these flavorful wedges that are fried to golden-brown perfection. They seem like french fries, however, they are not. Those were definitely not made from potatoes. They are, in fact, made from clams. Yes, you read that right. Clams. 
In this recipe, we'll teach you how to create a delicious and flavorful twist to the beloved seafood. Read on and discover how you can create these scrumptious fried clams inspired by the signature Friendly's dish in the comfort of your kitchen.
Serve these fried clams with lemon or the dip of your choice and we guarantee that you'll never look at clams in the same way again.
How To Make Copycat Friendly's Fried Clam Strips
Ingredients
10

cups

canola oil

2

lbs.

clam strips

1

cup

buttermilk

well-shaken

1

cup

cornstarch

1/2

cup

cornmeal

1/3

cup

unbleached all-purpose flour

1

tsp.

curry powder

1/2

tsp.

celery salt

1/2

tsp.

cayenne

1/2

tsp.

salt
Instructions
Start by heating the canola oil in a pot over moderate heat until it reaches 380°F.

While the oil is being heated, rinse and drain the clam strips in a colander and stir them together with buttermilk in a large bowl.

Drain the clam strips well in a colander set over a bowl for at least 5 minutes.

Stir together cornstarch, cornmeal, flour, curry powder, celery salt, cayenne, and salt in a large bowl.

Dredge 1 handful of drained clams in flour mixture; then shake in a large sieve over flour bowl to remove excess flour. Transfer the clams, one by one, and then shake them again to remove any excess flour mixture using a baking sheet.

Fry the coated clams until they're crisp and golden for about 1 1/2 minutes; then transfer them onto some paper towels with a slotted spoon for draining. Afterward, sprinkle with salt and taste.

Return the oil to 380°F between batches, removing any bits of fried batter with a fine sieve and coating the next batch of clams. When finished, serve your meal hot.
Nutrition Facts
Calories:
248
kcal
|
Carbohydrates:
32
g
|
Protein:
19
g
|
Fat:
4
g
|
Saturated Fat:
1
g
|
Cholesterol:
37
mg
|
Sodium:
954
mg
|
Potassium:
146
mg
|
Fiber:
2
g
|
Sugar:
2
g
|
Vitamin A:
518
IU
|
Vitamin C:
1
mg
|
Calcium:
82
mg
|
Iron:
3
mg
Commonly Asked Questions
Can I Get Food Poisoning By Eating Clams?
Yes! Mollusks like clams, mussels, and oysters may have eaten algae that produce toxins and this poisonous matter is scattered in the flesh. To avoid this, tune in to the local fishing channel in cases of red tide happening. However, in general, seafood — including these mollusks — are safe when cooked thoroughly.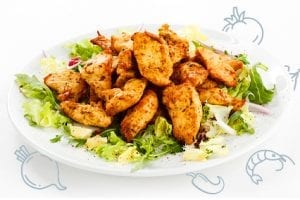 Conclusion
We usually know clams are served after being steamed and buttered but this copycat recipe proves that enjoying clams should not be limited to that. Try this recipe and discover the flavorful and yummy snacking experience provided by this seafood.