Searching for the perfect holiday dessert? Look no further because this festive raspberry tart is sure to add cheer to the dinner table. Imagine gorgeous red raspberries baked in a golden brown and buttery puff pastry tart crust that comes with a surprise crunch from chopped walnuts. It is finished off with a honey lemon juice glaze for a nice sheen. Serve this dessert alongside a cup of hot spiced tea or enjoy it a la mode with a scoop of this creamy mint chocolate chip ice cream.
Tips on Making Raspberry Tart
With our simple and straightforward recipe, you'll realize that making a rustic fruit tart is easy, even for beginners. We also gathered more helpful tips to ensure that you will make a perfect one every time.
Thaw the puff pastry in the fridge so that it's manageable, but don't let it stay at room temperature for too long.

Otherwise, the layers of fat and flour will melt, which means they won't be able to hold up the filling very well.
Use store-bought pre-made tart shells

to skip a few steps, if you want.

For frozen tart shells, check the package instructions if it needs pre-baking. Once they're ready to use, you may proceed to brushing it with egg yolk and preparing the raspberry filling.
Use fresh raspberries with a deep red color and a firm and plump feel.

Avoid using mashed, watery, or

frozen raspberries

as these will make your tart soggy. You can also mix it with blueberries, blackberries, and strawberries, for instance. 
Keep the filling at room temperature

to help them cook more evenly.
Use fresh whipped cream for topping.

Toss in fresh

vanilla bean seeds

and a couple of tablespoons of powdered sugar. It'll taste better and the black seeds against the white cream will add visual interest to your dessert.
Make a chocolate raspberry tart

by mixing the whipping cream with melted chocolate and topping it with chocolate shavings.
More Raspberry Recipes to Try
If you love raspberries, then you're in for more treats. Check out the delicious drink and desserts that can make out of this tart and sweet fruit:
Raspberry Iced Tea

— Cool down with this refreshing antioxidant-rich drink made with pureed raspberries and home-brewed black tea. 
Cream Cheese Raspberry Turnovers

— Crescent roll dough is filled with cream cheese and raspberries. If you're craving raspberry cheesecake but are also short on time, this is a quick fix. 
Raspberry Bread Pudding

— Turn your leftover stale bread into this luscious bread pudding filled with whole raspberries in the middle. Of course, the bread pudding isn't complete without the rich vanilla sauce. 
Raspberry Ice Cream

— Eggs and corn syrup make this raspberry-flavored ice cream incredibly smooth and rich. 
Raspberry Pie

— This recipe makes a graham-crusted pie with raspberry and cream cheese filling and there's no cooking required. You can easily make it using fresh or frozen raspberries.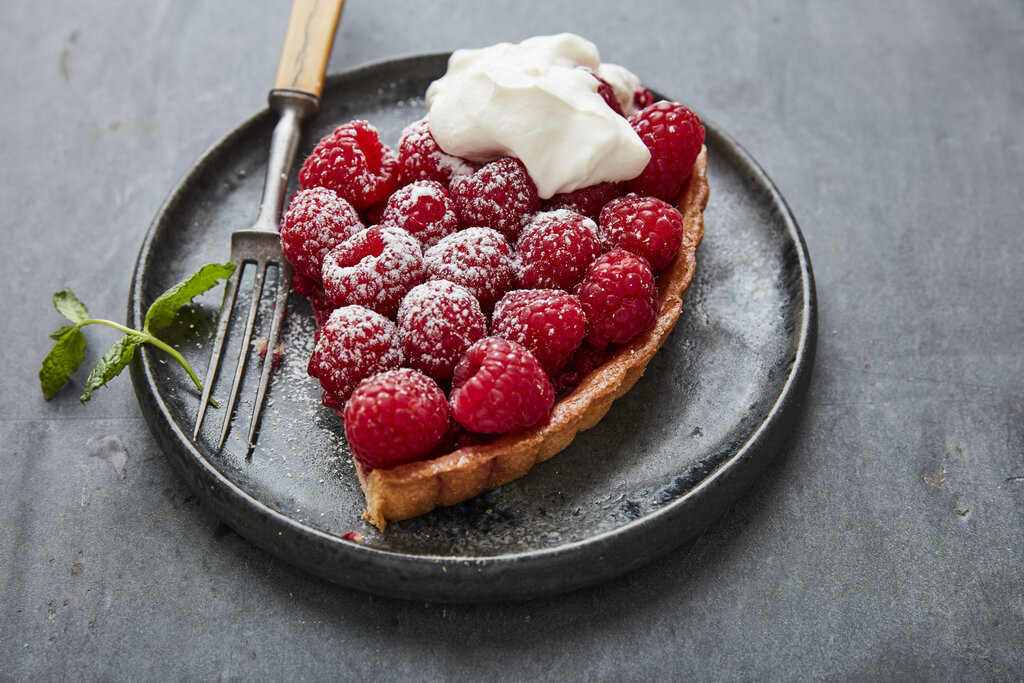 Honey Raspberry Tart Recipe
How To Make Honey Raspberry Tart
Here's an easy puff pastry raspberry tart recipe with walnuts and a honey lemon glaze. It's a stunning dessert yet simple to make and ready in just 1 hour.
Ingredients
1

pkg

puff pastry dough,

refrigerated

1

tbsp

butter,

melted

1

cup

walnuts,

crushed

1

egg yolk

2

tbsp

all-purpose flour,

for dusting
For Filling:
2

pkg

fresh raspberries,

washed and drained

⅛

tsp

nutmeg

⅛

tsp

cinnamon

½

tsp

vanilla

3

tsp

lemon zest

½

cup

sugar,

add more to taste
For Topping:
5

oz

honey,

high-quality

½

tbsp

lemon juice

⅛

cup

sugar

¼

cup

powdered sugar

1

cup

whipped cream

mint leaves,

for garnish
Instructions
Preheat the oven to 300 degrees F.

In a large bowl, mix together the raspberries, nutmeg, cinnamon, vanilla, zest, and sugar. Set aside.

Dust the worktop with flour. Unfold the thawed puff pastry and roll to about 13x13 inches.

Butter a 9-inch round tart pan. Lay the puff pastry sheet over the pan. Trim the excess.

Line the puff pastry with aluminum foil and fill it with pie weights like rice or mung beans.

Blind bake the pastry for 8 to 10 minutes.

Once done, take it out of the oven and immediately brush it with egg yolk.

Crank the oven temperature to 350 degrees F.

Sprinkle the walnuts over the puff pastry.

Drain the raspberries, reserving the juice.

Put the raspberries into the tart shell.

Bake it for 30 minutes or until the pastry has risen and turned golden brown.

While waiting, combine the honey, sugar, and raspberry juice in a small saucepan. Simmer the mixture over low heat for about 7 minutes or until all the sugar is dissolved.

Turn off the heat then add lemon juice.

Once the tart is done baking, brush the raspberries with the honey mixture. Let it cool for at least 15 minutes before slicing.

Top the tart with powdered sugar and whipped cream. Serve and enjoy!
Nutrition
Sugar:

6g

:

Calcium:

5mg

Calories:

45kcal

Carbohydrates:

6g

Cholesterol:

5mg

Fat:

2g

Fiber:

1g

Iron:

1mg

Monounsaturated Fat:

1g

Polyunsaturated Fat:

1g

Potassium:

16mg

Protein:

1g

Saturated Fat:

1g

Sodium:

3mg

Vitamin A:

25IU

Vitamin C:

1mg
Nutrition Disclaimer
Frequently Asked Questions
Can you freeze raspberry tart?
Yes. You can freeze cooked raspberry tarts and they will stay good for 2 months. Keep them in an airtight container so they won't dry out. To serve, you can simply thaw them in the fridge overnight. Reheat for 15 seconds in the microwave on High to serve them warm.

What can I use if I don't have a tart pan?
If you don't have a tart pan, you can certainly use a pie pan, springform pan, or even a rectangular baking dish and it will work just fine. You might want to consider lining the bottom of the pan with parchment paper for easy lifting of the tart. You can also make mini tarts using muffin or cupcake pans.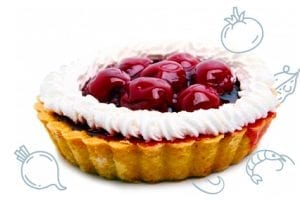 Conclusion
Enjoy fresh fruits nestled in a flakey buttery pastry crust. Whether it's for a date night or a special Sunday brunch, serving this raspberry tart for dessert will surely bring delight to everyone.
Topics: