Christmas is the perfect holiday to sneak in healthy recipes to the table. The family is in such high spirits they won't even notice you have healthy options on the Christmas menu! Aside from Candied Cranberries and Fruit Pudding, one healthy Christmas dessert you can also serve to the family is our easy Mixed Fruit Salad Recipe.
With a mixture of tropical fruits and summer berries, this healthy Christmas treat might be the best fruit salad you'll ever make. Each bite of this healthy fruit salad recipe offers a wonderful burst of flavors because we mixed in four different kinds of fruit. So if you're ready to make our salad, let's get right into it!
What Goes In Our Mixed Fruit Salad?
If you're looking for the easiest Christmas dessert you can serve, there's no better match for you than this Mixed Fruit Salad Recipe. Plus, you can't go wrong with a simple fruit salad for the holidays! All you have to do is toss your fruits into the bowl, mix, then top with a delicious fruit salad dressing, and you're all set. 
But the key to making this scrumptious salad bowl is having a combination of fresh and perfectly ripe fruits. To easily spot fresh strawberries, look for the most fragrant strawberries with a hint of sweetness. If the strawberry smells a little sour and feels a bit hard, this strawberry isn't ripe enough yet. If there's a hint of foulness, the strawberries will only last for a day.
Plus, fresh and ripe strawberries have bright red skin. It doesn't matter if it's lumpy or out of shape as long it has a fragrant sweet scent and bright colors that's perfect for our healthy winter salad. You're also in luck as there's an abundant supply of kiwis this winter season. Although a part of the tropical fruit family, believe it or not, kiwis are a winter fruit. 
While choosing kiwis for our healthy Christmas recipe, remember to pick fragrant ones that give in to pressure by gently pressing them. It should leave a mark but it shouldn't be too soft. Kiwis are meant to be eaten by scooping them out. So if you feel that it's soft enough, then it will go perfectly with our salad. 
And finally, the star of this refreshing tropical fruit salad is the crowd-favorite mangoes. Mangoes are naturally sweet and just simply delectable. So any dish with mangoes in it, will instantly be delicious. Just like its flavor, its scent should reflect its flavors too. Ripe mangoes have a fruity sweet scent to them. And just like kiwis, ripe mangoes will give in slightly when you press them. 
Tips In Making Fresh Fruit Salad And Variations To Try
Now that we know how to pick quality fruits for our homemade fruit salad, your next grocery run will definitely be quicker next time. But if you want to add a few more fruits to our fresh fruit salad recipe, you can add two cups of raspberries for another layer of tarty tones.
For an added crunch, you can also mix in two cups of Granny Smith apples. Granny Smith apples have a refreshingly crisp taste that sweetens when it's stored. It's perfect for making salads and baking just like in our Open Face Apple Pie, which is a great Christmas dessert too!
You can also mix in two tablespoons of finely chopped fresh mint to our Christmas fruit salad recipe. The fresh mint will be a definite surprise with its lingering cooling menthol taste. This also makes the perfect cold and summer balance just like in our Winter Fruit Salad Recipe.
If you can't find fresh produce, run to the nearest grocery store and look for canned fruits that contain our ingredients. Be sure to drain the juice to prevent our salad from turning into a soup. The classic agave dressing and whipped cream combo are hard to beat. But if you want to spruce things up, we've got a lot of ideas for a fresh fruit salad dressing that you can try!
Fruit Salad Dressings And More Fruit Salad Recipes
You can also make your own salad dressing by combining four tablespoons of agave and a quarter of fresh orange juice or lime juice. The zesty fruit juice balances out the sweetness of the agave dressing while bringing out the flavors of the mixed fruits.
If you're looking for a creamy fruit salad recipe, easily turn this into a healthy fruit mix by making your own creamy dressing. Just like our Creamy Cinnamon Apple and Walnut Fruit Salad Recipe, you can make a delightful dessert rich and creamy by combining one package each of light cream cheese and sour cream. Add in half a cup of light brown sugar, two teaspoons of ground cinnamon, and one teaspoon of vanilla extract for a sweet and earthy flavor. You can also add a one-eighth teaspoon of ground nutmeg for an added nutty flavor. 
If you're looking for easy fruit salad recipes with different berries, our Berry Fruit Salad Recipe is your match. Just like this Christmas dessert, it's easy to make and only takes 10 minutes to prepare. So if you're craving a healthy light snack this one's for you.
You can also check out our delectable Five Fruit Salad Recipe. It's the perfect summer salad that will transport you to tropical beaches when you're dreaming of a summer trip this cold season. It has bananas, orange, peaches, and berries which makes a perfect guilt-free snack!
Now let's make our refreshing Christmas dessert recipe!
Mixed Fruit Salad Recipe Video
How To Make Mixed Fruit Salad
This Mixed Fruit Salad Recipe makes the easiest and quickest Christmas dessert! The combination of tropical fruits and berries makes the perfect light snacks while your guests wait for dinner or as a refreshing dessert to the cold winter holiday!
Advertisement
Continue Reading Below
Ingredients
2

cups

strawberries,

fresh, sliced, or cut up

3

cups

mangoes,

fresh, sliced, or cut up

3

cups

kiwis,

sliced or cut up

3

cups

grapes,

halved
To Serve:
4

tbsp

agave nectar

1½

oz

whipped cream
Instructions
In a bowl, combine the strawberries, kiwis, grapes, and mangoes.

Drizzle agave nectar and top with whipped cream. Serve and enjoy!
Advertisement
Continue Reading Below
Advertisement
Continue Reading Below
Commonly Asked Questions
Can I make this salad ahead?
Yes! You can slice the fruits ahead of time then put them in a bowl. Don't mix in the dressing yet. Cover your fruit salad with a plastic wrap or lid and put it in the fridge 6 hours before serving. Put your salad dressing when you're ready to serve it and enjoy.
Can I use frozen fruits for this salad recipe?
Of course! Just simply add all your sliced frozen fruits into a bowl. Don't put on the dressing and whipped cream yet. Cover the fruit bowl and let it sit for an hour or two. Then drain the excess juice and serve based on our recipe instructions.
How to store mixed fruit salad?
Store your leftover fruit salad in the fridge by covering it with plastic wrap tightly or transfer it to an airtight container. Your fruit salad will last for 3 to 5 days in the fridge. If you want to freeze it, arrange it in a single layer in an airtight container. Make sure the fruits are not in a pile or stacking up then cover it with a lid. This will help it last in the freezer for up to 3 months. Thaw it at room temperature for half an hour before consuming. Follow our serving suggestions based on the recipe instructions and enjoy!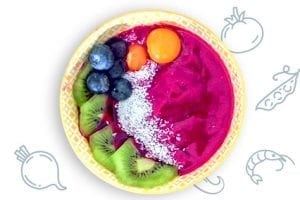 Conclusion
Make this easy Mixed Fruit Salad Recipe for Christmas dinner when you're in a rush. This combination of refreshing fruits, sweet agave, and creamy whipped cream makes the perfect last-minute snack or healthy dessert for the family.
Advertisement
Continue Reading Below
Topics:
Advertisement
Continue Reading Below
Related Fruit Desserts Recipes
Advertisement
Continue Reading Below