Whether it's spread on toast or mixed with oatmeal, you can't deny how versatile and tasty marmalade is. With our Marmalade In The Microwave Recipe, we'll show you the easiest way to make this fruit preserve with just 3 ingredients and the simplest instructions! This recipe is perfect for those who are always on the move and need delicious yet instant meals. It's great for busy students who need affordable and yummy food, as well as working parents who need something that's quick and easy to make.
With just a microwave, anyone can make this citrus-flavored fruit preserve. However, don't underestimate this delicious fruit preserve. Although it seems effortless to make, its taste is otherworldly. In this recipe, we capture the perfect blend of sweet and bitter flavors you'd expect to taste in citrus marmalades. Although fruits like lemon, lime, and grapefruit are commonly used when making this preserve, in this recipe we're using tangy oranges. This citrus fruit tastes exquisite! Also, thanks to modern farming, you can buy fruits like oranges even when it's not their season.
This scrumptious fruit preserve is a must-have in every kitchen. Spread on toast, they make for a quick and yummy snack. Mixed with yogurt, used as a brisket glaze, and added into salad dressings, this marmalade is something you can use for just about any dish. If you liked this recipe, try using a different citrus fruit with our Lemon Marmalade Recipe. For healthier ingredient substitutes for this recipe, don't forget to check out the Recipe Notes just after the instructions!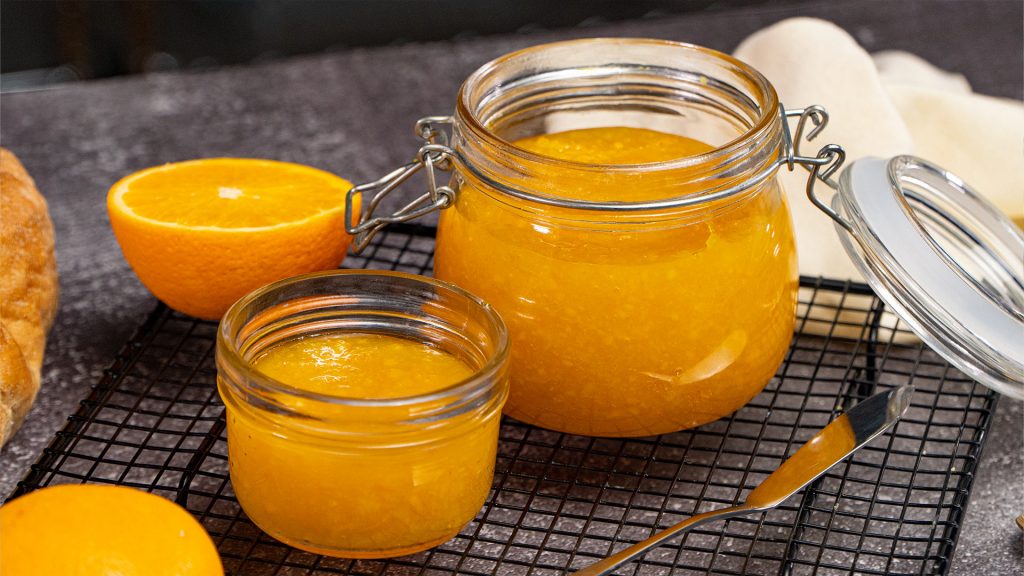 Marmalade In The Microwave Recipe
How To Make Marmalade In The Microwave
Taste the sweet yet bitter flavors of orange with our Marmalade In The Microwave Recipe. This fruit preserve goes well on toast, yogurt, and many more dishes.
Ingredients
2

cups

orange,

pureed, including skin and pith

2

cups

granulated sugar

1

tsp

vanilla extract
Instructions
Place the ingredients in a microwave-safe container and mix well.

Microwave for 8 minutes, stopping to stir every few minutes.

Allow to cool for at least two hours. Once cooled down, use the marmalade as a spread for toast or bagels or pour it in sterilized jars, cover, and refrigerate for storing.
Recipe Notes
You can replace the granulated sugar with a healthier alternative, like coconut sugar. Coconut sugar has a lower glycemic index compared to granulated sugar, which means that your blood sugar and insulin levels won't immediately spike up and leave you feeling exhausted after just a short while.
Nutrition
Sugar:

108g

:

Calcium:

37mg

Calories:

432kcal

Carbohydrates:

111g

Fat:

1g

Fiber:

2g

Iron:

1mg

Monounsaturated Fat:

1g

Polyunsaturated Fat:

1g

Potassium:

166mg

Protein:

1g

Saturated Fat:

1g

Sodium:

1mg

Vitamin A:

203IU

Vitamin C:

48mg
Nutrition Disclaimer
Commonly Asked Questions
How can I make my own orange puree?
You'll need about 5 to 6 oranges to make 2 cups of orange puree, as needed in this recipe. Wash the oranges and let simmer in a saucepan filled with water for 2 hours. Remove the saucepan from the heat and let it cool. Once it is completely cool, cover the saucepan and let the oranges sit overnight. After that, cut the oranges and peel the skin and pith in large chunks. Squeeze the juice from the orange, then add juice to a blender along with the peels and 2 tablespoons of sugar. Lastly, pour the smooth mixture into a saucepan and boil it over low heat, then cool it before freezing. When stored in the freezer, this orange puree will be good for up to 3 months. Continue with the recipe using your homemade orange puree!
What's the difference between jam and marmalade?
Many people confuse jam with marmalade and even jelly. These fruit spreads may seem similar, but they're actually different. Marmalade uses citrus fruits, like oranges, lemons, and limes. So, it's popular for its bitter and tangy flavor (in addition to its sweet taste). It's made almost in the same way as jam. Although in making marmalade, even the rind, the outer skin of the fruit, is used. Jam, on the other hand, is made by cooking cut or whole fruits along with sugar. Jams are usually made with strawberries, raspberries, blueberries, and even cherries.
How long can I store marmalade?
Properly stored in a jar, homemade marmalade can last for up to 12 months as long as it's stored in a dry and cool place, far from direct sunlight. But once the marmalade is opened, it should be stored in the refrigerator and eaten within 1 month.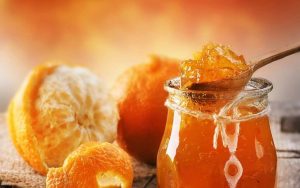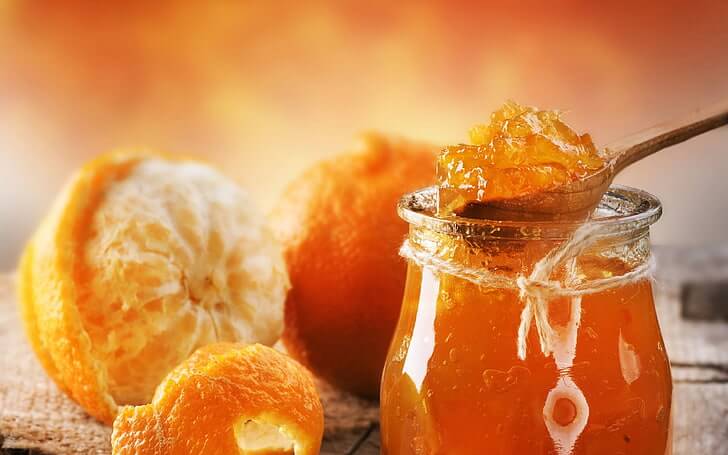 Conclusion
Our orange Marmalade In The Microwave Recipe is budget-friendly and easy to make. With this recipe, you can enjoy the sweet and tangy taste of marmalade with just a few ingredients and a microwave. You're certainly in for a treat with this delicious orange spread!
Topics: