Having a drink of this Tequila Sunrise is like downing a shot of sunrise in a glass. The taste gives you the same tranquil vibe and brings you the feeling of a refreshing and relaxing day—or night! The delicate gradient color conveys elegance and may intimidate you in making your own tequila sunrise drink. Fear not! Although it may look complicated, you don't have to be a professional bartender to pull this up. In this recipe, we share with you easy and simple steps in making your own Tequila Sunrise Cocktail Drink!
Though we love this refreshing fruity cocktail, it is far from the original tequila sunrise recipe that requires crème de cassis liqueur, club soda, and lime juice. The "sunrise" effect will surely be there, but the original flavor is entirely different from the fruitiness of this modern version tequila sunrise. Although we must say, the selection of ingredients makes this Tequila Sunrise a superb choice for someone who wants to have fun but isn't a fan of flat tequila shots. If you don't have a high tolerance for alcohol, this would make a great choice of drink. It would be perfect for parties—especially for afternoon pool parties or for a chill night in with friends.
What's In A Tequila Sunrise?
Aside from its beautifully elegant look, there's so much more to love with this cocktail drink. Its flavor is as pleasant as it looks, and its taste is as refreshing as its name.
Freshly squeezed oranges mixed in with the tequila reduces its strong and fiery taste. As for the tequila, you don't have to worry about not having the most expensive ones or top-shelf tequila brands. You are free to use whatever you have on hand, and your tequila sunrise will still be as perfect as you aim it to be.
If you're wondering how you'll make the eye-catching "sunrise" effect in this cocktail drink, the secret ingredient is grenadine syrup. Grenadine is a non-alcoholic pomegranate-flavored syrup with a beautiful deep red color. When this syrup is boiled, it gets a thick consistency making it sink to the bottom of the glass. Coupled with the orange tinge from the juice, it creates the beautiful gradient color for your tequila sunrise.
Create a bunch of tequila cocktails and serve unique ones that will fit your and your guests' tastes. Check out our list of Cocktail Recipes and choose what to serve best.
Tips For Making Tequila Sunrise
The perfect tequila sunrise will always depend on one's preference. If you're not one for a cocktail that still has a strong flavor of alcohol, you can try to reduce the part of tequila. 

Reduce the sweetness of your tequila sunrise by adding a squeeze of lime or lemon if it's a bit too sweet for your taste.

If you're feeling adventurous, you can also make a spicy version of this fruity cocktail drink by adding jalapeno. Try our

Spicy Tequila Sunrise

recipe!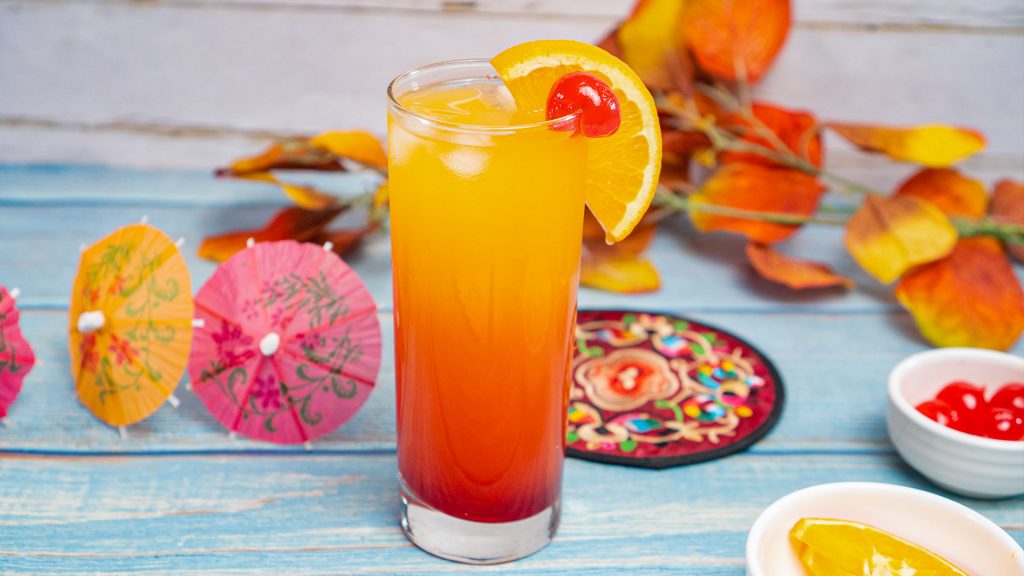 Fiery Tequila Sunrise Cocktail Recipe
How To Make Fiery Tequila Sunrise Cocktail
Bottoms up! This Fiery Tequila Sunrise Cocktail is an eye-catching drink that is made of a fiery tequila shot, refreshing fruity freshly squeezed orange juice, and grenadine syrup. It's truly a shot of "sunrise" in a glass. A sip of this bright, citrus-flavored drink can instantly turn any party into a more colorful and energetic one.
Ingredients
2½

oz

tequila

¾

cup

orange juice,

freshly squeezed

1

tsp

grenadine

ice cubes
For Garnish:
1

pc

orange slice

1

pc

maraschino cherry
Instructions
Fill the cocktail glass with ice.

Add the tequila and orange juice. Stir well.

Pour grenadine slowly over the back of a spoon or down the side of the glass.

Allow the syrup to settle at the bottom and slowly rise to create the gradient effect.

Garnish with a slice of orange and maraschino cherry.

Serve and enjoy!
Recipe Notes
Remember to not stir the drink. The gradient effect takes place when the grenadine syrup rises after it has sunk. If you stir it, you won't get the "sunrise" effect and you will be left with a blush-pink colored drink.
Nutrition
Sugar:

19g

:

Calcium:

22mg

Calories:

266kcal

Carbohydrates:

24g

Fat:

1g

Fiber:

1g

Iron:

1mg

Monounsaturated Fat:

1g

Polyunsaturated Fat:

1g

Potassium:

377mg

Protein:

1g

Saturated Fat:

1g

Sodium:

4mg

Vitamin A:

375IU

Vitamin C:

94mg
Nutrition Disclaimer
Commonly Asked Questions
How strong is a tequila sunrise?
Commonly, tequila has 76-80 proof of alcohol which is 38-40% alcohol. If you make a 7oz drink, you will be consuming 22 proof or around 11% of alcohol. You can always pour more or less tequila to create a stronger cocktail. Though how strong will this cocktail recipe be will always depend on the alcohol content of your chosen tequila brand.
Can I make Tequila Sunrise in pitchers?
Yes, you can! Make sure to have your measurements be 1 part tequila and 2 parts orange juice. You may want to leave out the grenadine on this one and just pour some of it if you're ready to serve them in glasses so you can still get the iconic gradient effect in each glass.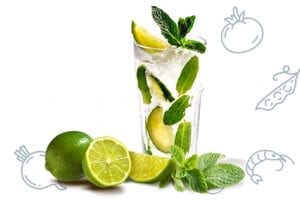 Conclusion
Have no regrets when you choose to serve Tequila Sunrise! This cocktail drink is perfect for a chill night, enables you to have more drinks, more fun, but fewer hangovers! The sweet and fruity quality of this drink sure is thirst-quenching and refreshing.