No spooky costume party would be complete without some creepy Halloween cupcakes! This delightful Halloween dessert is one treat you ought to keep an eye out for. We say that because each delicious cupcake comes with gummy eyeballs and "bloody" red frosting. Guests with sweet tooth are sure to enjoy a batch of these Halloween cupcakes!
Spooky Halloween Dessert Ideas
Halloween cupcakes, or rather, eyeball cupcakes, like what we're making for today are very popular for parties and as treats. In fact, these kinds of cupcakes are also found down the grocery aisle during Halloween season. But if you want to impress your guests with something homemade, then our recipe is the way to go! Luckily, our easy Halloween cupcakes aren't the only sweet treat you can serve to your guests. We've got a ton of Halloween dessert recipes from our Haunted Gingerbread House down to our Chocolate Covered Bugs.
The sky's the limit when it comes to making a scary Halloween dessert! But we're here to showcase a classic favorite with some eyeball cupcakes. Stick around as we show you some amazing tips and tricks in making these Halloween cupcakes.
How To Make Halloween Cupcakes
Our Halloween cupcakes taste best when they're made with quality ingredients! Also, make sure the ingredients are at room temperature to get the best results. This recipe is so easy to make that you can even invite the kids to help you with preparation!
The Trick To Mixing Cupcake Batter
One of the keys to making the perfect Halloween-themed cupcakes is how your batter's mixed. There is a certain science that comes with making your cupcakes fluffy and flavorful. When you over mix the cupcake batter, the flour's gluten can form elastic gluten strands. This will give a more dense, chewy texture – which is great for cookies, but not for cupcakes!
The trick to getting that light and airy texture is to mix until everything is just combined. How do you know when to stop mixing? Once you see the ingredient you added in is no longer as visible.
An example is when you mix in flour. As soon as you don't see any more streaks, that's the time to stop mixing. If you're unsure or feel like you've overdone it, switch to a baking spatula. This will give you better control with your mixing, in the way an electric or stand mixer won't. Scraping down the sides of your bowl also helps to properly incorporate your ingredients, so make sure to do that from time to time as well.
But now that you know how to avoid making disastrous cupcakes for your party, let's talk about decorations.
Get Creative With Your Spooky Halloween Cupcakes
With any spooky Halloween dessert, you can adjust and decorate to your liking! In the case of our Halloween eyeball cupcakes, we decided to frost then top it with the gummy eyeballs. For added color and texture, we added a dash of sprinkles and colored sugar.
Can't find any gummy eyeballs? No problem! Just use any red, ring-shaped candy and fill the hole with a black gumdrop, M&M-sized candy, or even our Butterfinger Eyeballs. If you want to make the cupcakes extra scary, use some red decorating gel or some of our Gross Out Pudding to make them red and "bloody". Those are just a few ideas we have for Halloween cupcakes decorations, but enjoy customizing the rest to your liking!
If you've got an eye for more cupcakes, we've got a bunch of Halloween cupcakes ideas! Our Bloody Cupcakes with Cream Cheese is sure to be one gory treat to enjoy. For something more subtle but still on the creepy side – check out our Devil's Food Spider Cupcakes.
Our Spooky Delights cupcakes are delightfully easy to make. With our tips and ideas, you're guaranteed an amazing batch of flavorful cupcakes. So go grab an apron, and let's get baking!
How To Make Spooky Delights
These Halloween cupcakes are light and flavorful, and filled with a sweet, creamy frosting. It's made even creepier when topped with a chewy gummy eyeball for the perfect spooky treat!
Ingredients
For Cupcake:
⅔

cup

butter,

softened

½

cup

sugar

2

eggs

2

tsp

vanilla extract

1

cup

all-purpose flour

3

tsp

baking powder

½

tsp

salt

½

cup

milk
For Frosting:
12

oz

whipped topping,

thawed

¼

cup

confectioners' sugar

red decorator gel,

or any desired color
For Decorations:
Gummy googly eyes

Halloween sprinkles

Colored sugar
Instructions
Cupcake:
Preheat the oven to 350 degrees F.

In a large mixing bowl, cream the butter and sugar until they're light and fluffy.

Add the eggs one at a time, beating well after each addition.

Stir in the vanilla extract.

Combine the flour, baking powder, and salt. Then, add it to the creamed mixture alternately with milk, beating after each addition.

Fill cupcake liners and bake in the oven for 25 minutes.

Transfer cupcakes to a wire rack, and let cool.
Frosting:
In a large mixing bowl, combine the whipped topping, confectioners' sugar, and gel decorator, and mix well.

Cut the chunk out of the center of each cupcake and set aside.

Fill in the cavity with a large dollop of frosting.

Place a gummy eyeball on top of the filled cavity.

Decorate with Halloween sprinkles and colored sugar.

Serve to guests and enjoy!
Recipe Notes
To cut the center off the cupcake, you may use a cupcake plunger. If not available, using a melon baller or a small teaspoon works just as well!

You may also fill the cavity of your cupcakes by placing your frosting in a piping bag for easier filling. If desired, frost the surface in a circular motion before placing the gummy eyeballs for additional frosting on top.
Nutrition
Calcium:

43mg

Calories:

106kcal

Carbohydrates:

11g

Cholesterol:

12mg

Fat:

6g

Fiber:

1g

Iron:

1mg

Potassium:

27mg

Protein:

1g

Saturated Fat:

2g

Sodium:

149mg

Sugar:

7g

Vitamin A:

211IU
Nutrition Disclaimer
Commonly Asked Questions
Can I use other flavorings for the cupcake batter?
Our recipe calls for a simple vanilla cupcake. But you can definitely adjust the recipe to add a different flavor! Flavors like chocolate or red velvet will work amazingly with this cupcake. Simply adding some cocoa powder to get either flavor should do the trick. For red velvet, add 2½ tablespoons of unsweetened cocoa powder and ½ tablespoons of liquid red food coloring. And for a chocolate flavor, try adding 6 tablespoons of unsweetened cocoa powder.
How do I store my Halloween cupcakes?
To store your frosted cupcakes, place them in an airtight container on the counter at room temperature. They should keep for up to 2 days at the pantry. You may also cover any leftovers loosely in a container and refrigerate to keep the frosting chilled. When refrigerated, these can last you for up to 2 to 4 days. But if you want to retain the best flavors, we recommend consuming them within 3 to 4 days after baking.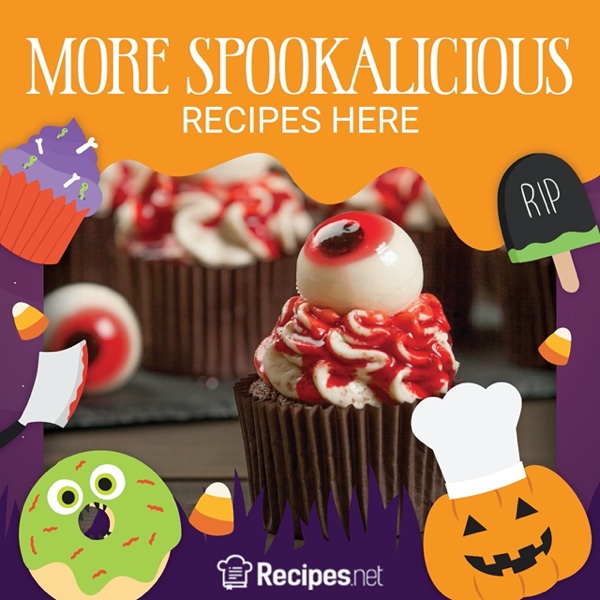 Conclusion
Both kids and adults alike are sure to be spooked by these gummy eyeball-topped Halloween cupcakes! But after a bite of this light and sweet cupcake, we're sure none of your guests will hesitate to grab another one. Enjoy decorating these cupcakes to your desire, and have the kids help out when they can.
Topics: