Halloween is the time of the year everyone gets to express their creativity. Not only can you be creative with your costumes but also with dinner ideas for your Halloween parties! Since it's the spooky season, make sure your treats are terrifying looking and, of course, tasty, like spider cupcakes.
We have a lot of cupcake ideas for Halloween, including our Bloody Cupcakes and Spooky Delights Halloween Cupcakes. But in this recipe, we will focus on the crawling creatures that give us goosebumps. We will make Devil's Food Spider Cupcakes that are tasty to eat, yet terrifying to look at. What's scarier than a bunch of spiders, right? These Halloween cupcakes are so easy to make that your kids can also be involved in the baking!
What is Devil's Food Cupcake?
A devil's food cupcake is like a devil's food cake, just in cupcake form. They are still a kind of chocolate cupcake recipe. But these cupcakes have more appeal than regular chocolate cupcakes. Due to multiple variations of these indulgent desserts, it's hard to differentiate a devil's food cake from a regular chocolate cake. But what we do know is that devil's food cupcakes usually have a richer and darker flavor, plus a fluffier texture than a chocolate cupcake. Think of it as the chocolate cupcake version of the devil's food cake.
This type of chocolate cupcake is perfect for our spider cupcakes! Let your imagination guide you and be creative in making the spookiest spider cupcakes for your Halloween party.
How to Make Devil's Food Spider Cupcakes?
Making spider cupcakes is fun. For sure, your kids will also agree! When making devil's food cupcakes, start by lining your muffin pan with cupcake liners so they will be ready after you've mixed the batter. You can use any cupcake liners you like. Since these are Halloween cupcakes, go for liners that have a Halloween-inspired design. We like using black cupcake liners to suit the theme of these cupcakes.
Once you have lined your muffin pan, you can now mix your batter. To make our cupcakes moist and for them to have a rich chocolate flavor, we mix the cocoa powder and scalded milk. Combining the cocoa powder with warm milk will help enhance its chocolatey flavor. Set aside the chocolate mixture to let it cool.
Meanwhile, begin combining the dry ingredients and wet ingredients in separate bowls. Add the chocolate mixture to the wet ingredients, then mix in the dry ingredients. Stir until all the ingredients are well-combined.
Divide the batter evenly between cupcake liners. So how much batter per cupcake should we pour for each liner? It's ideal to put about ⅔ full to give room when they rise while baking. If you add too much, the batter will overflow and will ruin your cupcakes. Too little batter, however, will give you small cupcakes. Bake your cupcakes for 20 minutes, or until the toothpick comes out clean when you insert it at the center.
While the cupcakes are baking, you can start preparing the things you will use to make the scary spiders. We use separated chocolate cookie sandwiches to create the body of the spiders, as well as yellow jelly beans for its creepy eyes. However, feel free to use other treats and be creative with your spider cupcakes.
Spooky Toppings For Scary Spider Cupcakes
You can use different techniques to make your Halloween cupcakes extra tasty and spooky. Aside from a huge spider sitting atop your devil's food cupcakes, try adding more Halloween-themed candies, such as Halloween-themed sprinkles, Sugar-Free, Low-Carb Gummy Worms, gummy eyeball candy, or crushed Oreos to create a dirt-like design.
Go ahead and try out more of our Halloween food recipes! But for now, here's a complete guide on how to make devil's food spider cupcakes. Enjoy baking a delicious, yet spooky-looking Halloween treat!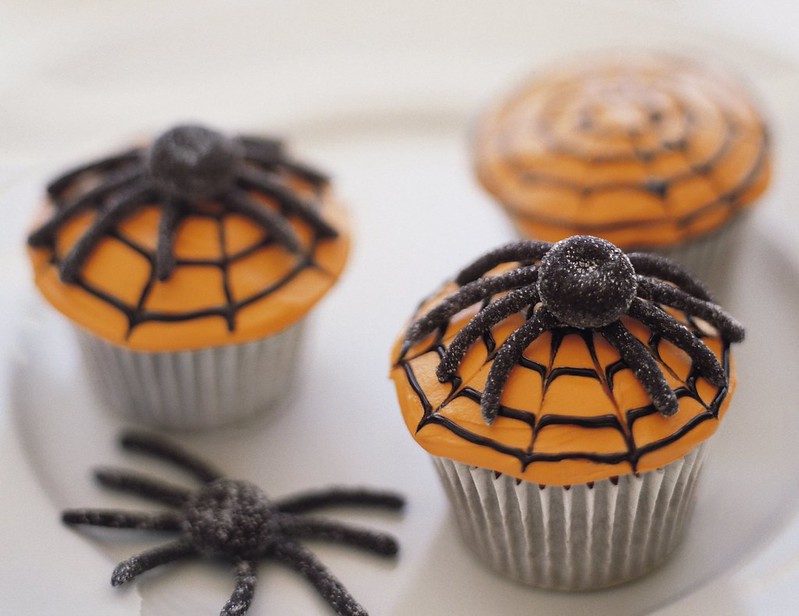 Photo by Flickr.com
How To Make Devil's Food Spider Cupcakes
These spider cupcakes may look terrifying, but they are perfectly moist and have a rich chocolate flavor of the devil's food cupcakes. Both kids and adults will be thrilled to eat them!
Ingredients
1⅔

cups

whole milk,

scalded

1

cup

cocoa powder,

unsweetened

2

cups

sugar

3½

cups

all-purpose flour

2½

tsp

baking powder

1

tsp

salt

1

cup

unsalted butter

2

cups

sugar

6

large

eggs

1

tsp

vanilla extract

12

chocolate sandwich cookies,

separated

48

yellow jelly beans

pipe cleaners
Instructions
Preheat oven to 350 degrees F.

Line two 12-cup muffin pans with muffin cups.

Mix cocoa and ½ cup of the sugar into scalded milk. Then set aside to cool.

Sift together flour, baking powder, and salt. Set aside.

Cream butter and the rest of the sugar.

Add the eggs one at a time, until batter is yellow and glossy.

Stir in vanilla.

Mix in chocolate mixture.

Mix in flour mixture in 2 batches, until combined.

Divide batter evenly between muffin cups, about ⅔ of the way full.

Bake for 20 minutes.

Frost, and place cookie disc in the center of each cupcake.

Press two jelly beans into the frosting for the spider's eyes.

Place four pipe cleaners on each side for the legs.

Serve the spider cupcakes to your guests and enjoy a spooky Halloween!
Recipe Notes
Use an ice cream scoop to

 

scoop the

batter into each cupcake liner to make sure they are evenly distributed. 

If you don't have pipe cleaners, you can use black licorice instead to make everything edible. Simply slice them thinly and cut

into shorter lengths

to create

the

spider legs.
Nutrition
Sugar:

38g

:

Calcium:

65mg

Calories:

336kcal

Carbohydrates:

56g

Cholesterol:

69mg

Fat:

11g

Fiber:

2g

Iron:

2mg

Potassium:

129mg

Protein:

5g

Saturated Fat:

6g

Sodium:

204mg

Vitamin A:

331IU
Nutrition Disclaimer
Commonly Asked Questions
How to frost a cupcake?
The frosting is part of the appeal of every cupcake, making it more irresistible and Instagram-worthy. There are several ways to frost your cupcakes, depending on how you want it to look, as well as the additional decorations you may want to add. You can pipe your frosting using a variety of piping nozzles, from a simple round tip to a star tip that creates the classic swirl cupcake frosting. You can also use a spatula to frost your cupcakes to achieve a rustic look.
Why are my cupcakes dry?
Baking cupcakes can be tricky, especially for beginners. One of the problems home bakers encounter is having dry cupcakes. There are two possible reasons for why this happens to your cupcakes. First, the recipe might have too much of a dry ingredient. Second, overbaking your cupcakes may take out most of the moisture. Follow the recipe carefully to avoid these problems. Measuring the ingredients accurately is also crucial in achieving the best chocolate cupcakes.
How can I make my chocolate cupcakes extra moist?
We love fluffy, perfectly moist chocolate cupcakes. You can achieve the super moist texture for your cupcakes in several ways. For example, you can use canola oil or vegetable oil instead of butter. You can also add sour cream or yogurt to your mixture. It adds moisture to the cupcake and makes it denser. Be careful about adding this ingredient, however, as it can affect the overall flavor of your cupcakes. If the recipe calls for 1 cup of water, replace half of it with sour cream or yogurt.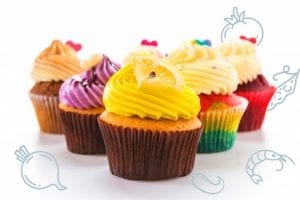 Conclusion
Chocolate cupcakes are one of the most-loved flavors of cupcakes. Devil's food cupcakes, however, give us a richer choco flavor to enjoy. Scare your guests at your next Halloween party with these spider cupcakes and have fun making them!