Firstly, if you are a huge fan of no-bake recipes, then cow patties are sure to be your go-to dessert dish when time is not on your side. Besides, with just a few ingredients and no time in the oven, making this cow patties recipe is such a breeze you will surely add it to your dessert menu. 
Moreover, cow patties are the perfect recipe when you need to make dessert and don't want to use too many ingredients. Likewise, you most probably have these ingredients in your kitchen pantry right now! Treat yourself to some delectable no bake cow patties they are sure to bring a smile to your face.
Guaranteed to be a showstopper at any party or get together, these cow patties will soon become a staple dessert in your household too. Made with no flour and no eggs, this recipe takes less than 30 minutes to create. Wow your friends and family today, with these hassle-free, choco treats! For more no bake desserts, try out our No bake Triple Chocolate Brownies!
Ingredients
1

cup

raisins

dried cranberries or dried cherries

½

cup

whole peanuts

½

cup

slivered almonds

20

ounces

chocolate melting discs

Powdered sugar

for coating
Instructions
Begin by boiling water in a saucepan. Place a metal mixing bowl over the saucepan and add your chocolate discs. The heat from the boiling water will melt the chocolate without burning it.

To make 30 cow patties you will need to melt 20 ounces of chocolate over a double boiler. Heat until chocolate discs are completely melted.

Next, combine ½ a cup of whole peanuts into your melted chocolate mix. Salted or unsalted peanuts would work just as well.

Now throw in 1 cup of raisins, dried cranberries or dried cherries. You can always have a mixture of any dried fruits.

Add ½ a cup of slivered almonds to the mixture and combine thoroughly.

Cover a baking sheet with parchment paper. Using a spoon or a small cookie scoop, place mounds of these sweet treats on your baking sheet.

Leave the baking sheet or plate to sit for 20 to 30 minutes at room temperature or place in the refrigerator to set for 5 minutes.

Dust with a shower of powdered sugar and there you have it, cure your chocolate craving with this super easy no-bake cow patties. Enjoy!
Nutrition Facts
Calories:
140
kcal
|
Carbohydrates:
8
g
|
Protein:
1
g
|
Fat:
1
g
|
Saturated Fat:
1
g
|
Sodium:
1
mg
|
Potassium:
40
mg
|
Fiber:
1
g
|
Sugar:
7
g
|
Vitamin C:
1
mg
|
Calcium:
1
mg
|
Iron:
1
mg
Commonly Asked Questions
What can I opt for if a family member is allergic to nuts?
If you have a family member who is allergic to nuts, you can always replace them with rice puffs or cereals. You will still have the texture you want from the nuts.

Can I use white chocolate instead of milk chocolate for this recipe?
Yes! Do try this recipe with white chocolate! Need an easy dessert for a special occasion? Add a few drops of red food coloring to your melted white chocolate. Throw in slivers of almonds and chopped dried cranberries. You can also add mini marshmallows to make these little treats. They are perfect as a Valentine's Day dessert! Place a few cow patties into a cookie bag and give them out as party favors.

Is there a kid-friendly option for melting the chocolate?
If you are making this dish with kids, using a double boiler is not such a good decision. This is where the handy microwave oven comes to the rescue. Place your chocolate chips in a microwave-safe bowl and nuke it in the oven for 30 seconds on high power. Remove the bowl and stir using a silicone spatula. Place the bowl back in the oven and heat for another 30 seconds on high. Now, here comes the important part: keep microwaving the chocolate on high heat for 10 seconds. Repeat this process until the chocolate is silky smooth.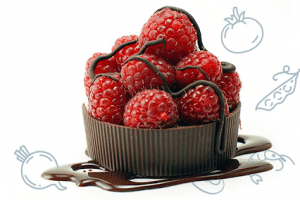 Conclusion
We love that this dessert is delicious all year round and not to mention a cinch to make! Summer days got you thirsty for something cold?
Scoop vanilla ice-cream into a bowl and serve topped with a few cow patties. The crunchy texture of the cow patties accompanied with silky smooth vanilla ice-cream is perfect for a kids pool party!
Regardless of the season or occasion, this treat will always be welcomed.